While Facebook, Twitter, and Instagram are popular social media platforms to use for business, one platform that often gets overlooked is Pinterest. It's now the time to grow your Pinterest account.
Pinterest has gained momentum in the last couple of years with a 75% increase in pins between 2017 and 2018. That alone is a good reason for you to invest in Pinterest and learn some powerful strategies to grow your account.
You'll want to invest some time in building your account and digital footprint on Pinterest. Always think about creating a positive user experience which will leave your audience wanting more. Here are some strategies to get you started.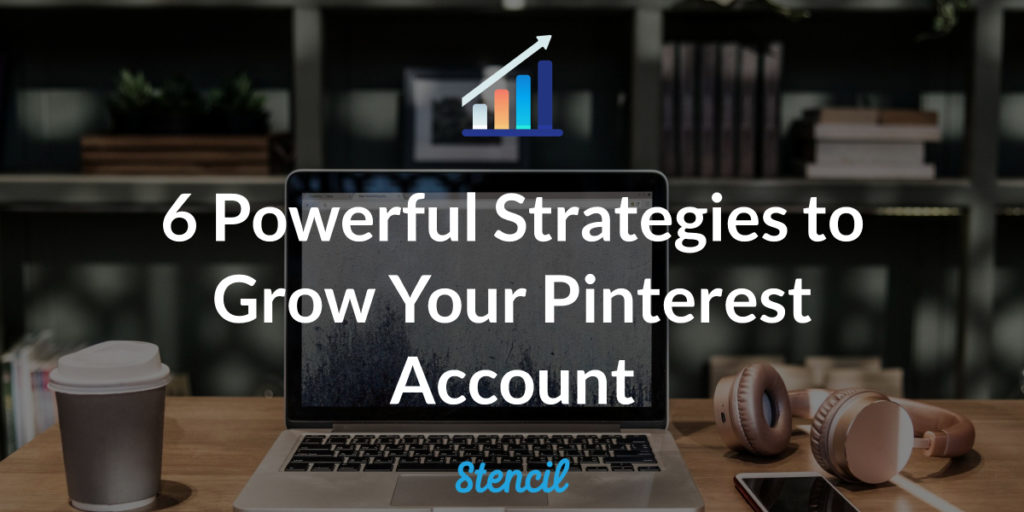 Be consistent with your branding and graphics:
Like anything else, consistency is vital, and Pinterest is no different. When creating pins for your brand, you'll want to keep your content fresh but also keep your brand standards in mind.
Contrary to popular beliefs, creating pins isn't time-consuming.
Leveraging our app, Stencil can save you hours of content creation and allow you to create graphics in minutes or even seconds. You can create 5-10 pin graphics to use as a baseline and modify them for future graphics.
Learn how to organize your images in various collections to find what you need quickly, and with just a few edits, you'll be on your way.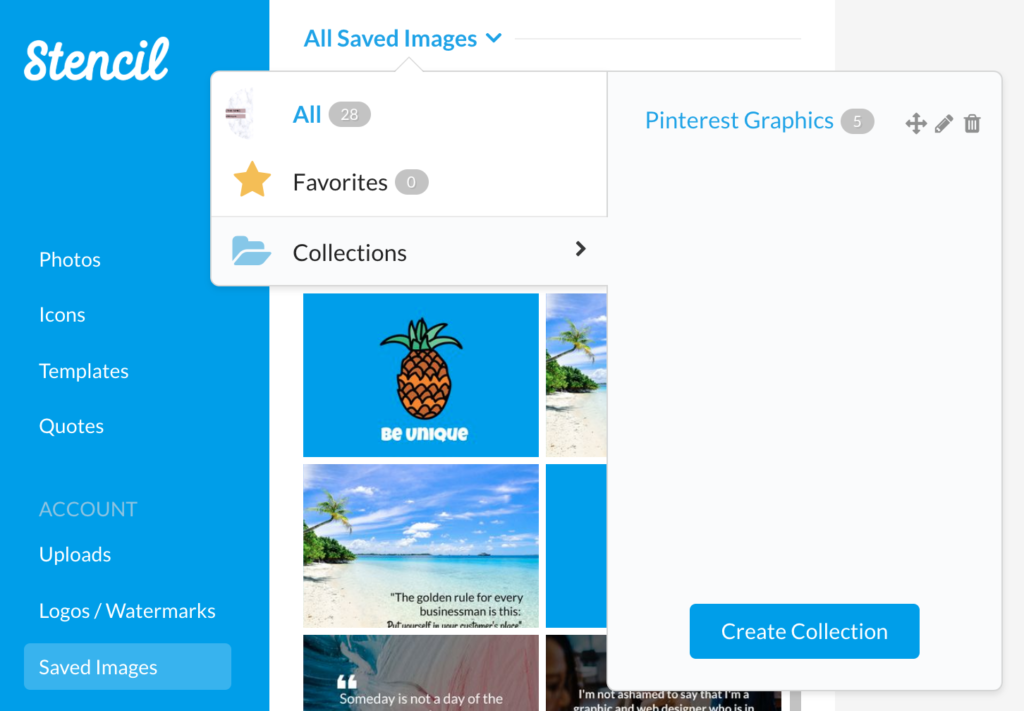 Create a "success stories" or "testimonials" board:
A crucial part of establishing authenticity for your business is showcasing your customer success stories. Create a separate board just for client testimonials or for sharing successful moments where you went above and beyond to help a customer.
It's easy to get creative with this type of board, and it can work for any industry. The idea is showcasing what can be expected as a result of either working with you or purchasing from you.
Here are some ideas of boards that you can create for success stories.
Before and after photos of results and stats.
Client testimonials
Video testimonials
Case studies
Screenshots of praises. (Example: If you have a Facebook group and often receive recognition or client testimonials in the form of comments in the group, screenshot them and leverage them.
Share 'Top 10 Lists' pins to grow your Pinterest:
Lists are one of the most popular forms of content and one of the best ways to attract users to your page.
Curate a board of lists in the 'Top 10' style with information that is directly related to or complementary to your line of business.
You can also create your own original lists with tips and tricks that your target audience will find useful.
Reach out to the other businesses mentioned in the lists, and you'll be surprised at how many will be willing to share your content as a thank you for including them.
Creating lists-type content on Pinterest is a great way to collaborate with other businesses.
Pin consistently:
Consistency is key with Pinterest. Typically, business accounts with high levels of engagement pin at least 5-15 times per day with a mix of original and curated content.
Consider investing in a scheduling tool like Tailwind to help you with scheduling your pins in advance. There is a lot of conflicting information out there regarding the frequency of pins that you need to share, remember quality over quantity, always.
You can also take advantage of Tailwind Tribes; tribes are relevant groups where you can share your content to have your content reshared by others.
Pinning consistently is a powerful strategy when done right. You should avoid pinning content that is not relevant to you or your audience.
For example, if you are an e-commerce store, and you sell pet products, having a vacation board and pinning your own personal vacation dreams and inspirations may not be the best idea for your Pinterest strategy.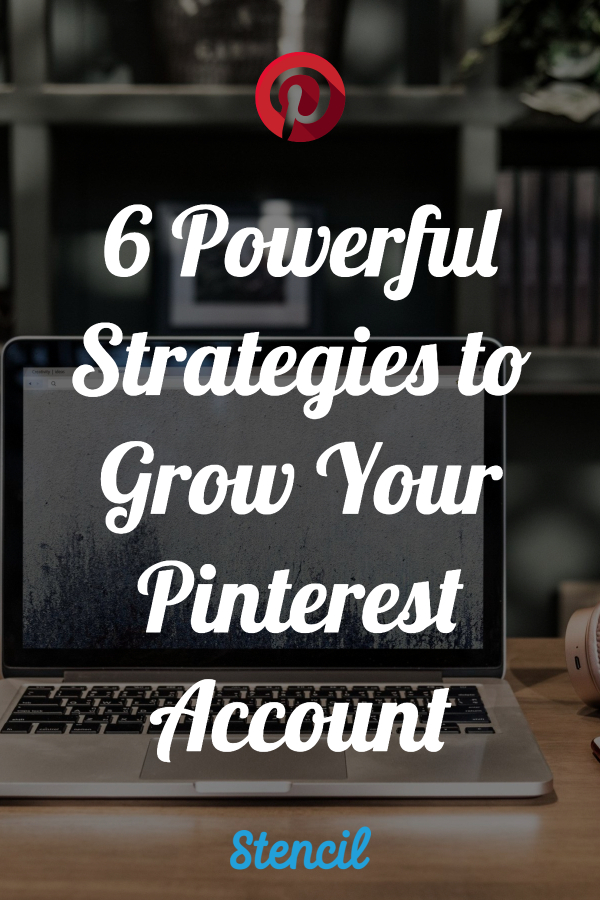 Optimize your profile:
Your cold traffic on Pinterest can convert if your audience and profile visitors know precisely who you are and what you do.
The "about your profile" section is probably one of the most critical selling points of your profile.
You could have all of the traffic in the world, but half a million monthly Pinterest profile views won't convert to business growth if your audience doesn't know what you do.
Yes, the main traffic generator will likely be your optimized pins, but don't underestimate the power of your Pinterest profile.
Example:
If you look at our Stencil Pinterest profile, the "about your profile" section tells our audience what we do, our mission, and has a call-to-action. People are more likely to click on the website because a clear direction is given to our audience.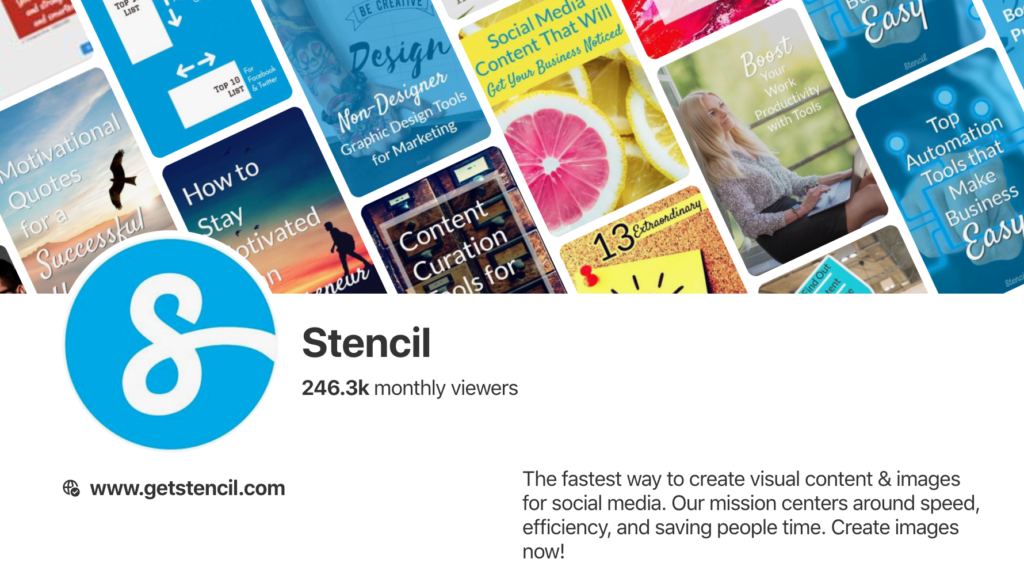 You'll want to be mindful of the 160-character limit, but you can get creative and let your audience know who you are. The key is to also enter a keyword in there.
Leverage the power of SEO to grow your Pinterest:
Pinterest can put millions of eyes in front of your business. The more your content speaks to your audience, and the more optimized your pins are, the more people will engage with your content.
Here are some tips on how to write SEO optimized content.
Write engaging and informative blog posts.
Remember that Pinterest is a visual search-engine; create visuals and graphics that are pin-worthy.
Add keyword, rich data, and contextual information to your posts.
Add a link to your post.
Optimize your board titles, descriptions, and pins with keywords.
There are various ways to do keyword research for your pins. One of the easiest and fastest ways is to search Pinterest itself. Type in a few keywords in the search bar and see what's trending.

Now if you want something a little more advanced if you go to ads -> create a new ad. You'll see the Pinterest keyword tool where you can do a more detailed keyword search.
You do not need to complete the creation of an ad; you can hit the back button and then cancel once done with your search.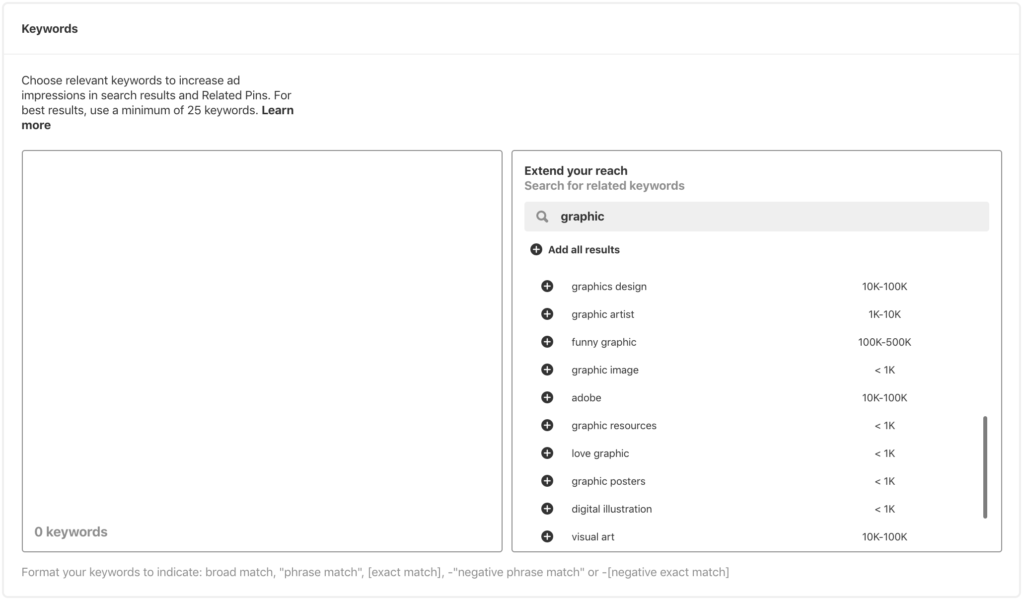 Try to use keywords in your boards and pin descriptions that are not underused or have too much competition in terms of search volume.
Keeping a close eye on your Pinterest analytics will help you determine the level of engagement your boards and pins are receiving. That will allow you to give people what they desire.
If you see that a specific board is trending vs. the other, the right step would be to share unique content to the trending board since you know it receives the most visits.
Grow your Pinterest by being unique:
It's no secret that brands and businesses that tend to do well on any platforms aren't afraid to be unique and stand out.
Don't be afraid to test the waters, try a new concept for a board or pin, and see how it goes.
If you want to be the best when it comes to growing your Pinterest account, you'll want to do thing the right away and not try to skip any corners.
For many, having patience when growing a new platform doesn't come easy, and we get it but remember that quality always triumphs over quantity. We hope that these strategies will help you grow your Pinterest account.
Let us know in the comments if you enjoyed this article, and if you use Pinterest to drive traffic to your blog or business.