Every year emojis are becoming more popular and used more every single day. On average, there are over 60 Million emojis sent on Facebook alone every day. The numbers are not just increasing in personal daily use but in business marketing communications. That's why we think it's important to talk about how to use emojis in social media marketing to provide value and strategy as small business owners and entrepreneurs.
How to Use Emojis in Social Media Marketing
You may have heard Chevrolet doing an entire press release in emoji ? a couple of years ago. Yes, it was crazy and it was amazing because they opened up marketers eyes to what perhaps could be a means of communication. They really didn't know how it was going to be received by their customers and they wanted to reach the Millennial generation of their client base. They did issue a decoder because not too many people understood the release, even the Millennials.
With that in mind, there are some ways when not to use emojis in marketing campaigns, especially when it's only going to confuse a customer.
First Tip: Will the emoji make a positive or negative impact?
Be certain the emoji makes complete sense to your message.
Sometimes in social media, posts can be taken very differently on the other end of the message. An emoji can make the messaging even worse if not used right. Also the type of brand your business or industry is in plays a significant role. When Hillary Clinton tweeted a poll on student loan debt and asked voters to respond in 3 emojis or less, the voters were outraged and felt condescended. It was a very serious topic that was worth a discussion. The emoji inquiry was not cool!
Here's a better use of emoji usage from Meghan Monaghan: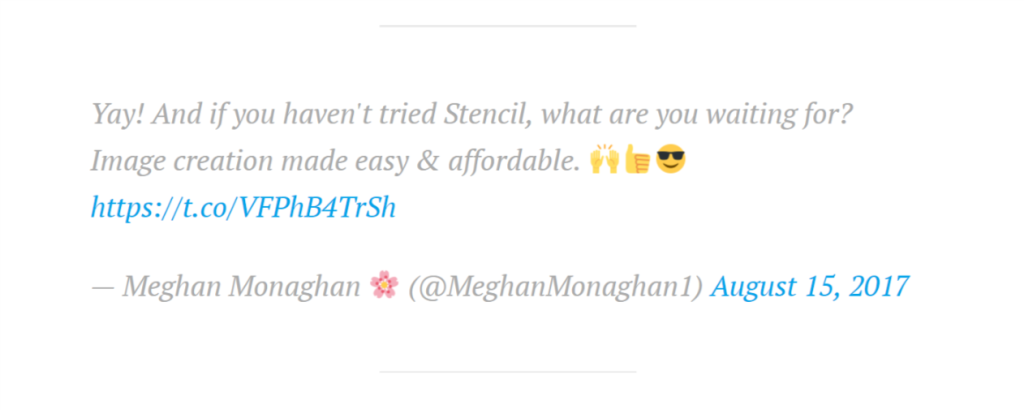 Meghan is so awesome she has an emoji in her Twitter username! She uses 3 positive emojis in her retweet. Not sure what they mean? You can always double check the emojipedia, the emoji encyclopedia. What's great about the emojipedia is that it gives you the definition along with the other emoji symbols for different platforms. Each platform has a variation of the same emoji.
Not only Meghan is giving us praise in her comment but her emojis lend a bit more happiness and encouragement.
Second Tip: Don't force the emoji!
The only way emoji doesn't seem like an alien language is to use it on a daily basis, so it doesn't seem so foreign when you do use it for business. A smiley face won't hurt when you're making a positive comment or when you're thanking someone. It will become a natural form of your social media chatting. There's no way to get away from it unless you're in an industry that absolutely would see no benefit in speaking to clients or customers in emoji language such as politicians or government institutions.
If you're struggling with the type of emoji you should enter next to a comment, then it's being forced and you shouldn't use it. It should feel as natural as your facial expression. For example, you see a delicious chocolate cake – instant response: YUM! ? (No, my tongue doesn't usually stick out like that. Ok… sometimes.?)
Same thing goes with customer inquiries about a product with a delayed response through messaging: Thank you for your interest in our product! We'll be with you shortly. ?
The smiley face softens the delay and gives a personal customer service touch.
Third Tip: Use the Proper Emoji for your Brand and Platform
Some emojis will not be wise to use for your brand and must be careful on specific social media platforms. Be sure you know the meaning of the emoji that you are about to use even if it seems harmless. Your emoji may be walking a fine line to slang and lingo to dangerous profanity when all you want to do is promote your local farmers market. Just saying… peaches and eggplants are not as harmless as they seem. Look it up in the emojipedia if you don't already know their meanings!
Also for certain industries blowing kiss faces (?) may seem improper but in the beauty/health/ feminine industries, they throw kisses at everyone like, "Thank you, sweetie! MUAH! ?" It's completely fine.
Don't even think about doing that in the tech/marketing / financial industries. No, I don't think it would go over well.
Emojis are most popular on Facebook, Instagram, Twitter, and Google+. Emojis are a BIG NO on LinkedIn. LinkedIn users get very annoyed with anything that looks remotely unprofessional. If you're not sure which emojis to use, always stick with positive expressions such as the smiley face, clapping hands, raised hands, thumbs up, etc.
Using more than 4 emojis can be excessive, try not to use more than 4 unless you have a specific campaign like Bud Light's iconic fourth of July emoji tweet.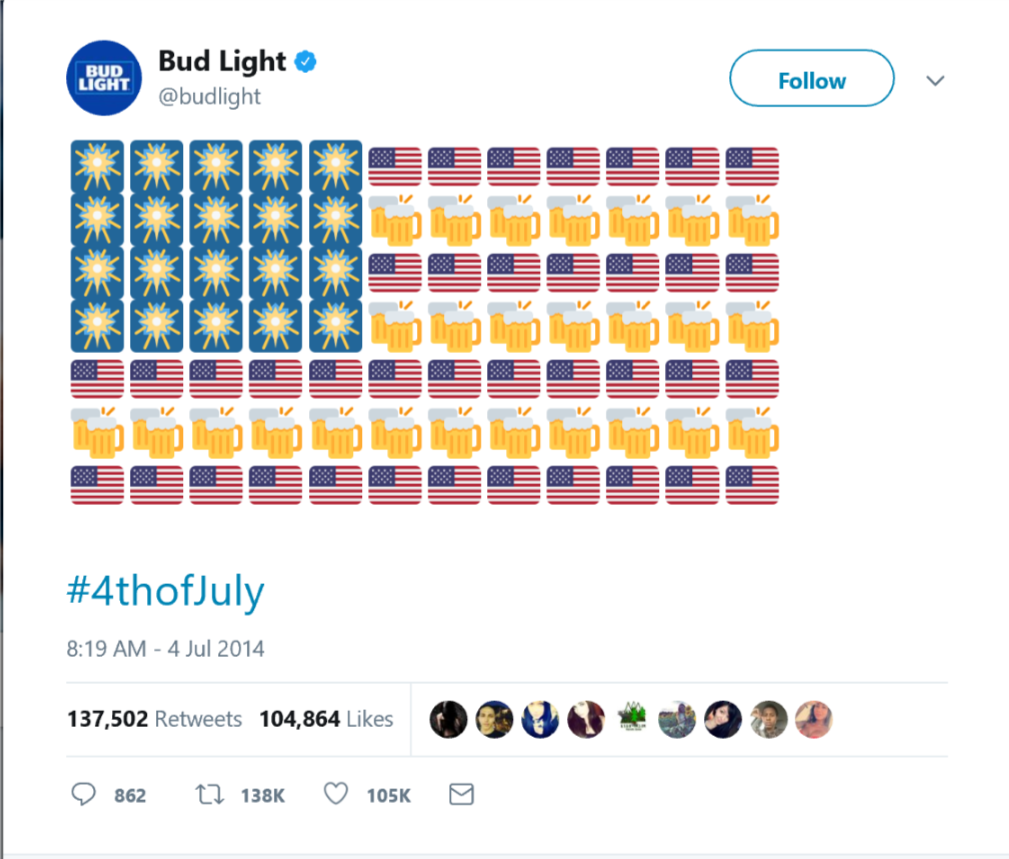 Fourth Tip:  Create Images with Emojis
People tend to associate brands and companies that use emojis as fun and relatable, according to an Appboy study. If you use emojis according to your brand and become knowledgeable in their meanings they can be of benefit. Rather than using emojis in comments and messaging, images with emojis can quickly become a favorite.
Create real-time marketing images with fun emojis to promote holidays or trending hashtags. Here's one we created for the Solar Eclipse:
That was fun!
What ways will you use emojis in social media marketing?
Sometimes it seems emojis are its own language but you can either embrace the rise of the emoji culture or dismiss it. Depending on how it fits into your brand you may find some fun emojis that you can typically use and apply them with your daily commenting or messaging. If you're feeling a bit sassier and want to integrate them more into your visual marketing, you can use them in thank you messages in your tweets or other social media posts.
The possibilities are limitless! It's up to you on how creative you want to get in your social media campaigns. Remember these tips when using emojis:
Is the emoji you're about to use going to make a positive or negative impact?
Are you forcing yourself to use or find an emoji that you "think" would work? Don't do it.
Use the proper emoji for your brand. Remember saying, "You're a ?." to a client may not be appreciated.
Take your emojis to the next level and integrate them in your images right here in Stencil!
Overall have fun using emojis! ✌️
Let us know in the comments how you like to use emojis.