Creating images can be challenging, especially finding new and unique ways to create social media posts. What can you do that hasn't already been done? It may seem like you may be mimicking what others have done or have seen the same old types of posts. We'd like to show you a variety of different types of posts that you can try to keep customers curious and thirsty for more using Stencil's resizeable images. Let's do this!

Unique Ways to Create Social Media Posts
Product/Book Promotional Post
Product or book promotional posts that you'll see from authors or brands can really take advantage of the resizable image feature in Stencil. Rather than just displaying a photo of a book or product, feature it in a lifestyle setting or set a sensational background to capture the essence of the book's theme. Here's a book cover we created in Stencil (yes, you can do that, more on book covers here). Once uploaded to Stencil, set it to a photo background that'll spark conversation and enhance the book's theme.
Remember to look for the photo in the social media background size you plan to promote it in, such as Twitter, in this case. This fictional book is called, "The Dragon Within Us". I'll search for fire in Stencil because you know… fire-breathing dragons. Ok, so here's the magic.
Drag and drop your uploaded image into the lower half of the canvas to make it a resizeable image. You can now move the corners to resize as you'd like.
Then find a fantastic background image that will match up with the book genre and add promotional text.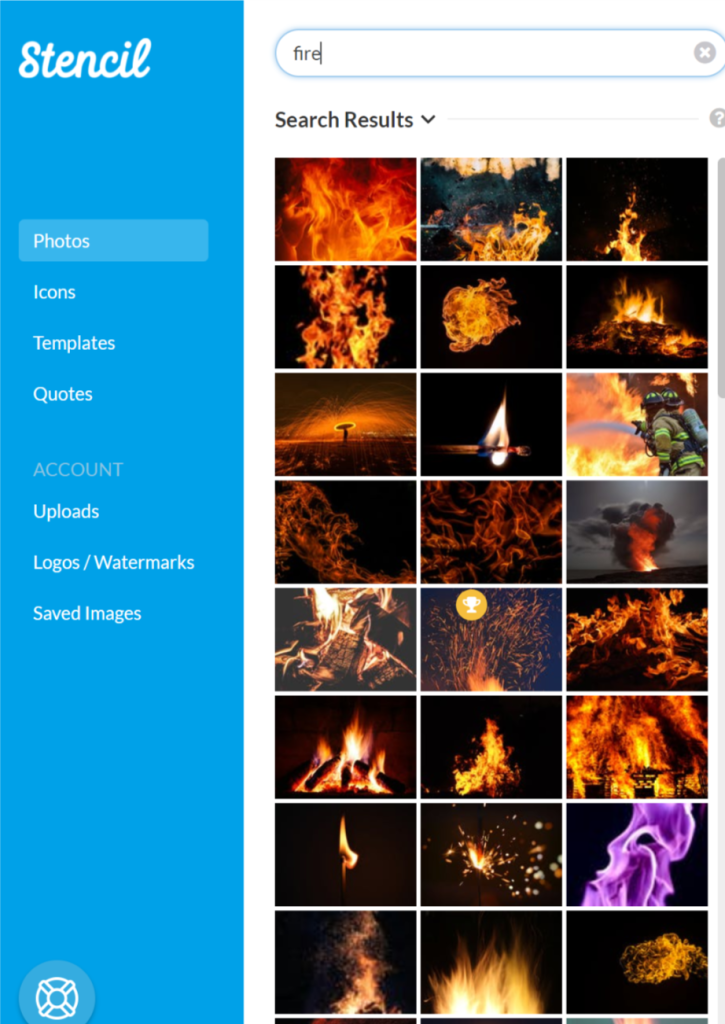 The final image is fun and promotional!
Mystery/Surprise Post
Mystery or surprise posts are great, especially on Facebook posts or groups. Get people excited about what's coming up next in your industry! If you have a new product that's about to come out next season you can surprise your followers with a post to keep them guessing and perhaps have a prize for a correct response.
Here's an example:
You've got a new product that will help with time management and productivity. Create an image with several images alluding to what the product is related to.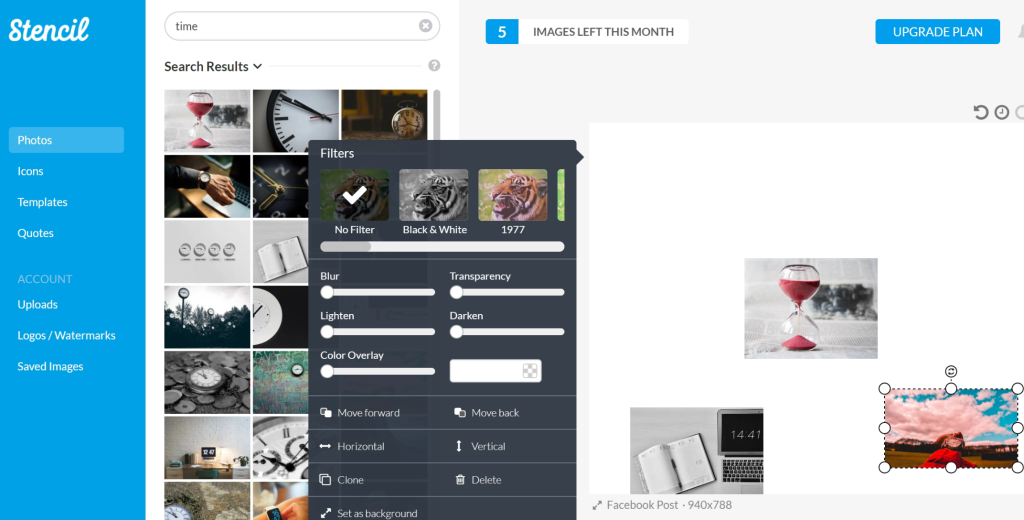 Once you've dragged and dropped multiple images to the lower half of your canvas you can arrange them to create a collage and complete the image with text to give your audience a clue of what your next project entails.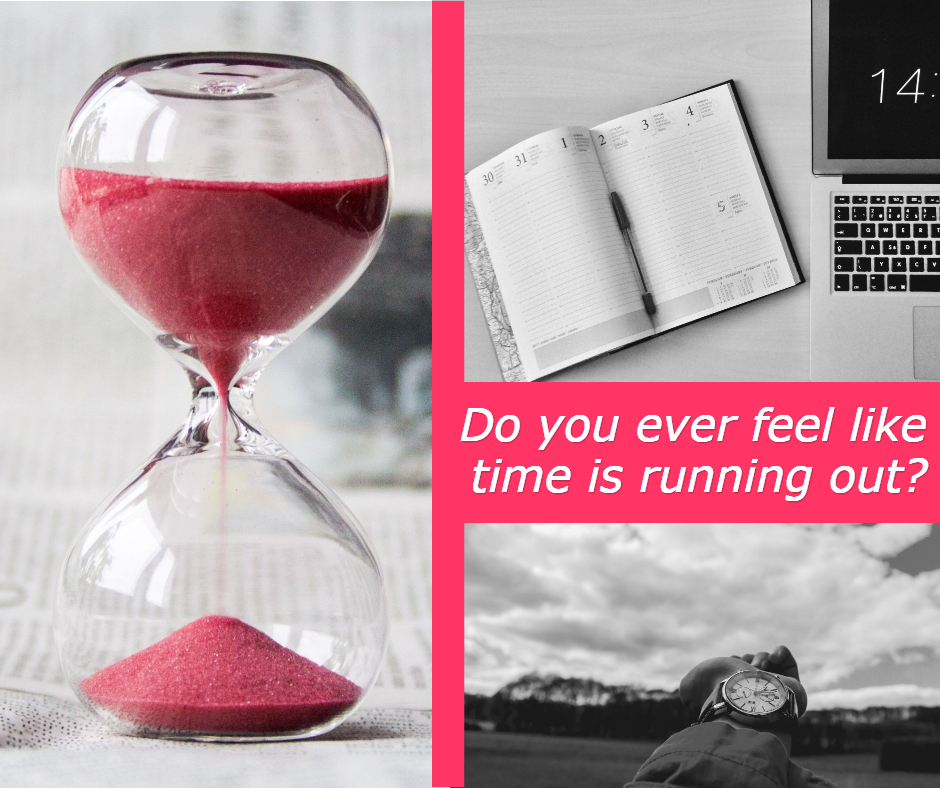 Give them a question or clue on the image to get them asking questions and intrigued. It will open doors so you can start chatting about the cool time management app you've been working on.
Note: Our Collections feature is pretty awesome with multiple image work because you can file different types of images like: time, clocks, etc. Then you'll have a variety of images to choose from and throw them onto your canvas to work from.
Series Post
If you're a podcaster, blogger, or author you may have a particular series you're working on and you'd like to show your series is currently in production or that it's complete. Once you have all your episodes, blog images, or book covers complete, then you can place all your images in one post so people can see what an awesome series it is. If there are too many in the series, you may want to consider the top 3 of the highest downloads or hits. Just another great way to promote yourself!
A/B Post
Choosing stuff is fun, especially when it's random and it has nothing to do with you at the end of the day. Have you noticed that? When someone posts on social media with two different images of a goat in pajamas, we can choose a definite A or B of whichever is the absolute cutest goat that has ever lived (if a goat can be cute). When it comes to choosing dinner or a movie, that's a whole other story, we'll be there forever and a day.
Give your audience that satisfaction! Create an A/B post by using two resizeable images into an image (drag and drop images to the bottom of the canvas) and let your followers choose.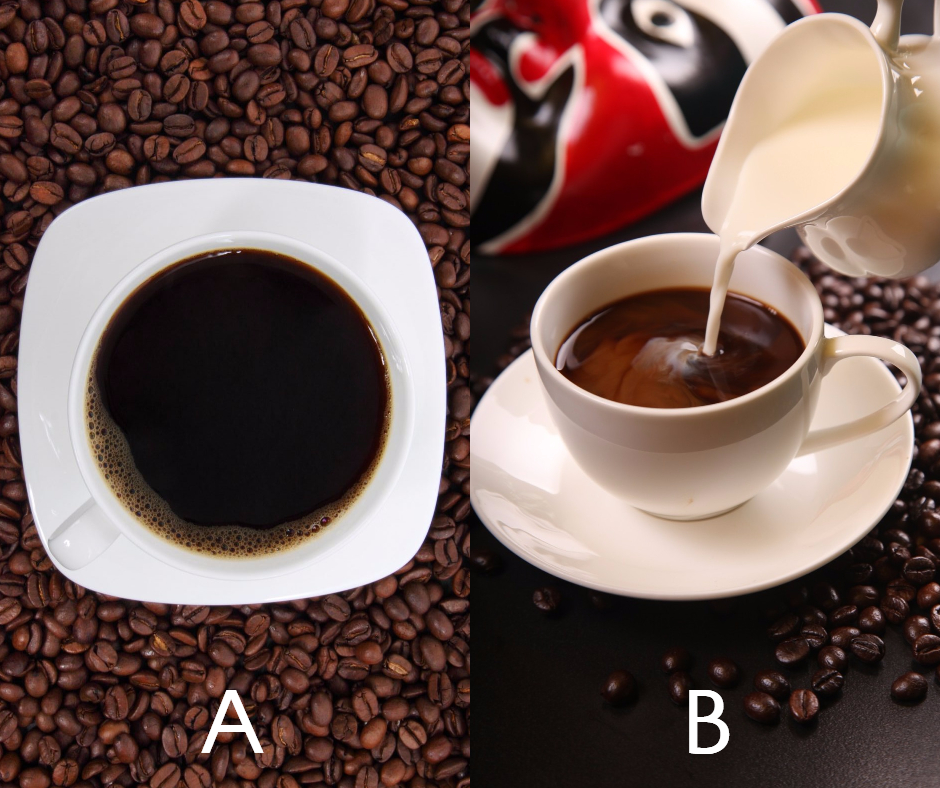 These are awesome posts for engagement on Facebook and Instagram.
Collage Post
You'll find collage posts mostly on Instagram, where you'll find a four-square image of a serene scene. When choosing multiple images for your collage they must relate somehow and hopefully tell a story. If you can convey an emotion, even better! Images of similar color do really well in collage posts on Instagram. Here is an amazing Instagram account who posts nothing but collages – Nothing is Ordinary, which is a curated collage post account. That'll give you some inspiration!
Feeling the #MondayBlues? Show it the Instagram way and your followers will love you for it!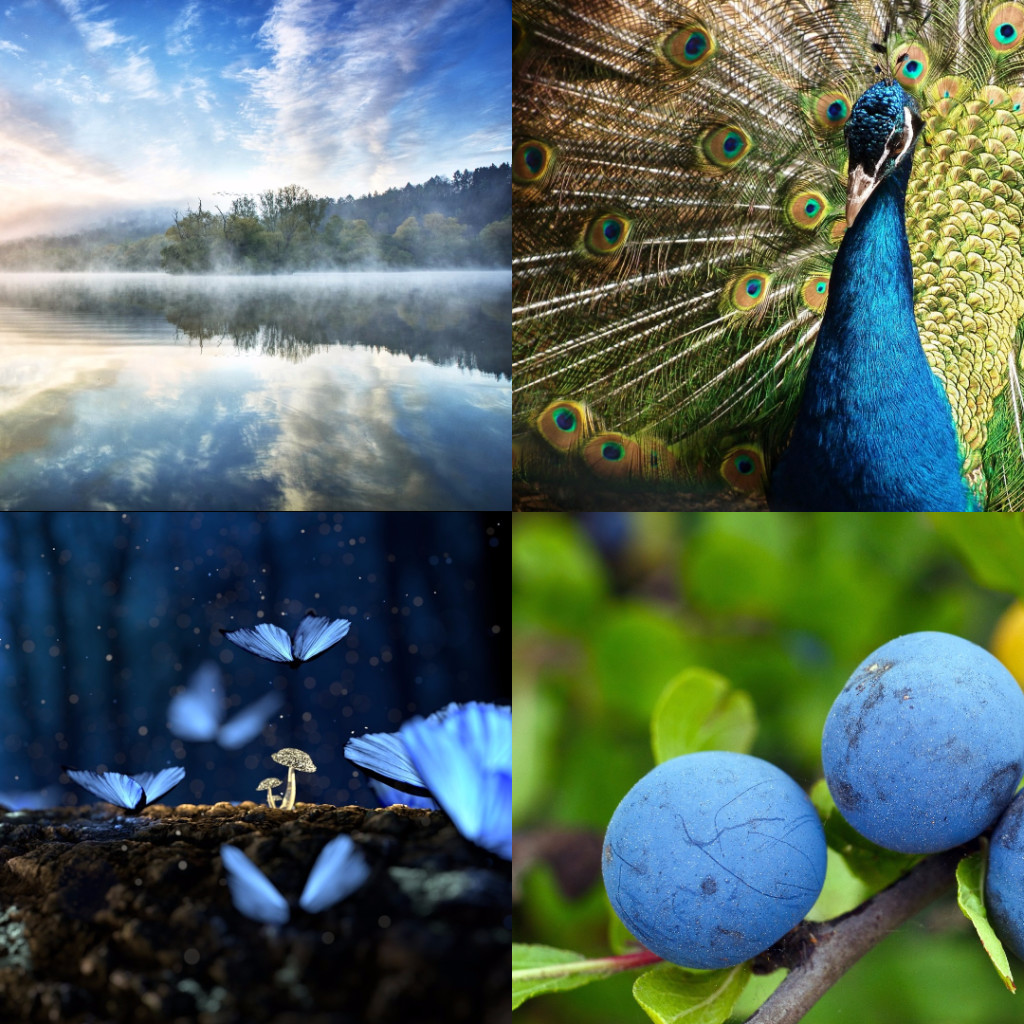 Hint: Use the dashed center lines in the Stencil canvas to help guide you to center your images.
You can also use collage posts for step-by-step product usage if it's a simple 1-2-3 step guide.
Make Images Unique to You
Designing images specifically to your needs and to your audience will help you create unique images for social media. Remember, just because someone else may have done a similar post you've been thinking of, you can always recreate it to fit your brand and make it your own. Uploading your own images and converting them to resizeable images or simply dragging them to the bottom of the canvas make designing social media posts easy.
We hope we've sparked some ideas for you to get started on your social media images. Let us know in the comments which ones you'll try!