As of 2020, approximately 3.6 billion people are using various social networks. This number is expected to grow to 4.4 billion in 2025 (according to Statista).
This trend clearly shows that the whole world is not only connected through the use of the internet but that we are also actively using various platforms that connect us based on our location, education, interests, or our friend groups.
In addition to that, it seems that every new social network is growing twice as fast as the last one.
Vine was launched in 2013, and before it was closed in October 2016, it managed to accumulate 200 million users, during its 7 years of existence.
TikTok was launched in September of 2016, and in 4 years managed to grow to 800 mil users. Having 4x more users than Vine and in nearly half the time.
Social media created many new jobs that did not exist as it did create many new business models.
With its spectacular popularity, there are many opportunities, but also a strong competition that any newcomer or a seasoned professional must face. In this post, we will share a couple of tips that will hopefully serve as a spark for inspiration in the creation of your next social media marketing campaign.
Automate Your Post Scheduling
Everybody knows that the key to success is consistency. But our guess is that your main responsibility is in delivering results, not in following the calendar, and checking if the content is posted every evening at 19:20.
This may not seem like a big issue on Youtube, where the post frequency is not so high and you can just schedule videos on the date that you need.
But what about Instagram – where to keep growing, you may have to post 5-10 times a day? Or even better, Pinterest – where the top accounts are posting between 30-50 times a day? This all has to be done while keeping the best posting times in mind.
For Pinterest, your tools of choice will most probably be Tailwind.

With its drag and drop calendar, you will schedule as many pins as you want per day. Tailwind will even give you suggestions on what may seem like spam by Pinterest and offer some corrections that you could make.
In addition to that, you have re-scheduling tools helping with seasonal content and detailed analytics to know what works and what does not.
This tool will help you on Pinterest, but what about Facebook, Twitter, Linkedin? No worries – you can use tools like Buffer to help you with your scheduling.
Keep Content in Sync
While your style of communication will be different on Twitter, Facebook, and LinkedIn – your message should be very similar. Remain coherent towards your audience and communicate the same message.
Consider Newsjacking
You are newsjacking when you leverage a particular event or news for your marketing purposes. Here is a quick example from PooPourri, a company that produces "toilet perfume".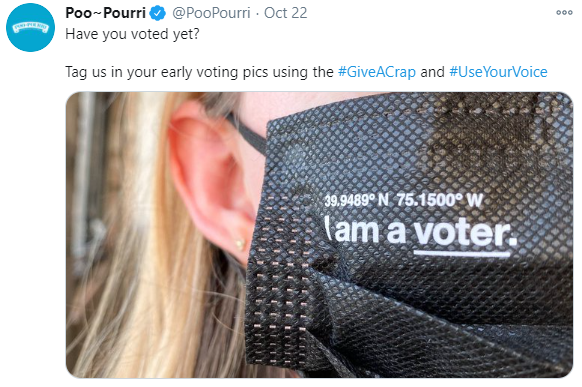 In all of their Tweets, they have these small jokes in the wording of the text. In this example, they are leveraging the upcoming voting. There is a lot of news that you can use like that, it is just important to newsjack only the ones that are not controversial or otherwise polarizing for your audience.
In the next example, we can see not just newsjacking…but the whole eventjacking. Recently NFL informed their members that due to the pandemic the famous jersey swaps will have severe limitations. Tide jumped into the action, partnered with the NFL, and offered to wash all the jerseys that will be swapped.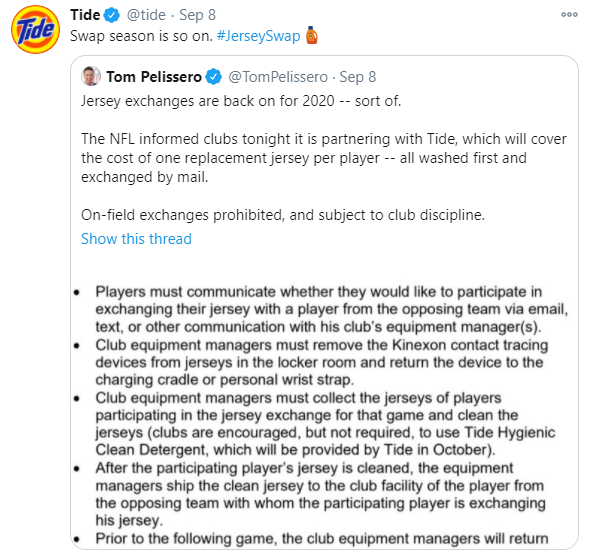 Tide is riding this marketing campaign with its Twitter filled with posts about swaps and actively promoting the #jerseyswap hashtag.
Stay on a constant lookout for the news and events that may fit your narrative, and become a part of the discussion.
Put Your Brand On Pinterest
What if I told you that there is a platform with these characteristics:
Has over 320 million users;

70% of them are women;
the majority of the audience is in the US;

77% of users discovered a new brand on it;
over 30% are actively following a brand;
80% of users have made a purchase because of this platform;
50% have a household income of over $50k a year.
and:
You can get organic traffic in a couple of days. (Ehm, looking at you…Google Indexing)
Arguably, Pinterest is not a social media platform but rather a visual search engine. But given the fact that to grow your account you have to have pin boards and be followed by others – it still ranks as a social network in our list.
If your brand is not yet on Pinterest, you should put that as a number one priority on your list.
Create Shareable Content
Everyone wants to make another Bella Poarch video, but that is the part of the social media marketing that is closer to alchemy. We are more about actionable tips and real results. So here is a quick example to illustrate what we mean.
SEO Statistic Case Study
Ahrefs is a SaaS platform that helps digital marketers to navigate in SEO. Needless to say that they are in a very narrow market.
In July 2020 they decided to make an experiment and created an updated version of SEO Statistics. It is well compiled and nicely presented. The content itself is a collection of data from Backlinko, Hubspot, etc.
In 6 month they:
Created 3 case studies on Youtube, getting around 50k views in total.
Promoted it on their native social media platforms.
Received over 260 dofollow backlinks, 50 of them over 70 in domain rank.
If you create a unique piece of content and give it an initial marketing push – you will get exposure. Ahrefs was able to achieve it in its narrow niche and it can be also done in other niches.
Proprietary data, infographics, recording of your webinar, various research papers, case studies – those are just some of the things that you can share with your audience.
The idea is to create something that is very useful to your audience and is also hard to obtain. Users are frequently looking for quick answers to your problem, if your content will be able to deliver that piece of information – you will be sure to get exposure. By sharing valuable content on their social media, users are building their social credit and authority in their professional and social circles.
Strive For Virality
The last post was about an actionable and systematic approach to the creation of shareable content. But why not have a shot at solving the virality formula?
Guac Day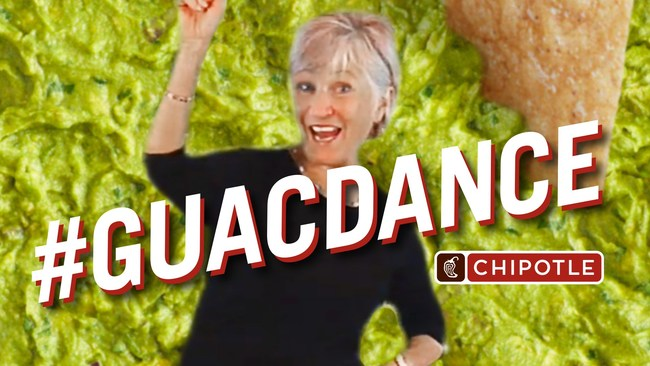 Did you know that July 31st is National Avocado Day? Chipotle took charge of it in 2020 by combining a song about avocado and a free guac offer. They launched a hashtag #guacdance. This combination yielded 250,000 video submissions with that particular tag and 430 million views.
While Chipotle, avocado day and TikTok may seem like natural ingredients for the virality formula, let's have a look at a more conservative case.
Absolute Unit
In 2019 Museum of English Rural Life tweeted: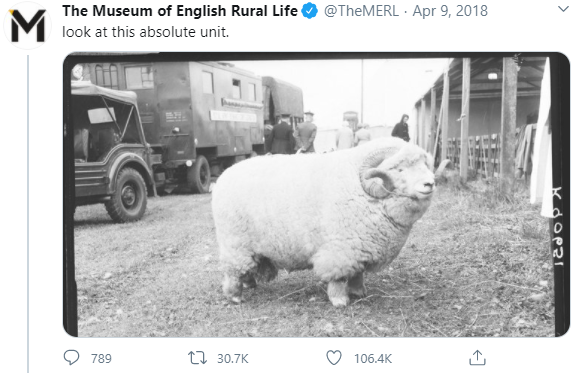 With this tweet Museum of English Rural Life managed to:
grow their Twitter account to 100,000 followers;
receive over 1,5 million engagements;
be featured by The Times, BBC, TIME Magazine, and others.
While it may seem like a one-time success, MERL managed to re-create this in their tweet "Chicken in Pants"
Virality is accessible to all types of business and market segments, it is all about finding the right angle.
The vast majority of your posts will not become global sensations, but you should still try to achieve that ever-elusive virality with every piece of content that you launch.
A/B Test, Keep Track of Everything
Always be testing. Take the best parts of various marketing campaigns, see what made them work, and try to repeat it but…better and improved.
For example, did you know that tweets with photos get 35% more engagement? There are always ways to improve your marketing campaigns.
Considering how small of a space you have on your Facebook, Twitter, Linkedin posts – even a small change can make a huge impact. Even so small as changing CTA color.
A test done by Hubspot showed that the change of the CTA button color from green to red increased conversions by 21%. Sure, this test was performed when building a landing page, but its applications will be similar for the social media campaigns too. Give it a try in your next CTA image.
What else should you A/B test?
Titles
Hashtags
Call to action
Link Preview
Images / Videos
As you can see there are a lot of combinations but you will not move anywhere without proper analytics. Set up campaign tracking, and see how the various campaigns perform against each other. In addition to that, you will also see how they perform on various platforms.
Hop On Trends
If you spot a trend, do not hesitate to take charge of it. It can be something that you found on Google trends: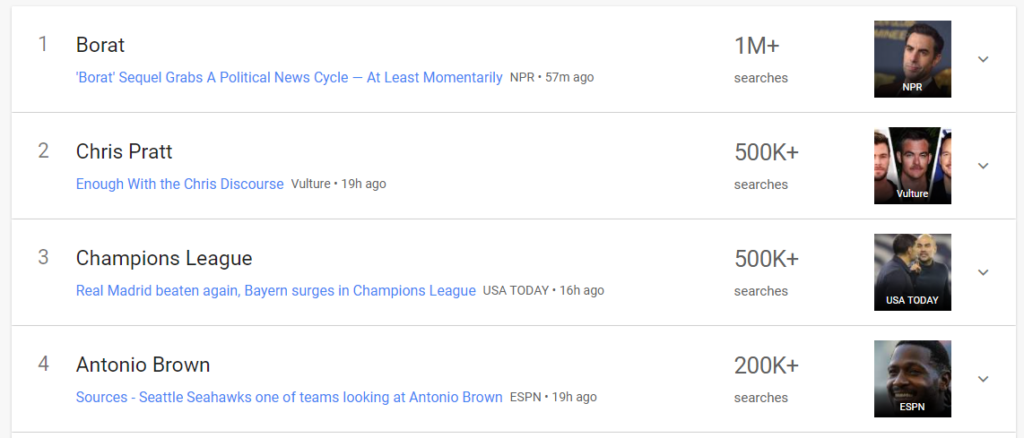 For more niche ideas, you may want to give a shot to Pinterest Trends:

These are just some of the high-level ideas, but of course, there are many more to go with. Keep your eyes open for the opportunities, and when you spot a trend and hashtags that play well with your brand voice, go at full speed.
Leverage Seasonalities
Take the trend following to the next level. Halloween, Christmas, New Year, Fathers Day, Mothers Day, etc. – are all opportunities to add your account a bit of that virality and engagement that we are looking for here. Seasonalities set trends, can inspire new content ideas, and seasonal content is very well shared.
This is the search trend for "Halloween costumes" for the last 90 days.:

Imagine all the hashtags and topics that you can create around one holiday. The best thing? You can save that content and reuse it again and again. Here is Google Trends for the same keyword, since 2004:

While we can see that people are getting less interested in dressing up for Halloween, the trend spike is there like clockwork, every year.
Create Contests and Giveaways
Contests and giveaways are a great way to get new clients and give your accounts the virality boost that you are looking for.
The idea of a referral contest is very simple. You choose a prize (a gift card, free lessons on online course platforms, a T-shirt, free consultation, a 3-month free trial of your service – whatever fits your business narrative) and ask your audience to do something in return.
Usually, it is leaving an email or sharing the contest on your social media. Here is an example.
We guess that you already know FashionNova. Social platforms are overflown by their presence. Here you can see how they are using the giveaway strategy: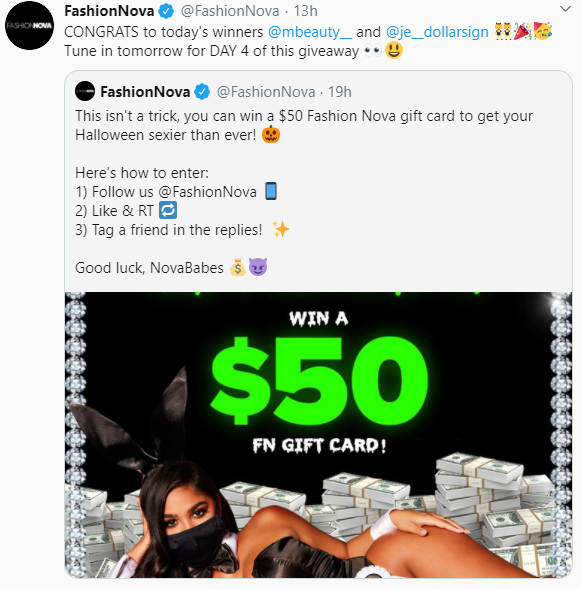 They are not only receiving new followers and exposure, for a price of $50 in credit to their own store, but they are also preparing events for further social media content.
You have three points when you can leverage the referral contest to your advantage. The first one when you are preparing it, you can already start informing your audience that something is about to come.
Then, it is the actual launch, when you keep promoting the contest and gain new followers.
When you reach the contest deadline, you choose a winner and you can promote it again.
Partner With Other Influencers
While it can apply for other strategies too, contents and giveaways work particularly well when promoted through other established influencers, no wonder that most affiliate websites are engaged in this tactic.
Reach out to various influencers and ask for a shoutout. This is a very popular tactic on Instagram (and its stories) and TikTok, where you are paying a fixed amount for an ad on the influencer profile. The ad is usually time-limited to 24h after which it is deleted.
It works very well with giveaways as they are in a form of competition and the vast majority of the audience finds it less intrusive than a normal ad. So instead of:
"Loving this iPhone case, I am so glad that I found it at @bestcasescom"
there will something like:
"Follow @bestcasescom and get a chance to win a Free iPhone case!"
The second option sounds more natural and will be accepted much better by the audience as it does not seem so pushy and promotional.
Sponsored Videos
The same approach of course works on Youtube, where we wanted to give you a quick tip. If you are struggling to find Youtube channels with your audience – give a shot to ThinkWithGoogle:

After defining the audience (we chose "in-market" with interest in Computers) you will get suggestions of various Youtube channels with which you can start creating your outreach list.
Then you would contact the administrator or Youtubers, and see what deal you can get for your brand.
Conclusion
We started with something obvious that needs constant repetition and will end on the same note. The main social media marketing tip is to keep testing. There is no way around it.
No matter how good your visuals and social media marketing game is – it can be better. If you will not be constantly improving, rest assured that somewhere somebody is now coming up with something that will overtake your positions.
Do you know which click-through rate is sufficient? A higher one. So get out there and keep chasing that ever-elusive perfect CTR.