If you want to drive more sales through social media, Instagram is probably the best option right now. Among the top social networks it drives the highest engagement. It also drives the 2nd highest number of sales, as average order value on Instagram is $65. The only other social network that drives more sales than Instagram is Polyvore.
So, to help you make the most of Instagram's potential, I have put together these 3 strategies you can use immediately to drive more sales on Instagram. Check them out…
Create content that draws engagement:
Before you begin selling products on Instagram, you need to ensure that your reach is high. Instagram's algorithm decides on which posts to show its users depending on the content they have interacted with in the past. If content you have posted in the past has gotten a lot of impressions, likes and comments more people will see the next posts you publish.
It is very hard to drive engagement with content that focuses on selling. This is why before you begin publishing promotional content you should share more entertaining or helpful content. This content will increase engagement and reach of your current posts and for the future promotional posts you publish.
A company that understands the importance of publishing useful content on their Instagram page is Califa Farms. They make and sell dairy free plant based milks. If you visit their page you will find several posts promoting their products, but along with these you will also find helpful posts like this recipe on creating dairy free cookies.
They create videos like these because they know that their audience who probably don't consume milk or others forms of dairy will be interested in dairy free recipes. This will drive a lot of engagement in the form of likes and comments. It will ensure that when they post pictures and videos promoting their products later, they will get more impressions and sales. These videos might look hard to make, but you can easily create them with a good video camera and an editor like InVideo, that helps cut unimportant bits and add overlays
Create promotional content and tag products:
After you publish creative content regularly your engagement will go up. Soon after this you can begin publishing some promotional content that will drive sales on Instagram. These are very easy to create. As you just need to publish pictures of your product in action and describe it clearly in the caption. Like this photo from Lululemon…
It is a picture of a model wearing the jacket they want to promote.
But before you publish the promotional photos you should also change the URL in your bio to the landing page of the product. And don't forget to inform your followers with a call to action (in the caption). It should inform them to click the link to find the product. In the above photo you can see that Lululemon sell the product with a well written caption and end with the call to action 'Link in bio'.
If you want to remove this hurdle of asking people to leave the photo, then visit your profile page and then click on the link, you should publish a shoppable post instead of a regular post. In a shoppable post you can tag the products present in the photo.
People can click on the product tags in the photo and visit the product page.
An example of a shoppable post is this one from Native Union.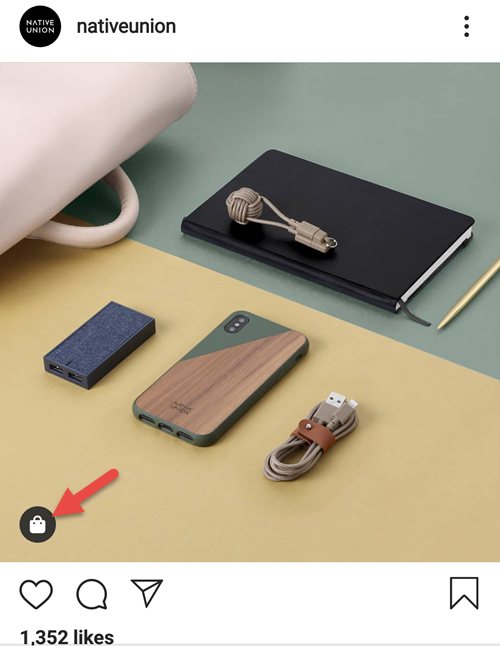 When people see the photo in their feed, the bag sign in the bottom left corner appears indicating that products have been tagged in the photo.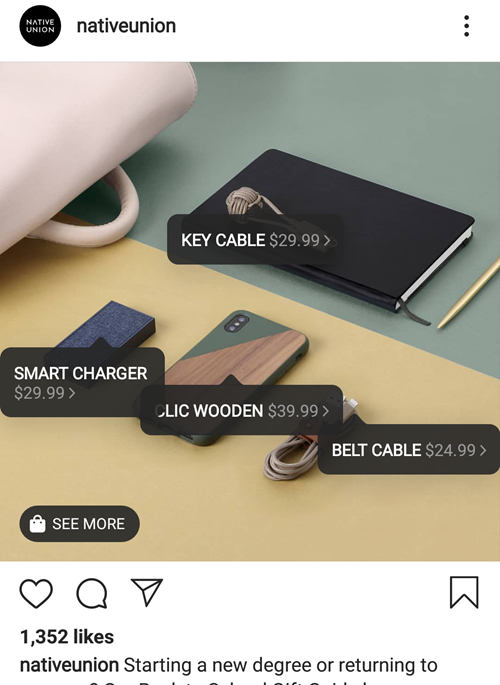 You can see what these tagged products are by tapping the photo one single time. If you click on the products you will be taken to a page on Instagram where you see them clearly.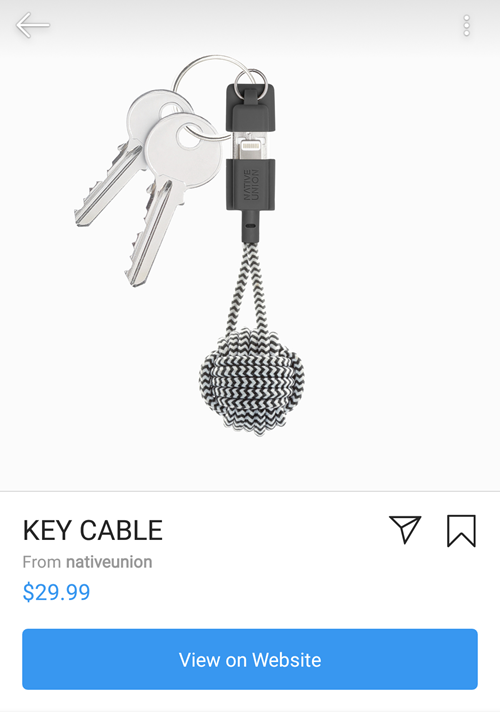 You simply have to click on the 'View on Website' button after that to checkout the product.
After implementing shoppable posts like the above one, Native Union's traffic from Instagram increased 2,662% and their revenue from Instagram went up a 100%. This increase in traffic and revenue occurred because shoppable posts make it extremely easy for people to find the products.
Native Union were able to set up shoppable posts as it is a feature offered by BigCommerce. If you want to use it too, you will need to set up your ecommerce store with BigCommerce and then integrate Instagram into it. After that you will be able to easily tag the products in your catalogue in your Instagram posts.
If you don't want your photos to appear too salesy, you can create content that not only educates and/or entertains, but also sells your products.
An example is this video from Ben and Jerry's where they show you how to make Chocolate and Peanut Butter Vegan Fudge, while using their ice cream.
This way they are not only educating their followers, but also selling to them at the same time. BigCommerce lets you tag products in Instagram videos too. So, experimenting with videos like these will be a good idea. They will drive both engagement and get you sales.
Try out influencer marketing:
Another way to drive sales on Instagram is by teaming up with influencers. Many influencers already do the hard work of driving engagement and keeping their reach high. So, you can look for influencers who will be interested in promoting your products.
While searching for influencers many businesses make the mistake of only taking the number of followers into account. The number of followers will play an important role, but there are two factors you should also consider. These are relevancy and engagement.
Taking relevancy into account ensures that you reach more people who will want to buy your product. For example, let's say you are selling cameras, it would be better to team up with photographers (on Instagram) for your influencer marketing campaign as a lot of people who follow photographers will be photographers too. It would be a mistake to team up with fashion influencers to promote your products because their followers will be interested in purchasing clothes and other accessories.
And you take engagement into consideration because Instagram has a fake follower epidemic. There are many influencers out there who buy fake followers just to drum up their presence and charge a higher fee. Engagement can be purchased too, but fewer people do it. So, use a good analytics tool to check if the account has a good level of engagement.
If you want to be even more careful before working with an influencer, you can have a quick chat with them and find out how many sales their past customers generated from their campaigns. This will help you calculate if the ROI will be worth it.
An example of a company that has had great success with influencer marketing is Benique.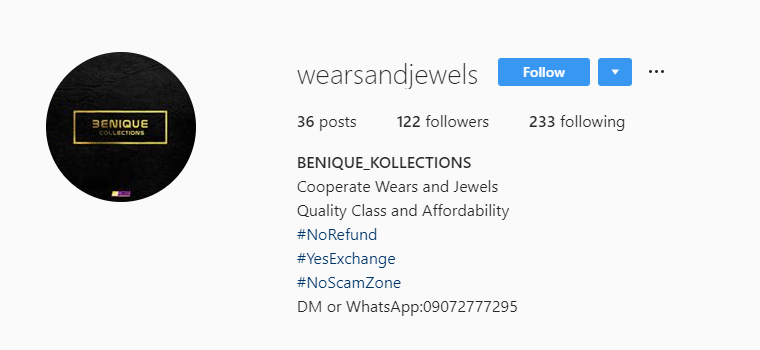 They created an Instagram marketing strategy that focused on quality (sales) over quantity (followers). This helped them generate a 300% ROI.
So, plan out a good influencer marketing campaign if you are looking for some quick results. You don't have to always pay for it as there are several accounts out there that will happily publish Instagram shoutouts for free. Some will also do shoutout exchanges. Where you promote something for them and they return the favour for you.
Paid campaigns are also worth it as businesses on average generate $6.50 for every $1 spent on influencer marketing.
Implement these 3 strategies now to drive more sales on Instagram…
These are my top 3 strategies for driving more sales on Instagram. If you are looking for something more long term and affordable, use the first two. Start by building an audience and increasing your reach. And then implement promotional techniques to drive more sales.
But if you would like instant results and have a good budget, influencer marketing would be a better option.
Influencer marketing can also sometimes indirectly help you build a following. As influencers usually tag the company they are working with in the caption. It makes it easy for their followers to find the product. Some of these people will follow your account. So, it can be beneficial for your long term strategy too as you will attract very relevant followers who will engage with your future content.
Are you using Instagram to promote your business? How do you drive more sales on Instagram? Please leave your comments below.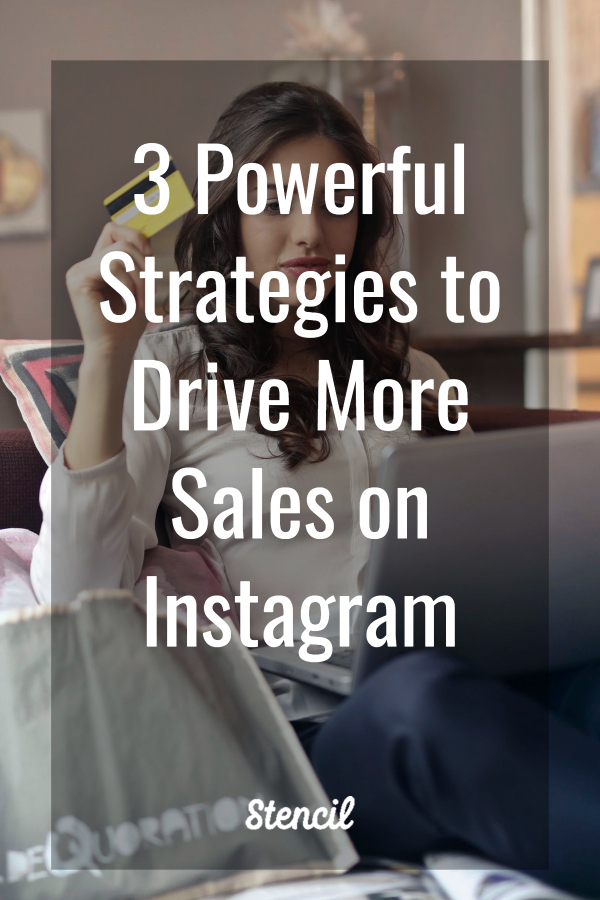 If you found this post useful and feel your followers will too, please share it with them by using the share buttons below.