It's hard to believe that in just a few days, we'll be saying goodbye to summer and officially start to plan the holiday season. For many of us, this means planning family gatherings, delicious meals and some well-deserved rest.
It also means tackling some new marketing strategies, working on year-end tasks and hoping to boost revenue with the help of successful campaigns. Here's how you can leverage social media before the holiday season to create a better experience for your audience.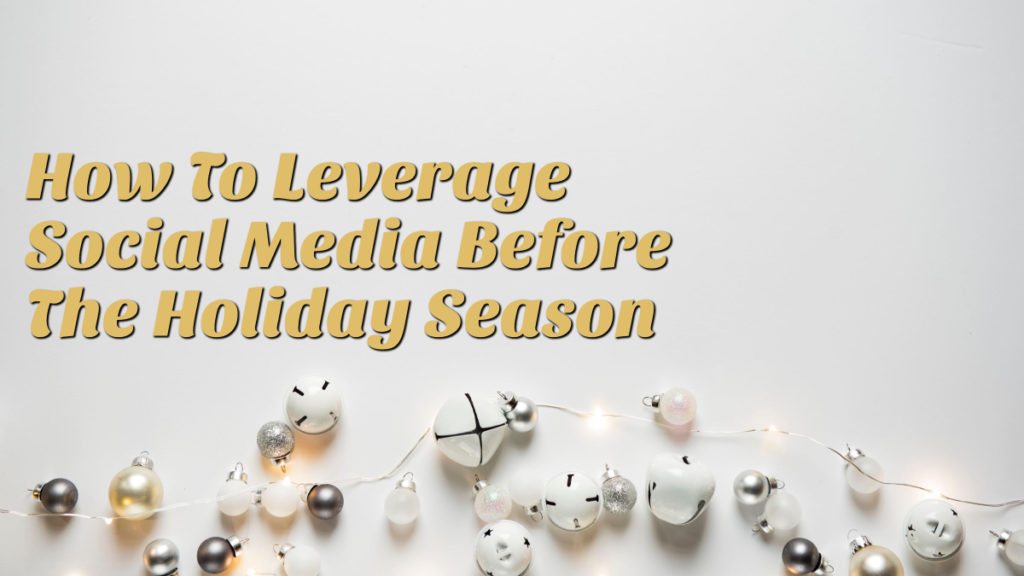 Leverage Social Media To Answer Questions
Everyone has burning questions, and you likely receive an abundance of inquiries on social media. Every question received matters no matter how big or small it may seem to you.
Proactively answering questions allows audience members in their journey of becoming a customer. You should always want to foster community.
With that being said, really focus on amplifying your efforts before the holiday season. First impressions matter both off and on social media.
Showcase Feedback From Happy Clients
Social proof is more powerful than one may think. People talk, and they won't shy away from sharing both their good and not-so-good experiences. As business owners, you'll want to capitalize on your good reviews.
Take that feedback and transform it into quote graphics, GIFs, carousel posts and animated graphics. All the positive feedback that you receive matters.
The feedback that you receive via email, feedback left as a review, in your social media inboxes and over the phone can be all used. Ensure that your team has a process in place to keep track of the positive feedback. 
You'll also want a process in place to deal with feedback where there is an area of opportunity. Remember that your audience will most likely observe how you respond and deal with the matter when it comes to negative reviews.
Don't Forget To Nurture Your Email List
If you're wondering why you don't drive website traffic or revenue from your email list, maybe it's time to have a second look at your strategy.
Are you emailing your list on a regular basis?
Are you balancing your content between promotional and nurturing?
Are you A/B testing your email titles?
Are you keeping an eye on your open rate? Which email type seems to resonate better with your audience?
Before you start creating email content for the holiday season, take some time to fine-tune what seems to be working with your audience.
Get Extra Visible
Being visible online doesn't mean posting ten times daily on each platform. Your best bet for gaining visibility in your space or industry is to be valuable to your audience while providing insightful content consistently. 
According to the National Retail Federation, in 2020, 42% of buyers started their holiday shopping earlier than the previous year.
If you have an opportunity to start sharing your seasonal holiday content sooner rather than later, it wouldn't be a bad idea. 
Do you have staple best-selling products year-over-year? Start creating content around those items. Here are some post ideas to help you get some eyes on those products.
Create a "How-To" Reel on Instagram 
Create a carousel post with multiple positive reviews from previous buyers. Format it and use it for Instagram, Facebook, LinkedIn, and Pinterest. 
Create blog content around some of your best-selling products. Simple educational blog posts such as "How To Use," "5 Facts About," "Holiday Gift Guides."
Choose a dedicated day to go LIVE and answer some questions on the platform of your choice. Repurpose the live video into a YouTube video, Instagram & Facebook posts. 
Be sure to create ample content on Pinterest. If you want to promote organically on Pinterest, always plan 3-4 months in advance. 
Leverage Idea Pins on Pinterest. The reach is great and will allow your audience to learn more about your brand. 
Don't forget about Instagram Guides, they are a great way to group various posts relevant to your product, making it easy for your audience to locate your educational content. 
Share company wins, showcasing your team's passion. Company culture goes a long way in helping buyers make purchasing decisions. 
Combine Evergreen And Seasonal Content
Everything we do in our social media strategy can live in harmony, including seasonal and evergreen content. If you have products that you only sell on a seasonal basis, it doesn't mean that you can't talk about them on an evergreen basis or at least more often.
You can start driving awareness by releasing some holiday gift guides earlier than usual, working with influencers to drive awareness about the products, creating content showcasing how past purchasers have used the products.
You can also create testimonial content, discuss these products in regular emails, linking back to a segmented email waitlist. The sky really is the limit when it comes to giving your seasonal content more visibility on your social media platforms. 
What are you currently doing to reach more people this holiday season?