Take a minute and think about your favorite brand. Chances are, the first thing that popped into your mind was their logo. Right?
That simple exercise is a true testament to how powerful a logo can be. It determines how people perceive your brand and enhances brand recognition.
Unfortunately, there are millions of companies and organizations that operate without a logo. This often decreases brand visibility and makes it harder to leave a mark on customers.
In this guide, we look at the importance of logos and provide a few easy ways of designing it yourself.
Let us begin!
What is a Logo?
A logo is a symbol or design adopted by a company or organization. It helps people remember and recognize your company.
When creating a logo, you need to keep two things in mind.
First, your logo is not your brand. Your brand is the experience and perception customers have when dealing with your company.
Second, your logo does not determine your success. That is down to your business acumen.
There are several types of logos:
Brandmark/pictorial mark;
Combination mark;
Word mark;
Abstract logo mark;
Mascot;
Letter mark;
Emblem.
Why should you design a logo?
When you think of big companies such as Apple, Google, Toyota, or Coca-Cola, their logos are usually the first thing coming to your mind.
Below are a few reasons why you should follow their example and secure yourself a logo.
It makes a memorable impression and piques people's interest.
It distinguishes you from your competitors.
It fosters brand loyalty. Familiarity with your logo creates the perception that your company is trustworthy.
It grabs customer's attention and communicates your values.
Given that a logo has such a powerful impact on your brand, you should carefully consider all design options.
How to design a logo?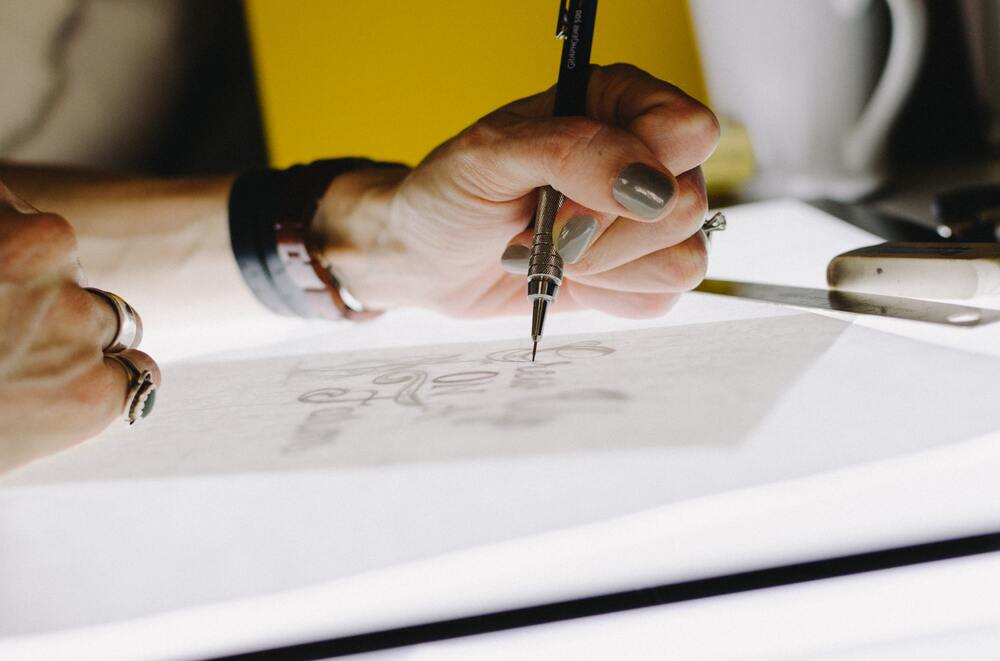 There are several ways to come up with a great logo. You can choose to design it yourself or get help from professional designers. If you choose the latter, keep in mind that communication about your brand is crucial. No one understands the values of your brand like you do.
Let us explore both options.
Design it yourself
Your business logo is an essential part of your brand. That said, your logo needs to be done right. This is why you should consider doing it yourself. There are some advantages to designing it yourself:
It is the cheapest way to create a logo. Thanks to multiple logo design platforms and tools (more on this later), you can design your logo with little or no cost.
You can accurately express your vision. You have a better understanding of your brand's vision than anyone else.
Creating a logo is easy and fun. You can put your creativity to the test or start a logo design competition within your business.
If you're not keen on design or you're struggling to define your brand's identity, there are some disadvantages that come with designing a logo yourself:
It requires creative and strategic thinking. Imagery can have a profound impact on how people perceive your company. So you need to be careful with the images and colors you select.
Designing a logo can be time consuming. If you are the primary decision maker in your business, chances are you don't have a lot of time to spare.
Designing a logo is not an easy task. And finding the right reflection of your brand might prove to be difficult. So to make this process easier, we've listed some steps you can follow and tools that might make this process easier.
Define your brand's identity. Your brand identity is a reflection of your beliefs, values. Understanding it allows you to create a logo that reflects your company's personality.
Look for inspiration for your logo. Creating a logo requires a bit of inspiration. You can take a look at several working logos and draw from their creativity. This collection of designer portfolios might be a good place to start.
Select an appropriate color scheme and typography. There are several color pallets to choose from. Plus, you need to select the typography/font that best matches your business.
Evaluate logo options to choose your design style. Printful and Namecheap offer a variety of logos for you to choose from. So take your time and select the best fit for your business.
Integrate your logo design into your brand. Print your logo on letterheads, merchandise, products and more.
Below are two design platforms that you can use to make a professional logo for your business.
Printful's logo maker enables you to create a logo in a few easy steps. You can choose from over 100 customizable logo templates.
There are several customization features for you to use. Plus, you can tinker with the font, colors and even add some clip art to your logo design.
Namecheap offers a fast and free way to create a professional logo for your business. All you need to do is answer a few questions, follow a few steps and choose from hundreds of logo samples.
If you have no experience with logo design and you find it too challenging, you can hire a professional graphic designer.
Hire a professional
While hiring a professional might seem like an easy solution, it involves some challenges as well as some upsides. Let's look at what you're likely to face when hiring a professional designer.
Experienced graphic designers have first-hand knowledge of what customers want. They usually ask the right questions to determine your brand identity and how to incorporate that in a logo. This experience and graphic design training usually leads to an innovative and iconic logo design.
However, there are some downsides when hiring a professional designer. First of all, it can be time-consuming. You need to shop around for a designer and view different portfolios. Moreover, you will be asked to view several designs and offer feedback during the process.
Hiring a graphic designer requires a budget. Depending on the budget you have for this, you might not get the logo that you envisioned. If you're looking for consistency in results, then consider hiring an agency.
Seek out a graphic design agency
A professionally designed logo presents your products and services in a better way. Moreover, a professional will have a better eye for the styles, colors, and typography that best suits your business. After all – they're experienced in logo designs.
You will have a chance to offer regular feedback to designers. This is a huge added benefit as they can use this to create the artwork based on your needs and preferences.
You can go to a local design agency or find one on freelance sites such as Upwork or Fiver. If you're open to screening loads of ideas and logo concepts, consider using custom design platforms.
Custom design platforms allow you to post your design project for bidding. One such platform is DesignCrowd – a freelance site that hosts thousands of designers from all over the world.
You will receive multiple design samples to choose from. Once you select a logo you will get full copyright of the design files and the professional design files (so you can alter the design in the future).
Design your logo today!
A logo is a big part of a company's identity. It is the image that comes to mind when someone thinks of your company.
Consider using any of the platforms or methods suggested to create the perfect logo. This will help you cut down the effort and the cost of creating a logo.
So get your logo today!