Instagram stories are a fun and engaging way to nurture your current audience, grow your reach and close more sales. It's no secret that Reels and other newer features on Instagram, such as subscriptions, are gaining a lot of momentum; stories should not be forgotten.
If you want to learn how to create engaging Instagram stories in 2023, you'll love this blog post. We'll share some simple, actionable tips to help you create engaging Instagram stories with ease.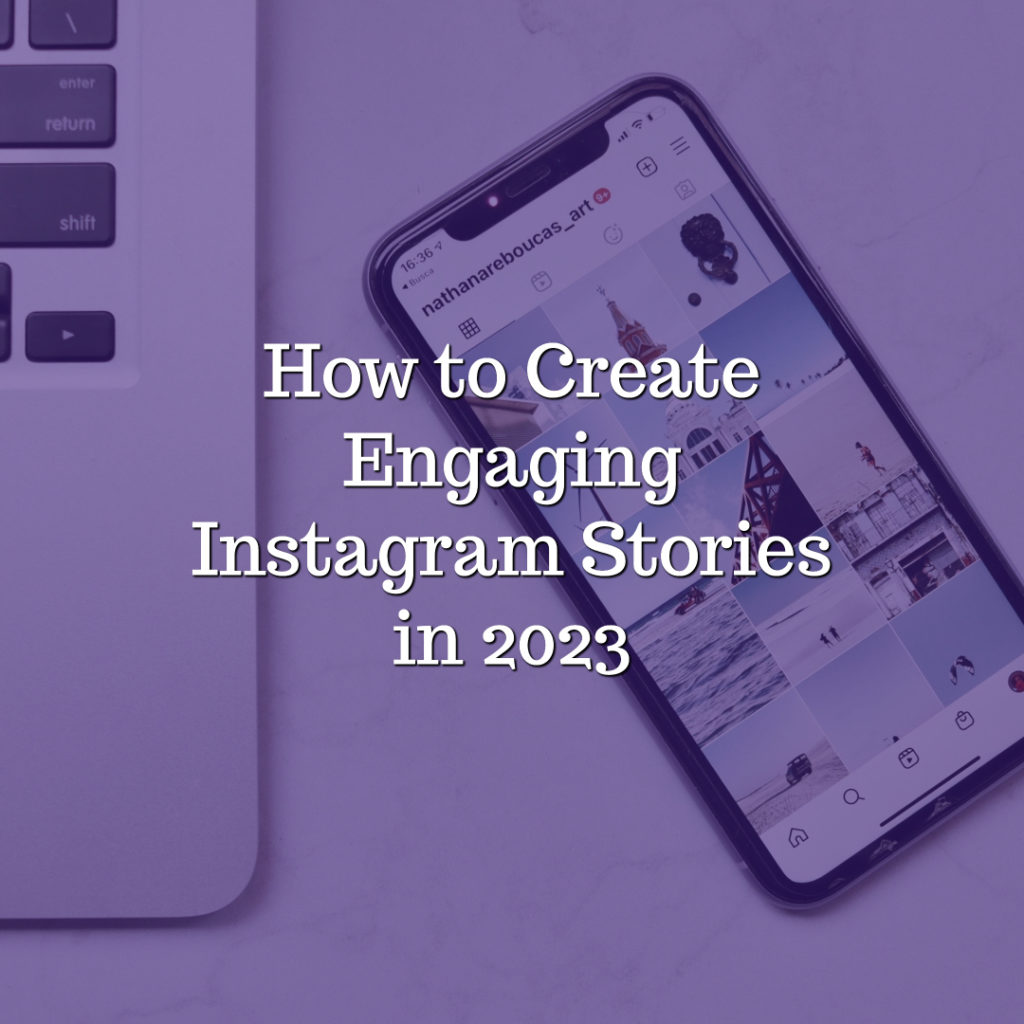 Crafting Compelling Storytelling Content
People are inherently drawn to stories. Creating storytelling content is an effective way to keep your audience engaged and leave them wanting more. Brands often over-complicate the process of storytelling. Between you and your team, you have many stories to share, your customers also have stories to share.
How do you create compelling storytelling content?
Be clear about your narrative and identify what makes you or your brand unique so that you can craft your stories around this.
Build emotional connections with your audience. Don't be afraid to share the ups and downs of your journey.
Don't strive for perfection. You don't need perfectly curated stories; show up as you are.
Create a recognizable repetitive, consistent pattern. Your audience will remember you for it. This could be something as simple as always recording your stories while walking on your way to work, etc.
Include a call-to-action. A call-to-action doesn't have to be all about sales but getting your audience to do something and ask them questions.
Apply these tips to content where you will share your life before and after working with you. How did your product change the narrative for a customer? And then you go from there.
Using Simple Yet Relatable Graphics
Information overload is often a make-it-or-break-it for potential customers. If you create infographics, keep them simple, if you create social media graphics, keep them simple and to the point. Use a tool like Stencil to create effortless, on-brand images continuously. You can use Stencil templates or create your own templates to use on an ongoing basis. 
Let's not forget about using content that is probably already accessible to you. If you get tagged on social media in UGC (user-generated content), share it on your platforms. If you haven't done so already, you should have a process in place to collect and get proper sharing permissions for user-generated content.
Using Data to Propel Our Efforts Forward
Behind every effective Instagram strategy, there's a marketer or marketing team that takes the time to understand what works best and what requires improvement. By understanding your analytics, you can create engaging Instagram stories that truly resonate with your audience.
Here are a few tips to consider regarding your Instagram analytics.
Pay close attention to your stories that received the most reach and those that resulted in messages (DMs). You'll want to replicate these types of stories and create new spin-offs from the ones that worked well. 
Pay attention to the navigation data of your stories. If any of your stories tend to drive more "exits" vs. more "taps forwards," this is something you would want to pay attention to. 
On the other hand, any stories that drive new profile visits, follows, and email button taps are a win in our books. 
You are now equipped to create an engaging strategy for your Instagram stories.
Remember, the essence of Instagram Stories is to connect with your audience in a more personal and immediate way. By ensuring your stories resonate emotionally, visually, and analytically, you can ensure consistent engagement and build a stronger relationship with your followers. Happy storytelling!