Like many, you are likely already working on your content marketing strategy for 2023, brainstorming ideas and digging deep into your data to support your new ideas. When creating content, we must always remember that it's about our audience and that content supports many facets of a business.
Content goes hand-in-hand with your overall sales, marketing, user experience and customer service efforts. When aligned, you work towards a common goal and set your business up for success.
Here are a few content marketing tips to help you in your journey in 2023.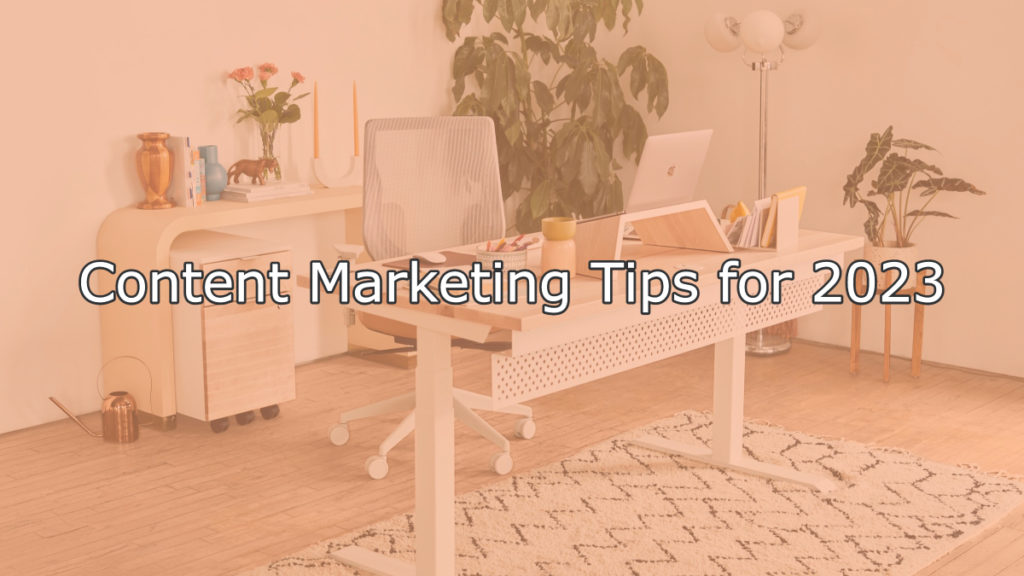 Balance Your Content For Various Stages of The Journey
Each website or social media audience member is at a different journey stage. Your audience members will likely fall within one of these three categories:
Awareness Stage
Consideration Stage
Decision Stage
When planning your content, ensure that you balance your content formats and topics to meet your audience members where they are at. For example, if your audience member is already problem-aware and knows he needs your products and services, create content specifically for this stage. Content such as case studies, educational content, us vs. them infographics would serve well in helping them progress to the decision stage and help you seal the deal. 
By getting together with your team and creating content topics and formats for each of the journey stages, you'll set yourself up for success. 
Get Involved In Conversations That Are Already Happening
In order to attract attention, you have to be a part of the conversation. Sometimes, that also means leading the conversation. Leverage conversations that are already happening on social media and in various forums to share your knowledge and expertise.
You can also host simple weekly chats on social media or Zoom on various topics relevant to your niche. Like anything else, consistency is key, and the more your audience sees your sharing knowledge online, the more they'll want to join in on the action.
Accessibility is Key
The year 2023 will be a time when quality content marketing is more important than ever. Content needs to be accessible by everyone, and we all need to do our part.
Make sure your content is accessible by everyone with images that include colors that are easy to see, even in low light conditions, or fonts that are large enough to read without straining users' eyesight with impaired vision. Also ensure to use captions on your video content.
Consider creating more audio content. Examples of audio content include podcast episodes, audiobooks, and audio articles. Adding voice-over to your articles can be a simple and inexpensive process. 
Pay Attention to Where People Are Looking
The clues are available within your analytics, case studies, and any other types of reports that you run. Don't keep track of what's working vs. what's not just for the sake of it. When you see that a specific type of content works best, create more of that content.
When it comes to things like your call-to-actions, website sections, and products, use a website heatmap tool to be able to visualize the journey a visitor takes on your website. The more you know, the more you'll convert your visitors.
Use Simple Language
We have to remember that even if we understand industry jargon for various niches, it's possible (and likely) that many of our customers don't understand it. When writing social media copy or website content, be as clear as possible. The more our audience understands the information we are delivering, the better experience we provide. 
If you choose to use industry jargon, include some footnotes with the meaning of various terms that may be foreign to your audience.
Repurpose Your Content
Repurposing your content is the process of taking an existing piece of content and using it differently or even using it to inspire brand-new content.
Here are a few examples:
Use a recent case study, and pull some industry stats to create social media content. 
Use a long-form blog post and turn it into your next podcast or long-form video script. 
Create short-video clips from your long-form videos to share as YouTube shorts, Idea Pins, Instagram stories and TikTok videos. 
Take your best-performing videos and blog posts and create new content by expanding on the various points covered. 
Ultimately, content repurposing is about serving your audience without having to create more, and focusing on key content already proven to benefit your audience and your brand. 
Make 2023 the year that you delight your audience with content that speaks directly to them.