Video marketing is an effective way to build relationships with your audience, diversify your content, and create a positive user experience. Let's not forget that search engines do like video content. When we create video content, it also makes it easy to give a verbal call-to-action to our audience, leading to increased reach and conversions.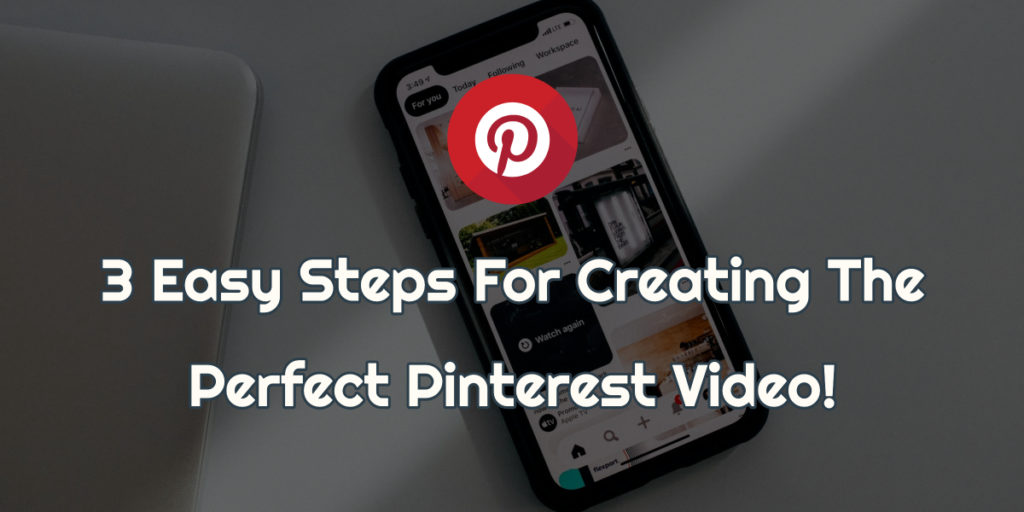 If you're feeling stressed about creating your first video pins, here are two things that you need to remember.
You likely already have video content that you can repurpose on Pinterest OR content that you can use as a quick video script to create some video pins.
Don't worry about your content being perfect; people relate to people. Don't overthink this process, as you can improve over time.  
Here Are 3 Easy Steps for Creating The Perfect Pinterest video.
First, identify the goal that you have for this video. Are you trying to educate your audience, entertain or sell to your audience? Once you know your goal, write down three to four points that you'll discuss or display in your video.
Second, Identify the tool that you will use for your video. This will either be your phone or computer. Vertical videos are easily done with your phone and end up being a perfect format for Pinterest. Pinterest does accept multiple formats, but I'd recommend a vertical video to give your Pinterest users a good experience.
Third, identify which tools you will use for editing. You could look at Zubtitles or VEED for adding subtitles to your video. Filmora if you need to do more editing but remember that simple is good. Most will watch your video without audio, which makes subtitles even more important. 
When it comes to sharing your video pin, here are the steps:
Upload your video.
Add your video title.
Add a description.
Add ALT-Text.
Choose video tags that are relevant to your industry.
Add a link to the product or service that you are describing in your video.
Choose your video frame for your cover.
Choose your board.
Remember that your video title & description should include keywords and be sure add a call-to-action in your description. 
Are you feeling stuck? You can easily repurpose your Instagram Video Stories, TikTik videos, any video that you already have AND use your best-performing content as inspiration and for short video scripts.
For example, if you review your last 10 blog posts, take the best performing one and highlight the most important points discussed in that blog post and create yourself a script. You're now ready to record your video for Pinterest. You can review the video pin specs here.
Until next time…