Twitter is a powerful tool.
Whether you're branding yourself, increasing your traffic or just looking for ways to connect with new people – Twitter can do it all.
But one question keeps cropping up here at Share As Image HQ – "How can I get more Twitter followers?"
Good question.
Twitter is simple to use. But it's easy to get it wrong or get lost in the hundreds of statistics floating around the Internet. So, I've decided to answer that question and make your life much easier.
In this article you're going to learn:
Three simple steps to get more twitter followers
What your audience really cares about
Why 140 Characters is actually too much space
A simple test to find the perfect time to tweet
The only metric that matters on social media
Buckle up and hit that wonderful bookmark button, because this is one of those posts you're going to want to keep around…
Step #1: Treat Your Updates As Content
Content isn't just blog posts.
It's anything you put out into the world that your audience can interact with. If it can be watched, read or listened to – it's content.
Everything you tweet? That's content too. Which means you need to decide if the content you're putting out, is the content they want to read.
I hate to break it to you, but your twitter audience doesn't care that much about your day-to-day life. That's why personal updates have the least interaction of any type of tweet.
Let's look at a simple example from my own personal twitter feed.
When I post about something close to me, like my sports pre-season, there are zero interactions: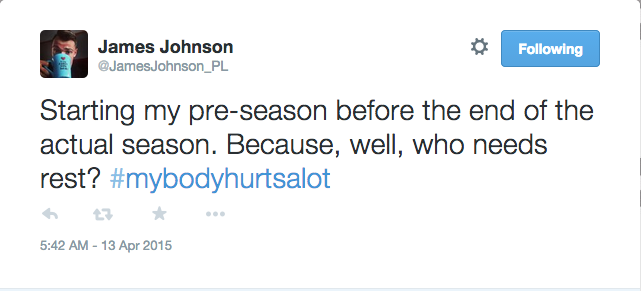 Then, when you compare that to a tweet about blogging – which most of my audience is interested in – it gets 200% more interaction: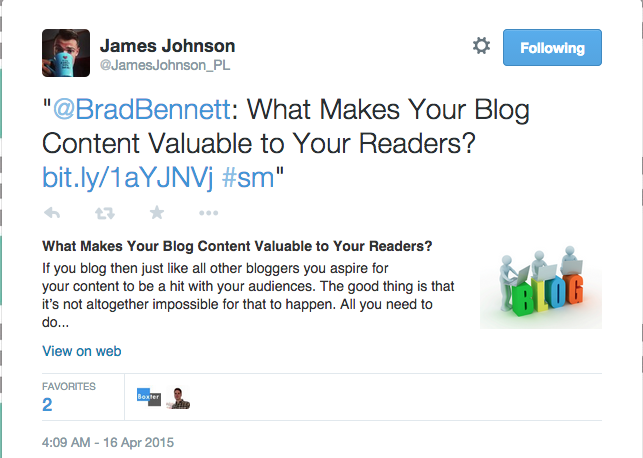 Two favourites isn't mind blowing. But it's far more interaction than my personal tweet. If you go through your own feed, you'll see a similar result too – regardless of which social media platform you're using.
When you're scrolling through your feed, you'll feel the same way. You really do care about someone's latest blog post. But not so much what they had for breakfast.
Before you post, ask yourself a few questions:
Do my audience benefit from reading this?
Does it add value to my readers?
Would I want to read this?
Simply by making this switch and focusing on content, you'll see a huge increase in your Twitter followers. Because people will know they can rely on you for solid, valuable content all the time.
Step #2: Keep It Short
140 characters doesn't seem like a lot, does it? But sometimes the fewer the words, the more powerful the statement. Like this famous six word story from Ernest Hemingway…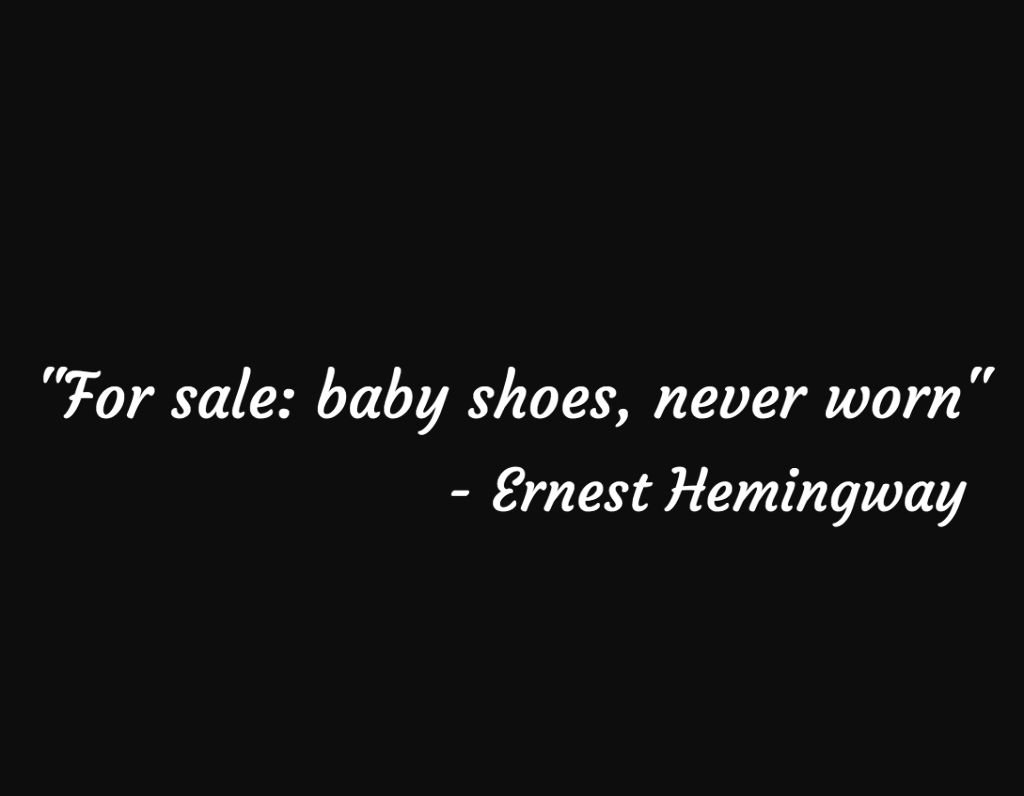 Although Hemingway wasn't known for his Tweets and Memes, he would have done quite well on Twitter. Because as it turns out, the shorter the tweet – the better the result.
Here's two simple facts for you to keep in mind:
120-130 characters is the sweet spot for tweets with links
Why's this? Well, because people want to put their stamp on your tweets. They want space to add a comment or retweet it under their own name. So leave them room to do it.
The more engagement you can get the better your presence will be. And it seems shorter tweets are the best way to do that.
How can you make your tweets shorter? Try these little tricks:
Shorten Links: Use an application like Bitly to make your links as short as possible.
Use Powers Words: Powers words are one syllable, easy to read words. Like: now, cash, fast, quick, jump etc.
Remove Adverbs: Got a word that ends in '-ly'? You can take it out. The sentence will still have the same impact without it.For example "Intestingly, @shareasimage has an offer right now" has the same effect without the word interestingly.
Use Images: Create a text-based image to save space and get a lot of the benefits of having an image on your tweet too.
Step: #3: Use Buffer To Test Your Timings
Timing is everything; especially on social media.
There are a lot of statistics and data out there telling you when the best time to post is – and what you should be posting when you do. But, here's the thing…
Every audience is different.
There is no one-size-fits-all-post-at-these-times-and-you'll-be-fine strategy. Instead it comes down to you testing what your audience likes, and when they're most likely to engage.
This month I've been testing the timings of the Share As Image Tweets. And, I learned an important lesson – our audience doesn't interact before 12:00pm.
Take a look at this tweet done at 11:00am: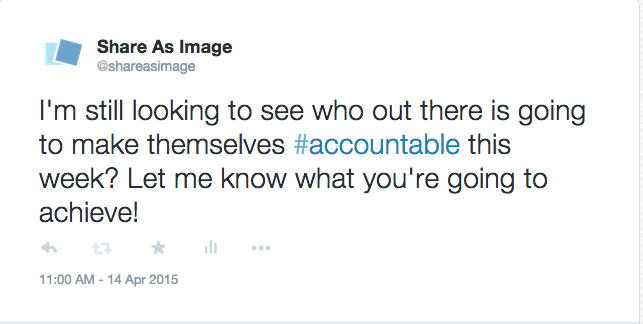 And then look at this tweet – on exactly the same topic – done at 4pm. That's a big difference in engagement for the sake of a few hours: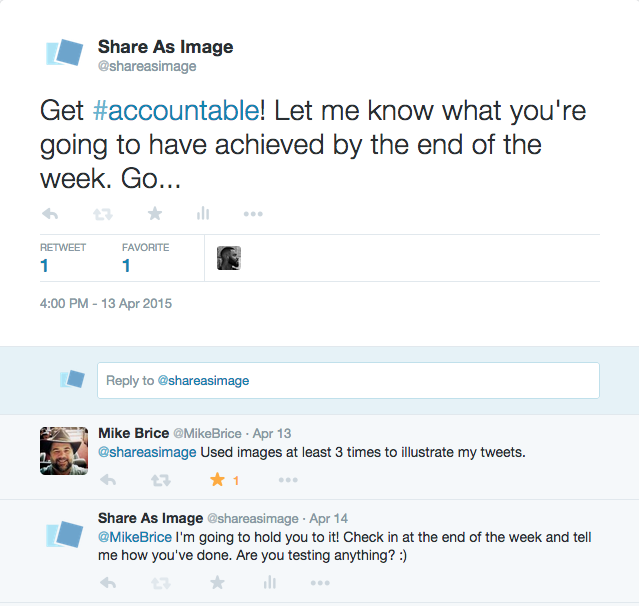 Now I can save myself the time and effort of setting up tweets for before 12, and focus on sharing more content after it. Simple, right?
This is where Buffer really comes into play. Because you have complete control over the time – and the day – that your tweets go out. You can see the results in your twitter notifications on almost the same day.
Want a simple strategy to test your timings? This is a great place to start:
#1: Set up tweets for peak hours: 9am, 12pm, 3pm, 6pm.
#2: Create variations of the same tweet: Two for the morning, two for the afternoon.
#3: Monitor how your audience responds: Do they retweet, favourite or comment more at a particular time?
#4: Tweak the times by 30 minutes after 1 week: If you're getting mixed results, change the times by a half hour and see if results change. Or, try adding one earlier in the morning or later at night.
The results from this are going to vary from audience to audience – so let me know how this test goes in the comments – but once your find your sweet spot, you're see a huge increase in your twitter followers.
The Only Metric That Matters, Really…
I recently had chance to speak with Social Media (and customer service) extraordinaire, Marsha Collier. When I asked her what the best metric to measure Social Media growth is. Her answer:
"In social media the best metric is the fact that somebody is talking to you"
That's it. Forget how many followers you have. Instead, look at how many of your twitter followers are talking to you.
That's the true power of social media.