I've got a quick question for you:
What makes a successful social media marketer?
You might think it's their ability to tweet well, or write solid Facebook posts or choose the best images that go viral.
But, it's none of those. Its something much more powerful…
It's their habits.
And the wonderful thing about habits is, you can learn them too.
In this article you're going to learn some of the most effective habits of the Internet's best social media marketers, and how you can learn them to boost your own strategy (and results):
#1: They Forge Meaningful Relationships
Successful social media marketers know they aren't just in the marketing business; they're in the relationship business.
Nobody likes feeling like a statistic; they want to be valued and cherished and feel like you care about them. And while you may have thousands of people to content with, they're only dealing with one…and that's you.
As Seth Godin points out in his book, All Marketers Are Liars Tell Stories, people buy into the story your brand tells. And the same applies to your social media feed.
So it's up to you to make sure that your feed doesn't tell a story of the hard sell and instead becomes known for:
Relationships
Connections
Pleasure
Meaning
Regardless of whether you're in B2B, B2C or any other field entirely.
How To Forge Meaningful Relationships
Social media is all about connection. And it gives you a free platform to connect with anybody, with no pressure, at any point in a customers journey.
Here's some simple ways to start forging these relationships, right now:
Respond To Every Interaction
Did someone Retweet, favourite or like you? Give them a little nod (and a wink, if you're feeling fruity) to acknowledge them, and thank them for taking part.
This is something I've been doing on the Share As Image feed for the last three months, and it has a 100% interaction to follower conversion rate. So, everyone I've responded to has become a follower: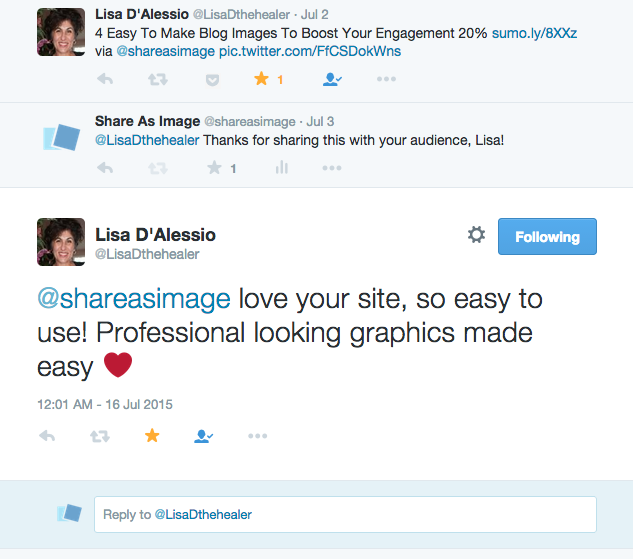 Start A #Hashtag Conversation 
Buffer have got this down a tee with their #bufferchat Twitter sessions that they do: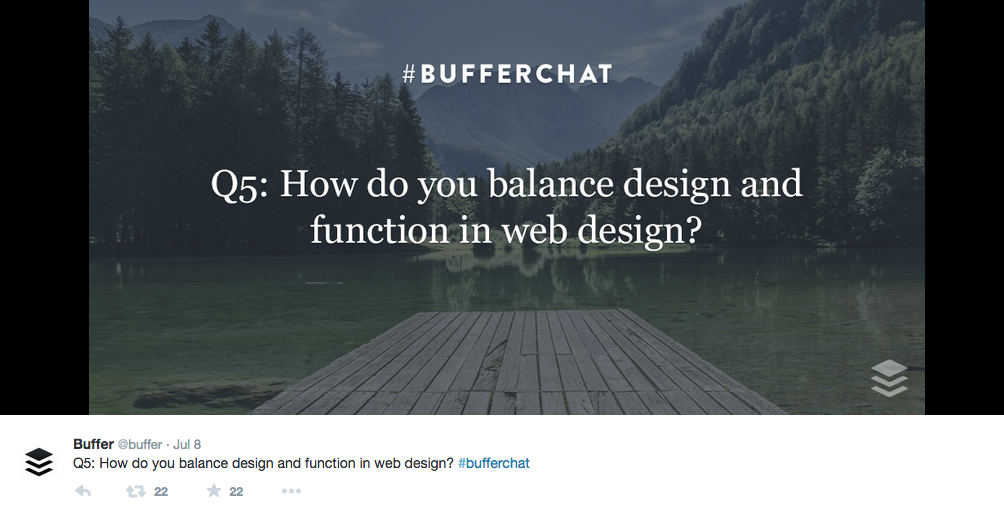 Pick a topic that you care about in your niche, and start a conversation about it with a #hashtag so that people can take part and make their voice heard.
Or, if your following isn't big enough to start a fully-fledged campaign on it's own, try and jump on an already established hashtag chat:
Either way, the key here is to provide solutions to peoples problems. Answer questions, generate conversations, ask questions and recommend products (or apps) that will help them.
Show Your Fun Side
Twitter can get really serious after a while. And while people don't particularly care about pictures of your lunch, or the fact you stubbed your toe on the door this morning – they like to see the human side of your brand, too.
Ben and Jerry's have this nailed across all of their social media, from Instagram, to Facebook and everywhere in between.
They take their product, show it in an amusing light…and get lots of responses from it:
#2: They Focus On Value
There is one question every successful Social Media Marketer always asks:
"Does this add value to my audience?"
If your answer is anything less than a solid yes, then it doesn't go onto their feed, it's that simple.
Even way back in 2009, right at the dawn of the Social Media Revolution, people like Neil Patel at Quick Sprout were crying out for valuable content that adds to your readers experience.
And that's never changed.
Your followers (or fans, depending on your platform) are crying out for conversations and content that can help them improve.
So give it to them.
For example, take a look at the Nike Twitter feed: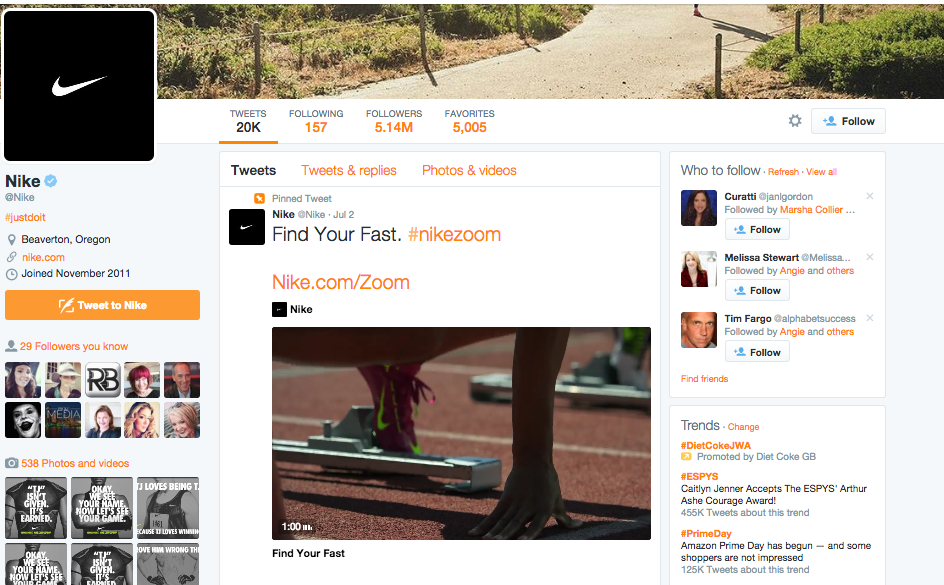 Everything they post may look branded and like advertisement on the surface. But when you dig a little deeper, you begin to notice that all of their content is made around what their audience desires:
Speed
Motivation
Results
Sports
Their favourite athletes doing cool stuff
So they fill their feed with articles, videos and images that fill all of those needs.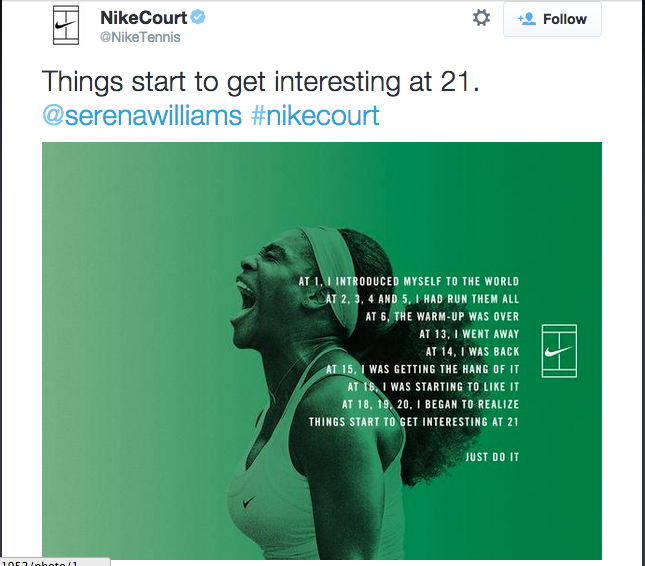 Sounds simple…but it's genius.
How To Add Real Value To Your Audience
Value comes down to getting to know your audience, understanding what they like and dislike and blending it all together into a big social media smoothie for everyone to enjoy.
And, it's not as complicated as you might think.
All you need to do is answer a few simple questions about your brand and audience:
Who is your ideal reader? Get really specific. What are they like, what TV shows do they watch? What benefits are they looking for in your product? How would they spend a Sunday afternoon?
What do they care about? Think of what drags them out bed on a cold Monday morning in depths of winter – those things that light the fire under them.
What are they reading right now? Take a look at your competitors, and the articles and content they share – is there anything in there that your audience are interested in?
There are some great free apps that can do a big chunk of this for you – read about those here – but you can also do it organically too, through:
Surveys
Testing (more on that next)
Asking questions
BuzzSumo research
And the more you take the organic approach, the deeper and more meaningful the relationships with your audience become too.
#3: They Measure Everything (And Move With The Times)
Successful social media marketers get into the habit of tracking, testing and measuring well…everything.
From how many people click a tweet, to what colours work well, and the character counts that get the most interaction.
You see, here's the thing about using general social media stats:
They don't fit your audience.
Because your audience is the coming together of lots of different audiences, with their own likes and dislikes. Leaving you with a unique, wonderful audience to connect with.
While it's great to use general data as a starting point – for example, the stat that tweets with less than 100 characters have the most engagement – it's should only ever be used as a guideline
Like, you could measure your interaction on tweets with 100 characters over a week.
Then you could change it to 110 characters, and test that for a week.
And do that in either direction until you find your sweet-spot. That way you have the perfect fit for your audience.
Tracking Your Social Media Impact
You're going to get a lot of varied opinions on this, but I think that testing should only be done on one thing at a time. Even if your doing it across multiple platforms.
That way you can be more accurate and understanding in your approach.
Start by choosing one of the following topics:
Headlines
Types of image
Content (or types of content)
Length of update
Articles
Then measure what gets the most clicks, engagements and responses.
Now, this is the part of the article where you'd expect me to recommend some be all and end all system that will do this for you, right?
Well this time you're not getting it.
Because your audience, the platforms you use and the goals you're looking at are far beyond the scope of this article, so I wouldn't want to steer you wrong. Yes, you. Sat right there.
Instead I'm going to suggest you:
Choose a goal: Where do you want your social media strategy to take you?
Break it down: What do you think you need to do to get you there?
Choose one element: And test the hell out of it.
Adapt: Make informed decisions based on your results.
From there, the ball is in your court…
"Excellence Is Not An Act, But A Habit"
There you have it, three foolproof habits to help you take your social media marketing to the next level.
Let's do a quick recap:

Make Your Relationships Meaningful: Focus on the people at the other end, because while there may be lots of them for you to remember – they only have to remember you. So make sure everybody's experience is a good, meaningful one.
Focus On Value: Value is at the heart of all marketing; and your customers – potential and existing – are crying out for it. So, give it to them. Get to know your audience, what they're looking for – and give it to them in abundance.
Track everything: Data is your best friend. But, general data doesn't apply directly to your audience. Use it as a starting point but then refine it as much as you can to your own audience.
If you can build your day – and your strategy – around these three habits, your social media impact is going to explode. Regardless of what your bottom line is.
So, tell me…which habit are you going to work on first?