Whether you have a local or online business, social media is a popular and effective method of marketing. Sometimes with all the hustle and bustle of trying to run a business, we lose sight of the potential that social media has. Many small business owners and entrepreneurs that have limited budgets have a difficult time running social media campaigns on their own. Also creating social media posts can be confusing and time-consuming, business owners really don't have time to mess around with inconsistent social media posts. You need a plan and you can use simple social media posts to create consistent marketing efforts. Today, we'll show you a variety of inspiring social media posts that every business can use.
Inspiring Social Media Posts for Every Business
Local Business Social Media Post Ideas
With local businesses, posting for grand openings, sales, discounts, and special events can really make a difference on social media, especially with terrific photos. A photo background can make or break a post. It should be clear with high resolution. Who wants to see a blurry image?! Most people will just scroll on through if the photo isn't clear. To be sure it's not pixelated or blurry, make sure it's not a small photo. For example, if you have a photo of your product that's been used as a thumbnail size then blow it up to a Facebook post size then the image will become distorted. You can always use a large photo and bring it down to size.
Ok now that I've got off my soapbox about posting blurry photos… onto to some inspiring social media posts that are simple for every business.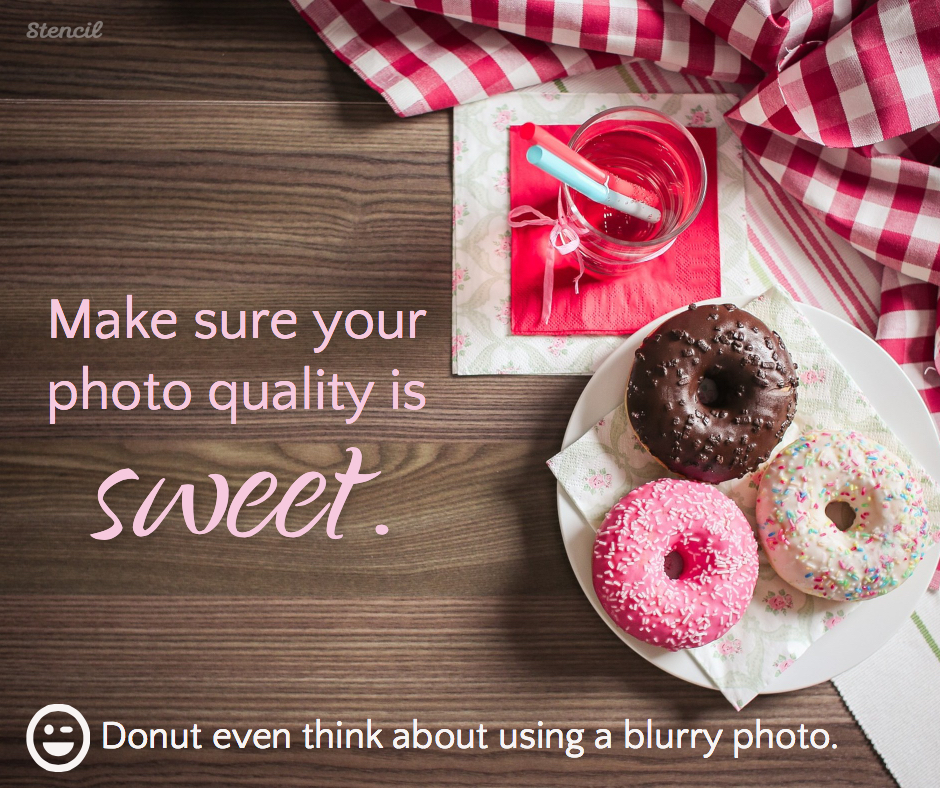 If you have a local business such as a restaurant, then take photos of the environment, people, and of course the food! Now that you know you need quality photos, these images can create endless amount of social media posts that can help market the business. Now some people may just take photos of their product only, however they're really selling themselves short. People want to check out the environment or ambience of a business. Remember social media has that emotional pull.
Check out this great social media post from La Mexicana Express, a restaurant in Chile.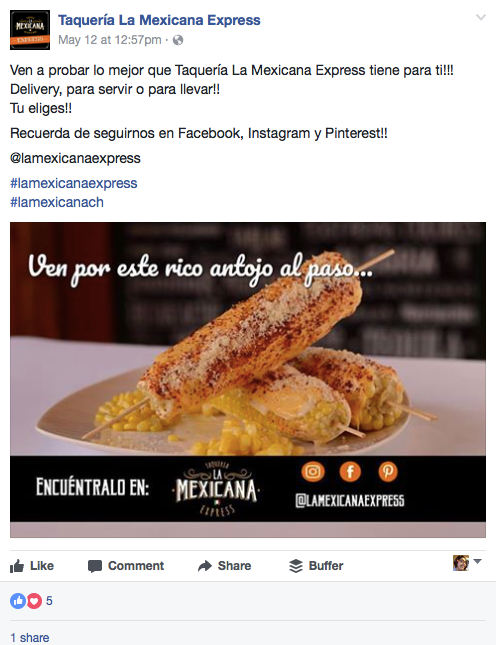 This social media post image is great because it displays the product, it tells you where you can find it with their logo and social media icons, with a one line text to spark interest – "Get the deliciousness you crave on the go."
So don't just stop with a photo of a product… optimize it with where people can find you and why.
NOTE: Please do not place your website URL in the middle of the product image. Yikes! You're defacing your image and will lose potential eyes on your business.
Local Business with Services
Maybe you're not a product business and you offer services. You may wonder how you can get social media images to work for you. Take a look at Meredith Whole Living Center's Facebook event image.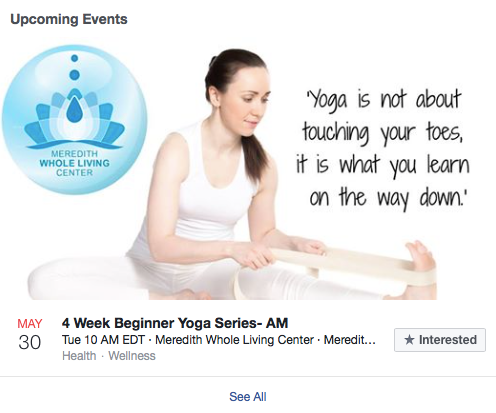 They've placed their logo, a soft image to match their branding of health with a woman in a yoga pose, and a quote that many people who'd like to start yoga may relate to. These elements are all a great fit for a social media post.
If you're a coach or offer consultation services that may be hard to find the 'right' image for. Using your own photo will work along with simple text to get your message across on social media.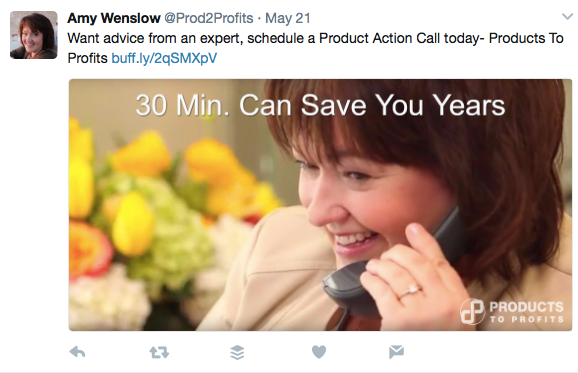 Love this image of Amy Wenslow of Products to Profits where it's an action shot of her on a call, her logo, and a one line text of why you should call her. Boom! Perfect social media image.
Online Business Social Media Post Ideas
If you sell products online, the best thing besides the product image is a testimonial saying how great it is. Authors, bloggers, and other online creators that have products can use testimonials into their social media images.
Mary Jo Putney, New York Times Bestselling Romance Author, does an amazing job with an image of her book cover and awesome testimonials. Showing authority in her industry with an amazing testimonial along with her website URL on the image. She is letting us know why we should buy the book and where we can find her.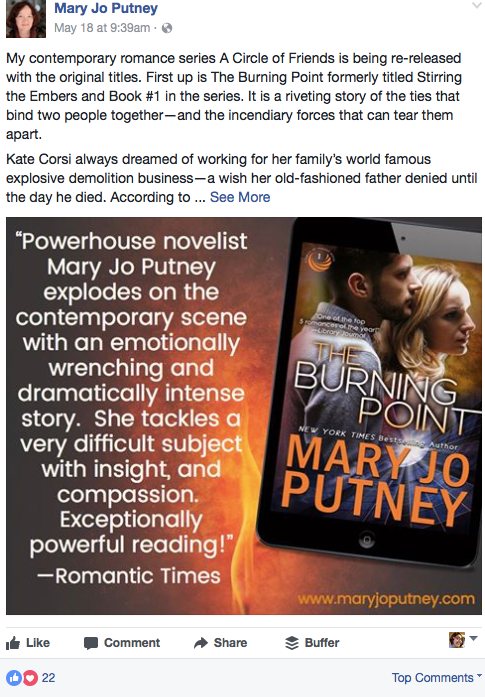 If you have multiple images for a series, collection, or want to show how a product works (without using video) then you can take advantage of the Instagram Gallery option or Facebook post option for a slideshow. People are always intrigued to see more, especially if it's a behind the scenes look at how a product is created. Although you may not be able to show many details but showing steps to get to the finished product is always interesting.
Here's an Instagram Gallery post of Artisan Sugars' Toasting Sugar in action.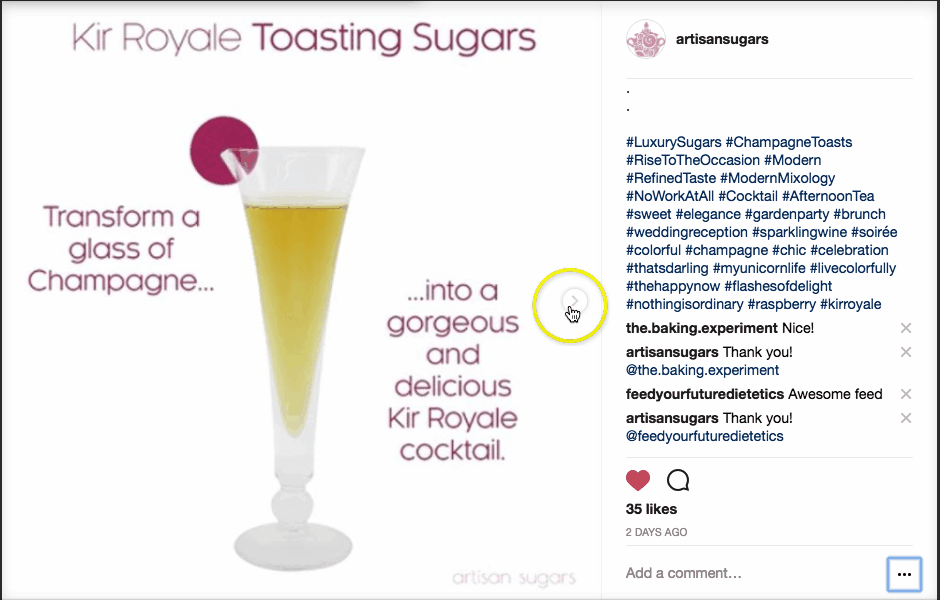 At times a product image isn't enough to convey how fantastic a product is and if you don't have time to do a video, still images put into a gallery or slideshow can be an excellent social media post.
Also always keep a link to the product in the caption or post so people will be more enticed to click over.
Are you inspired yet?
Let's recap the different types of social media posts you can try with your business, online or offline.
First, use high quality photos (there are over 980,000 high resolution royalty-free photos in Stencil).
Use social media icons along with product images to let people know which platforms to visit you to learn more.
Leave your watermark, logo, or URL in the corner of the image so people know it's your image and where to go.
Use a photo to match your service or brand.
If you can't find a photo to match your service, use a professional or high quality photo of yourself along with enticing text.
Use testimonials or quotes with the image.
Gather many images to create a gallery or slideshow.
Which social media posts are your favorite?
Let us know in the comments.
Tag us @getstencil with your social media post inspiration with #smpostinspo .
We'd love to see your creations!