According to KnowEm, there are over 500 popular social networks for blogging, bookmarking, business, community, design, entertainment, health, information, microblogging, music, news, photo, tech, travel, and video. For most businesses, even the thought of having to manage presences on the top social networks – Facebook, YouTube, Twitter, Google+, Pinterest, LinkedIn, and Instagram – can be overwhelming. So how can you decide the best social network for your business? Here are ways you can analyze particular social networks to find out if your ideal customers are using those networks.
Competitor Research
If your business has larger competitors, there's a good chance those competitors have done the research to know which social networks have an abundance of their ideal customers. You have two options. First, you can look up all of your competitors on each of the top social networks.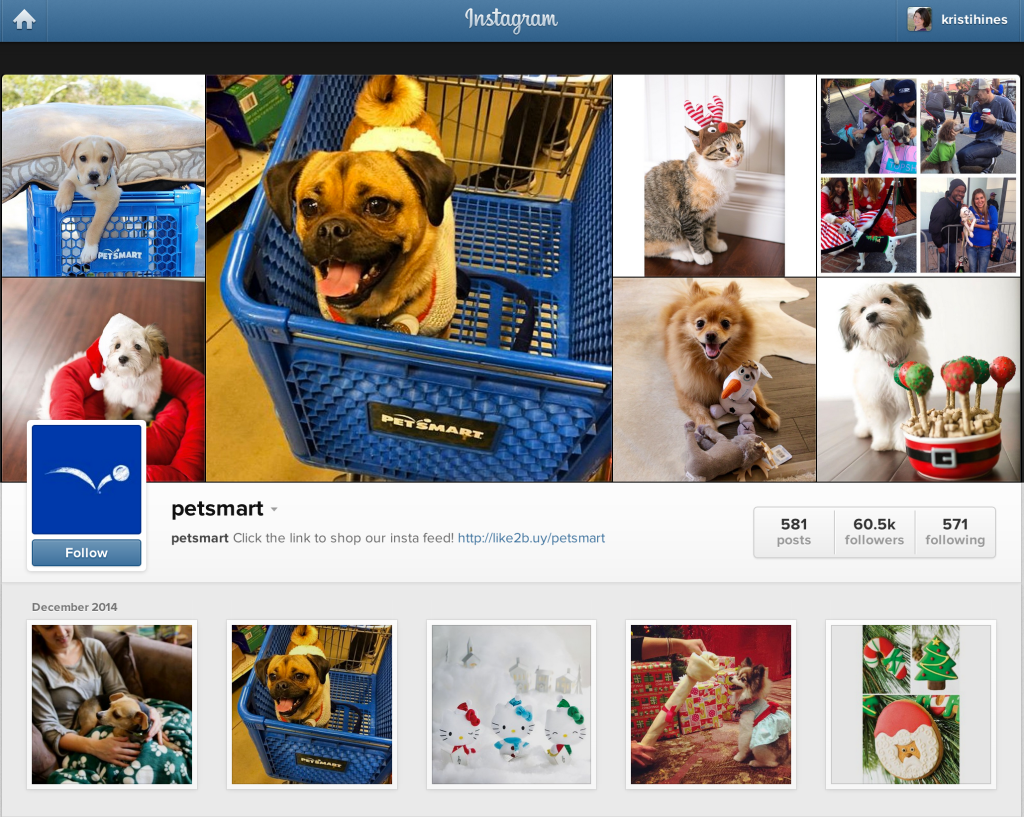 From there, you can look at their audience size and check out their latest updates to see how much engagement they receive.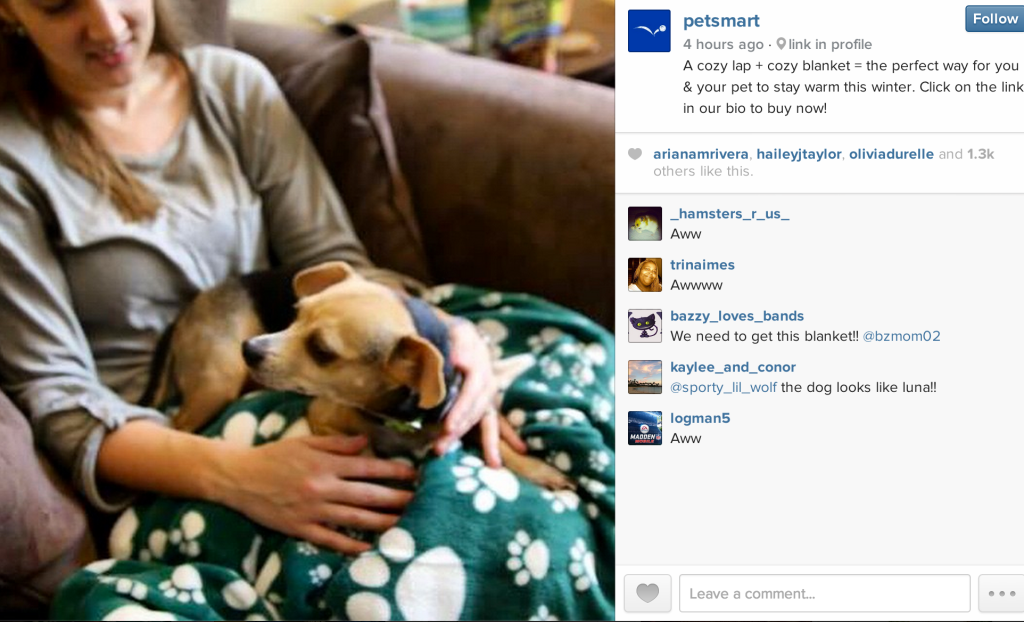 Second, you can use competitive research tools like Rival IQ. This tool will allow you to create a landscape of your competitors. It will pull in their social media information so you can see which social networks where your competitors have profiles or pages.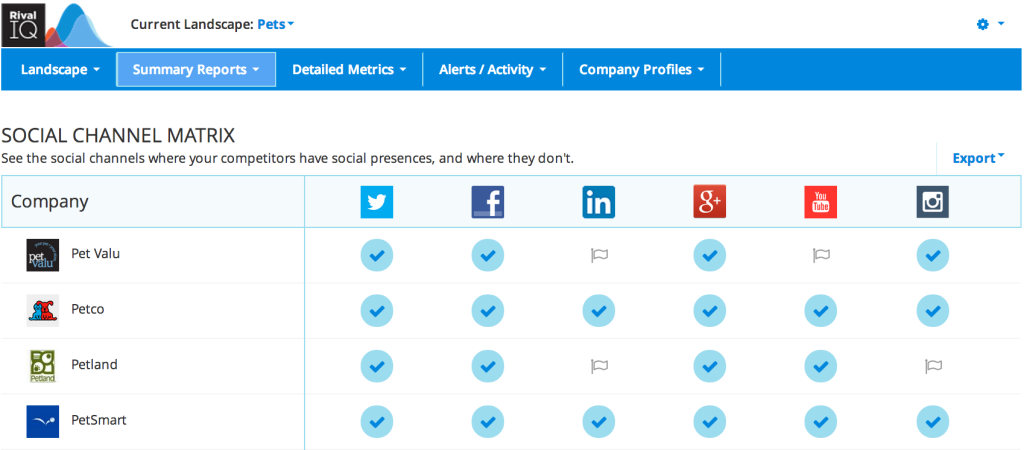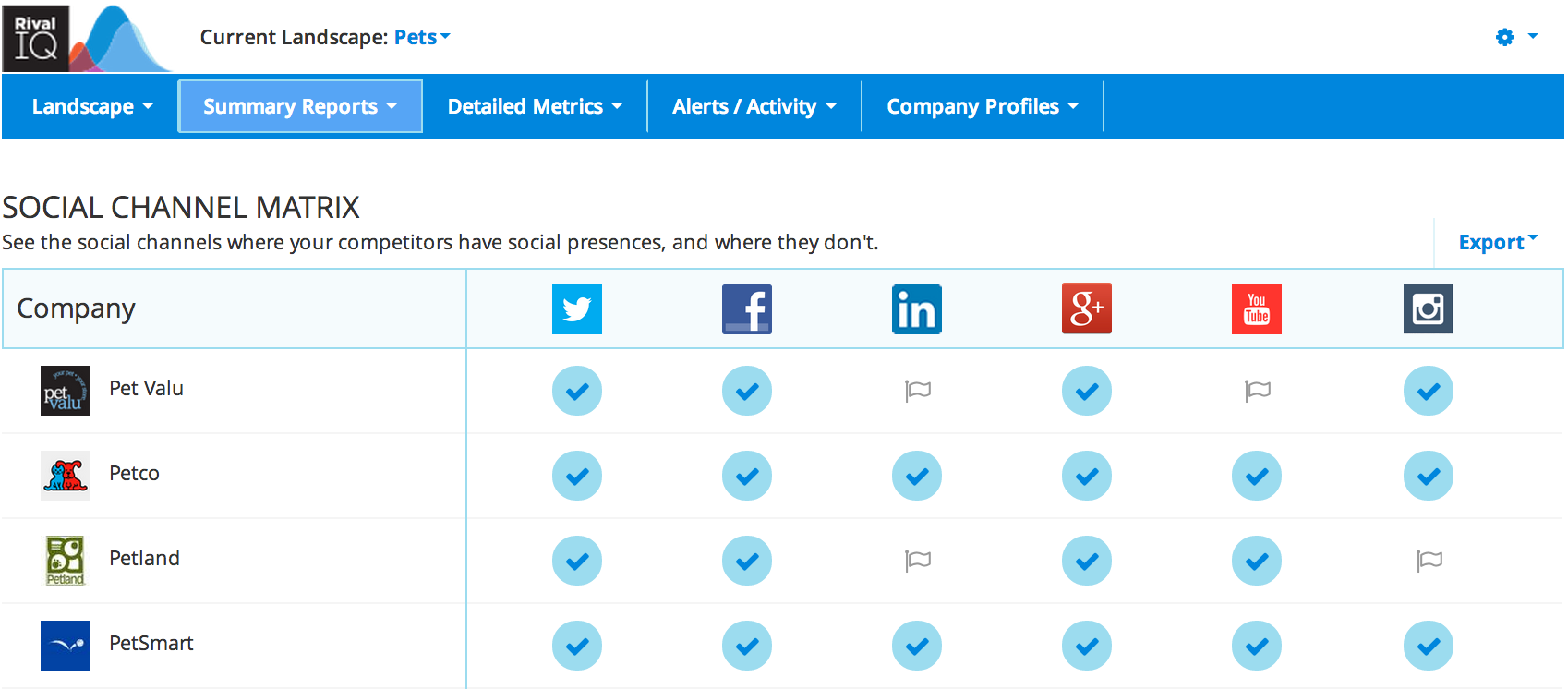 How large their audiences are.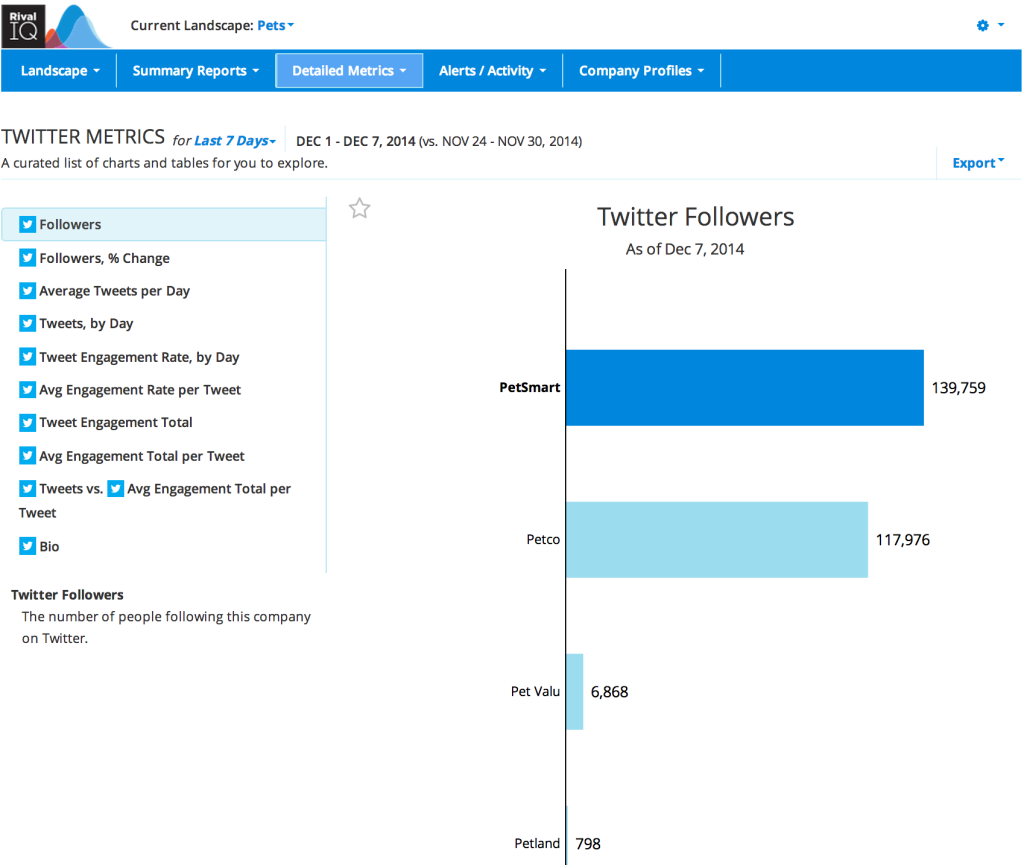 How much engagement they receive per post.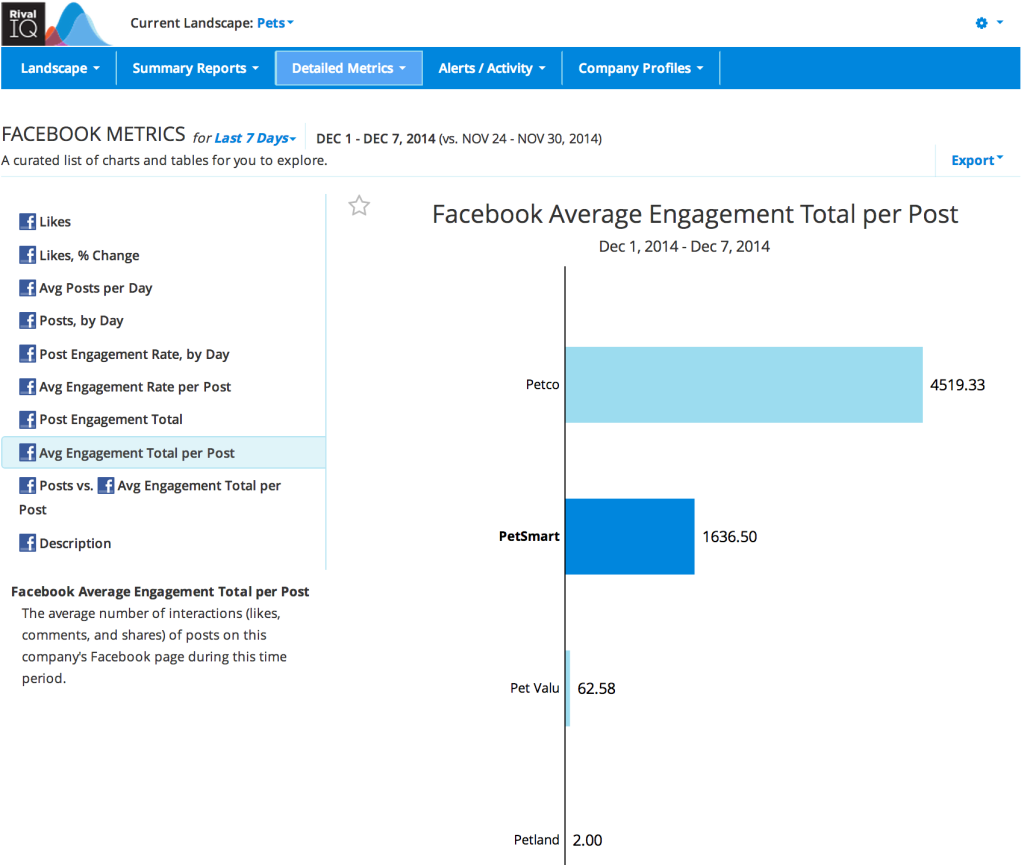 And who does a particular social network best.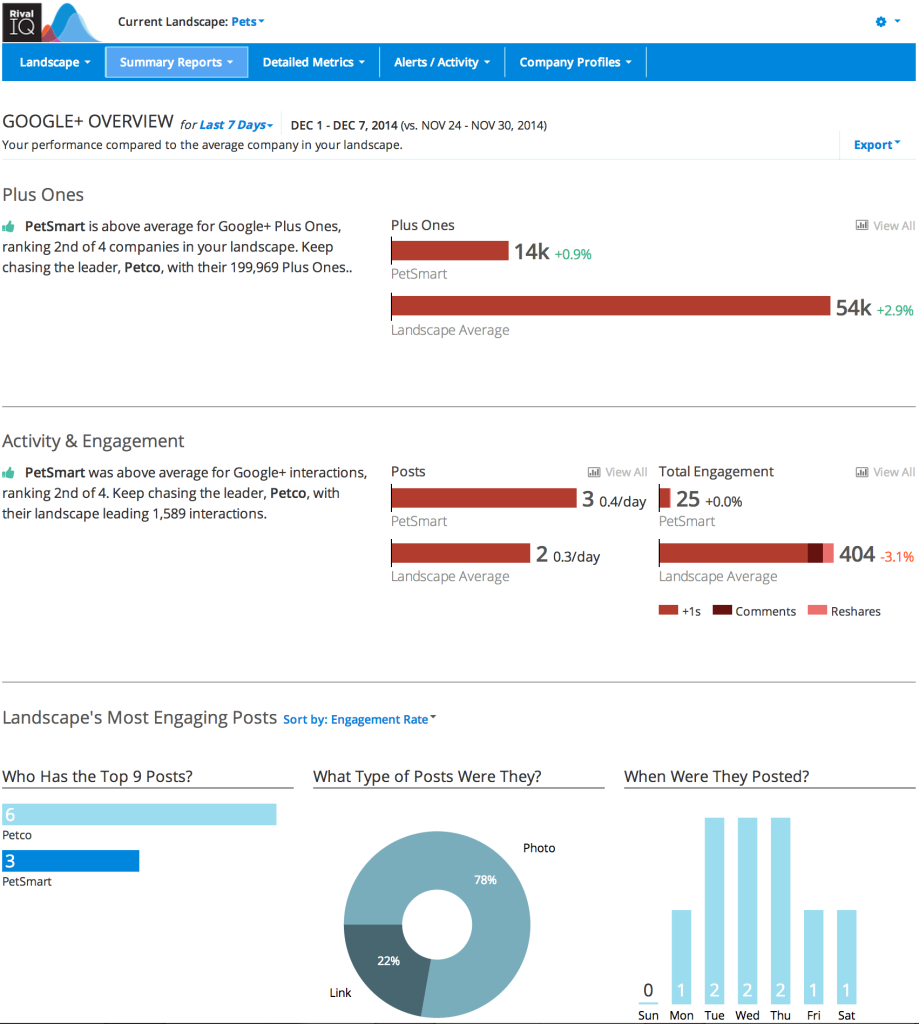 If you choose only one type of research when deciding on the best social network for your business, competitor research should be it. If your competitors are on a social network and getting great engagement, you should be there too.
MarketingCharts
MarketingCharts is a great source of researched information about specific marketing channels, including social media. In January 2014, they published the demographics of major social networking platforms, summarizing the findings in the following chart.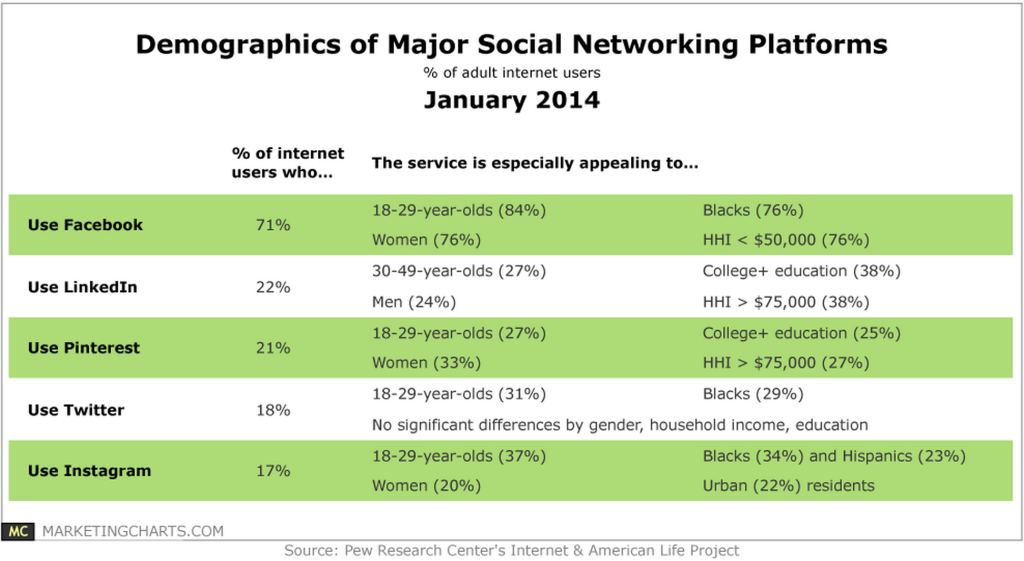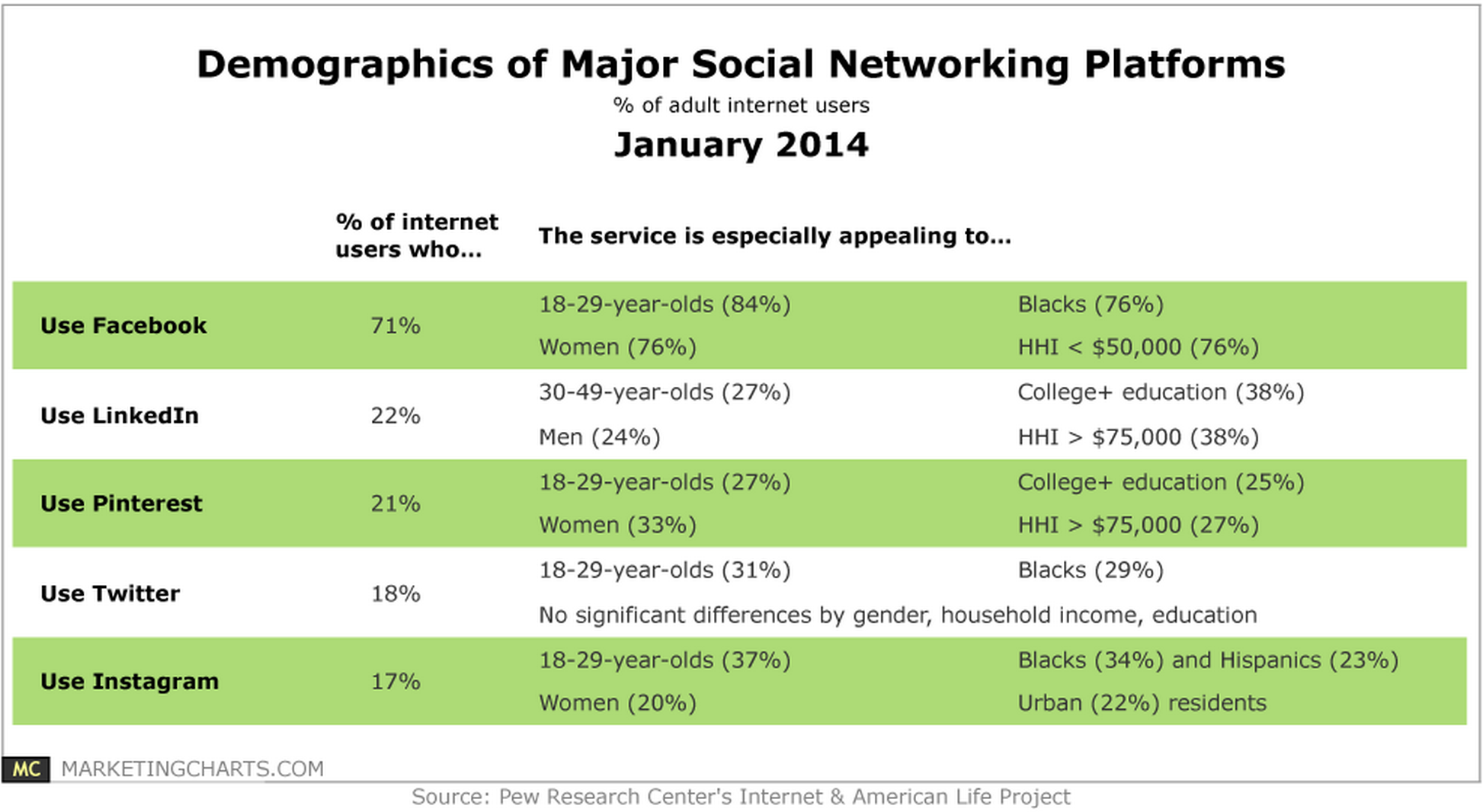 Considering that 71% of adult internet users use Facebook, that makes it the perfect social network for just about any business. Unless you're specifically targeting men in the 30 – 49 year-old-group with a household income above $75k, in which case you might want to focus on LinkedIn.
Social Advertising
Social networks that offer advertising give businesses the opportunity to get specific numbers for their target audience. All you have to do is go to create an ad on each network and when you get to the targeting options, pay attention to the audience size. For example, if you created an ad on Facebook targeting women in the Denver, Colorado area, you would have an audience size of 980,000 users. On LinkedIn, using the same criteria, you would have an audience size of 580,074 users.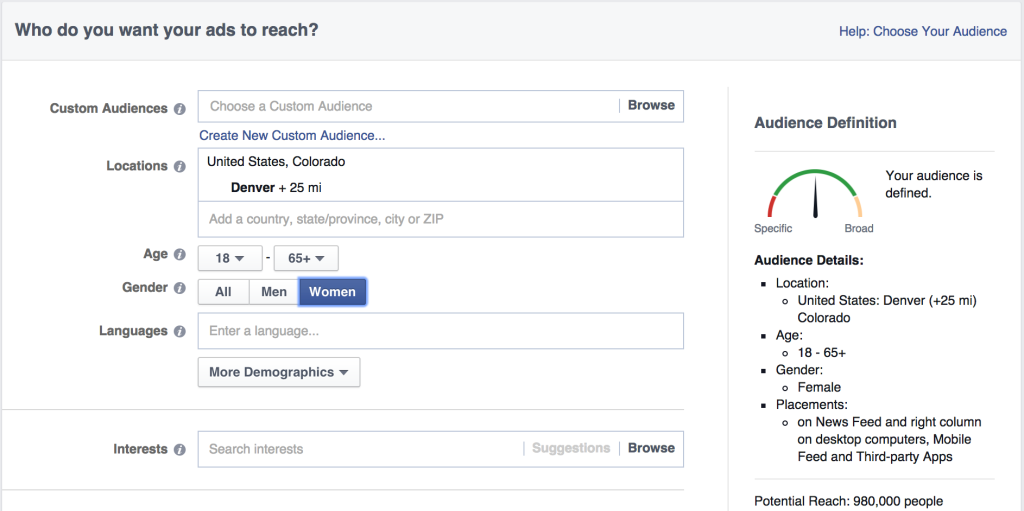 You can continue to narrow down your audiences on each network to get even more specific numbers. On Facebook, you specify the audience as women in Denver, Colorado, who are fans of Outlander the TV series, to have an audience size of 6,000 users. On LinkedIn, you could specify the audience of women in Denver, Colorado, who are creative writers, to have an audience size of 5,256.
Profile Searches
Some of the top social networks have good search engines that allow you to find the number of users on their network by interest, skill, or keyword. For example, on Facebook, you can find people interested in hiking.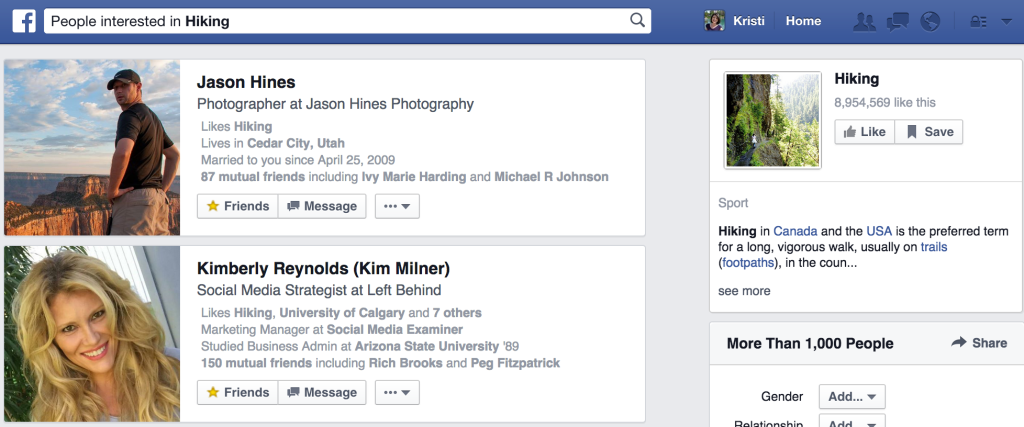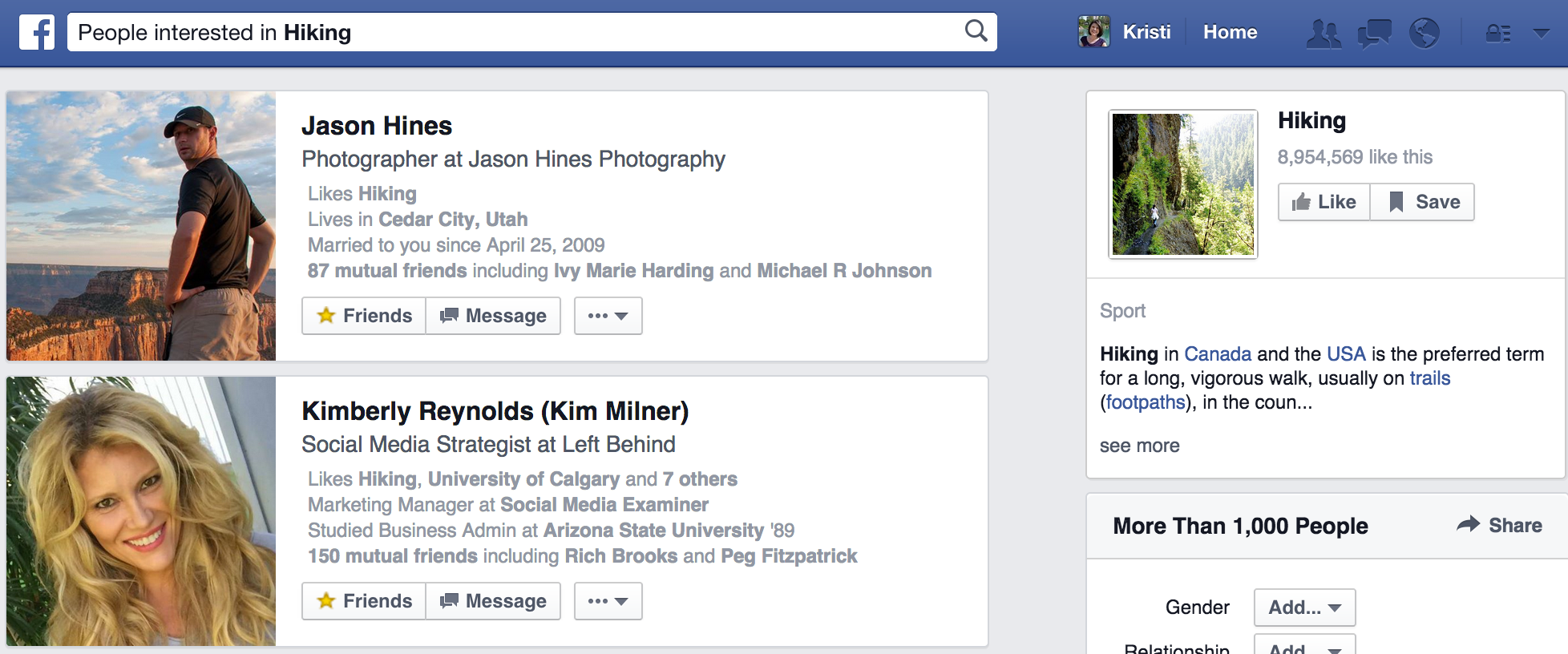 On LinkedIn, you can find people skilled in hiking.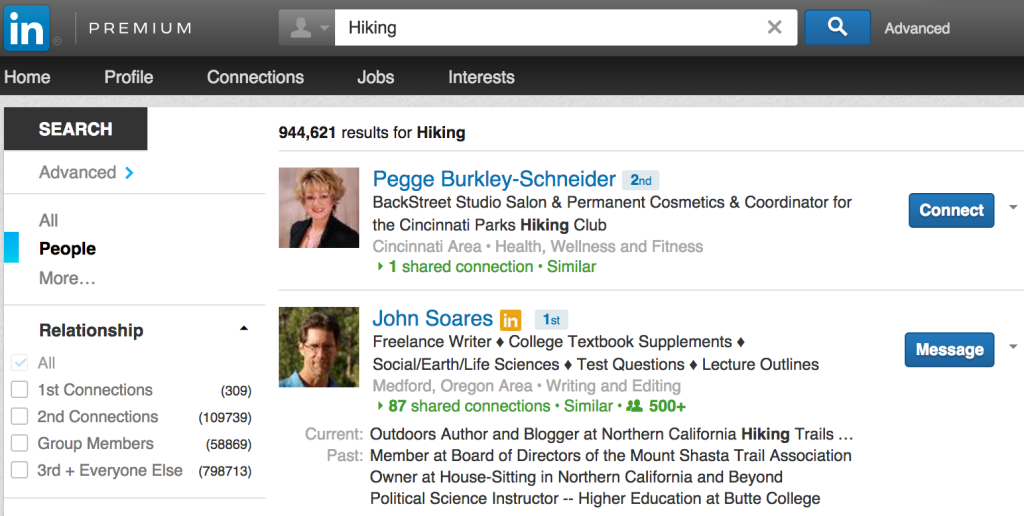 On Twitter, you can use Followerwonk [https://followerwonk.com/bio/] to find people with hiking in their profile's 160-character bio.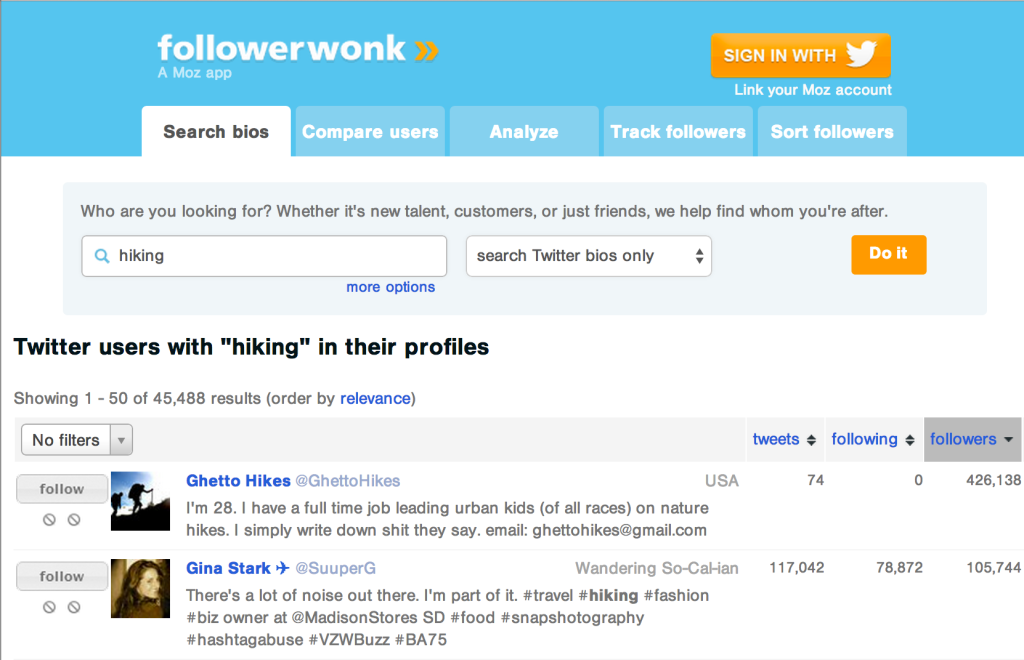 These searches will let you know if your ideal customers based on interest have profiles on these particular networks. You can try similar searches on networks like Pinterest and Google+, but you will have to count the results on your own and filter out profiles that use the keyword you search in their username.
Groups and Communities
Want to find out how many people on a particular social network are actively into something? Use social network groups and communities to find the answer. For example, let's say your business's ideal customers are interested in organic gardening. Using groups and communities searches, you would find 22,883 members of an organic terrace gardening group on Facebook, 3,595 members of a grow girls grow organic gardening group on LinkedIn, and 2,140 members of an organic gardening community on Google+.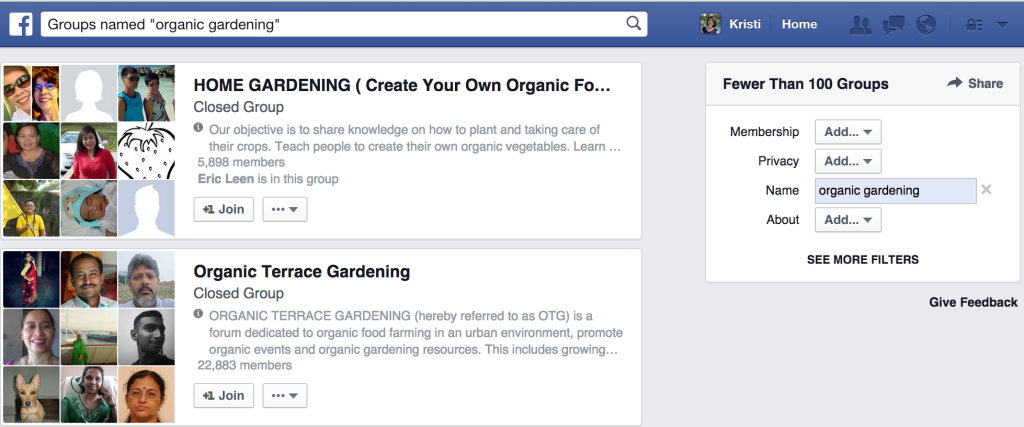 Note that membership numbers are not the only things that count when performing this research option. Look into the groups themselves and ensure that people are actively participating in conversations. A lot of groups and communities on social networks are giant spam farms, and those will be little use for your business's marketing strategy.
Where Your Content is Shared
If you have great content on your website that gets social shares, you will likely want to be on the networks where your content is shared. BuzzSumo allows you to analyze your content's social shares. Their Content Analysis report (available to premium users) in particular will show you the number of average shares by social network.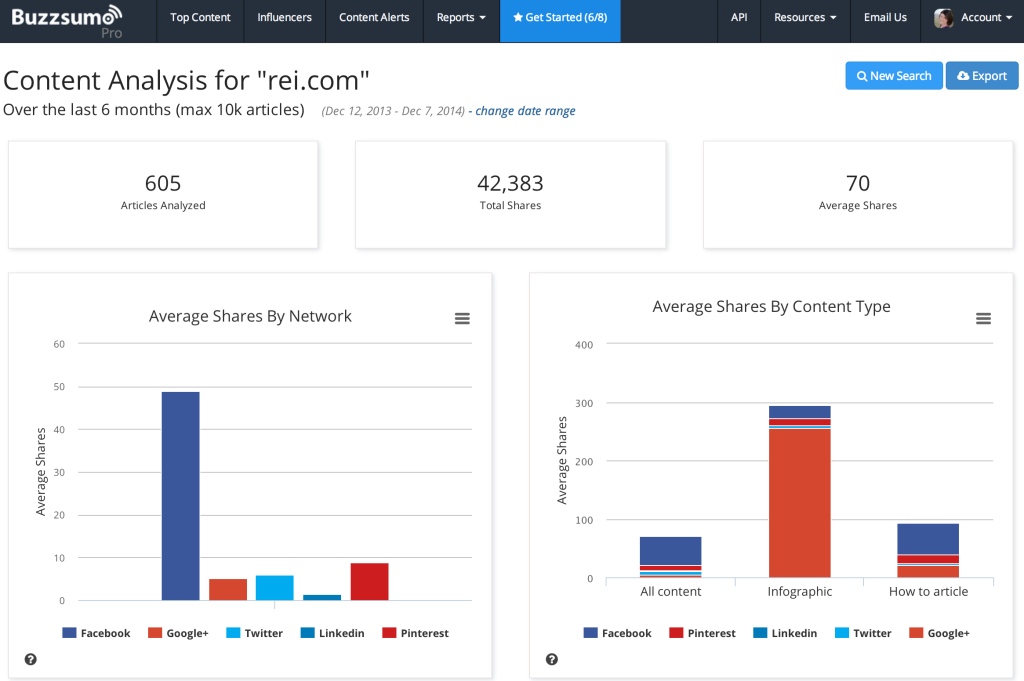 Free users can simply search for their domain and sort the columns for each network to see the max number of shares that network generates for their content.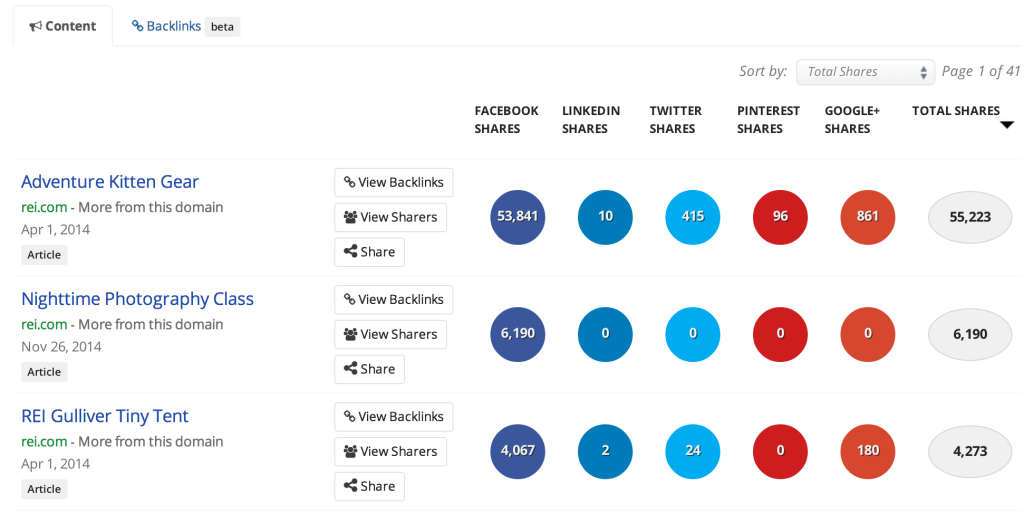 When possible (based on volume), thank those who share your content. It's a great way to make new connections with potential customers.
What to Do With This Information
Let's say that you've done your research, and you've found that Facebook, Twitter, and Pinterest are the best networks for your business. What you do next depends on your resources. If you have the time and the resources, then you might want to start working on your presence on all three networks simultaneously. If not, then focus on the best network first. Establish a strong Facebook page first, and then move on to establishing your Twitter and then your Pinterest.
Once you've established yourself and start seeing results on the top three networks move on to the next best networks for your business. Experiment with new networks too to see if you can capitalize on an audience your competitors haven't tapped into yet.
How did you decide what the best social networks were your business? Please share in the comments!