Phew!
I'm writing this post in the midst of what is probably our busiest month yet. We've had an awesome deal running with AppSumo, created a new content strategy had nearly 1,000 people join our tribe and replied to hundreds of emails.
I'm sure you've been super busy too, haven't you?
It doesn't matter how much planning you do, there always seems to be more work to do than you accounted for. And you're left wondering if there really are 24 hours in the day.
There are, I promise.
The problem for all of us busy people though is maximising your time:
Making sure that you're eeking every last drop out of every second you do work to have enough room for a life at the other end.
In this article you're going to learn the scientific way to do just that. You're going to find the five most effective ways to boost your productivity and get more done.
Tip#1: Only Check Your Emails 3 Times Per Day
Did you know the average person checks their phone 110 times a day? That's nine times an hour.
The same can be said for your emails too.
The average businessperson can spend up to 13 hours a week checking their email. That's longer than the entire first season of Breaking Bad.
Now when you see it like that, that's a lot of time that could be spent doing many more productive things, right?
I'll be honest with you; I'm an email addict too. Or at least I was. I would actually stop writing an article to see if I had any new emails or if anybody had got in touch with me so I could reply straight away…and then wait five hours for a reply.
The more I checked my emails, the more stressed I got too.
You've probably felt the same, right? It's easy to feel like the weight of the world is on your shoulders when you have 50+ emails waiting for your reply.
And it turns out that scientifically, that's how you're going to feel. The more you check your emails, the more stressed you actually become. But thankfully for you, the reverse is also true:
The less you check your emails, the less stress you have.
A study from The University of British Columbia found that the optimal amount of time to check your emails a day is three.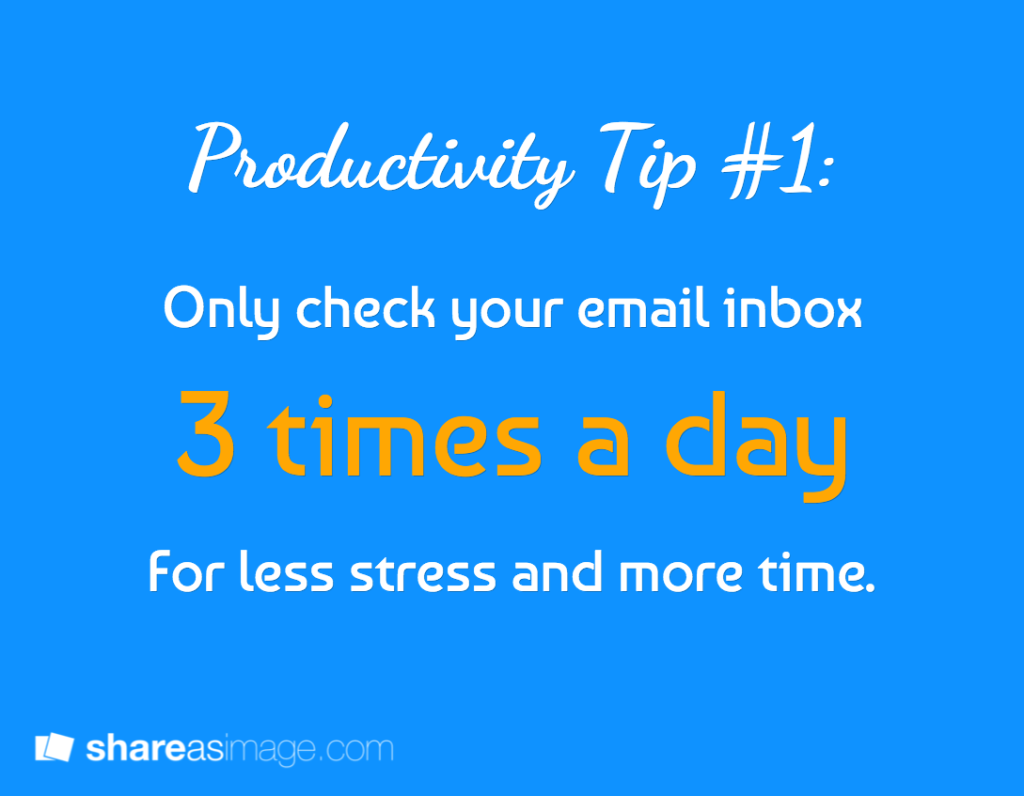 And not only will you be less stressed checking your emails three times a day; you'll also be more productive. Because that 13-hour figure – or wherever yours is at right now – will drop.
To make sure you stick to this, set specific times that you can respond to email throughout the day. My day looks like:
So I can be in touch with my clients all across different time zones, without saturating my day. And by doing this, I've found room to write 3000 more words a week.
Instead of structuring your day around emails; structure your emails around your day.
Tip #2: Make Fewer Decisions
A few years ago a Vanity Fair story went viral about how President Obama only wears blue and black suits, so he has to make one less decision every day.
Also, Timothy Ferriss – the author of the Four Hour Work Week – wont spend more than 20 minutes on a decision, and has any business decision under $100 automated so it doesn't even show up on his radar.
And that's because decisions require a lot of effort. They spend a lot of what is often called attention points.
Put simply:
You only have a limited amount of attention each day; so you need to spend it wisely.
For example, your average morning might be filled with decisions like:
What you're going to have for breakfast
What to wear for work
What the kids should wear for school
Where you should go – or what you should make – for lunch
What you need to buy from the Grocery store after work
All before you've actually got around to doing any actual productive work at all. And the more you let these decisions mount up, the less attention you're going to have left to focus on other parts of your day.
So the more of your day you can automate – especially at busy times – the more attention points you'll have left over to carry onto important parts of your day.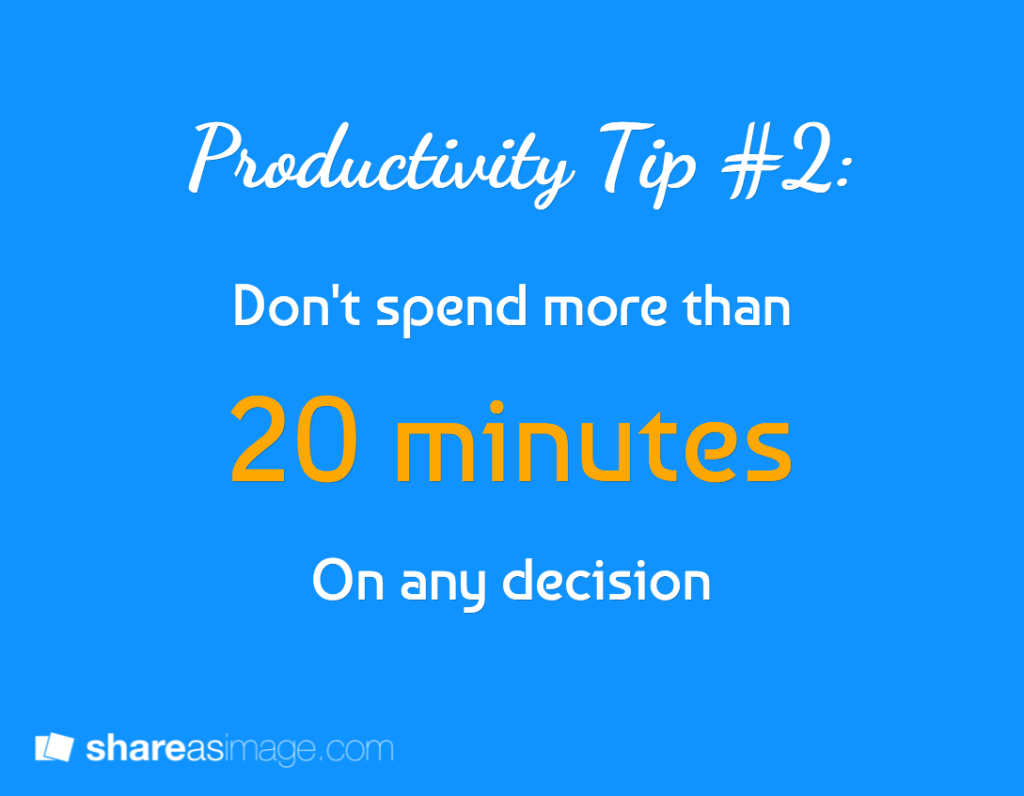 Now the solutions to this are rooted in your own life and that you have going on for a daily basis; your morning will be far more hectic if you have three children and a house compared to a single twenty something who lives at home, for example.
But good strategies to start with are:
Limiting meal (or restaurant) choices to two or three
Preparing To-Do list's
Organising what you're going to wear
Packing your work bag the night before
You'll be amazed at how much mental capacity you have left by automating just one of these.
I recently made a simple shift of buying only two types of coffee to drink in the morning – stronger for when I'm tired, weaker for when I'm fresh – instead of the five I used to have. I don't miss the extra coffee, and I feel much better as soon as I sit at my desk.
Tip #3: Take Frequent Breaks
The key to getting more work done?
Do less work.
Yeah take that, logic!
There's always been the long-standing battle in business – and life – of quality vs. quantity. The more you try and do, the less quality the work tends to be.
But conventional wisdom is to beat your head off your keyboard until, well…you get everything done.
Thankfully there is science to show that taking breaks from your work can actually make you much more productive, creative and effective.
All it takes is a short interruption to what you're doing – a break away from the task you're performing – to keep your mind fresher and focused on what you're doing.
Think of it like going for a run. If you were asked to run at a constant pace, with no breaks, running gets progressively harder and harder until you had to stop.
While if you were to take a break every time you got too out of breath, you'd be able to run for longer and with better technique, because your body had chance to recover from what's just happened.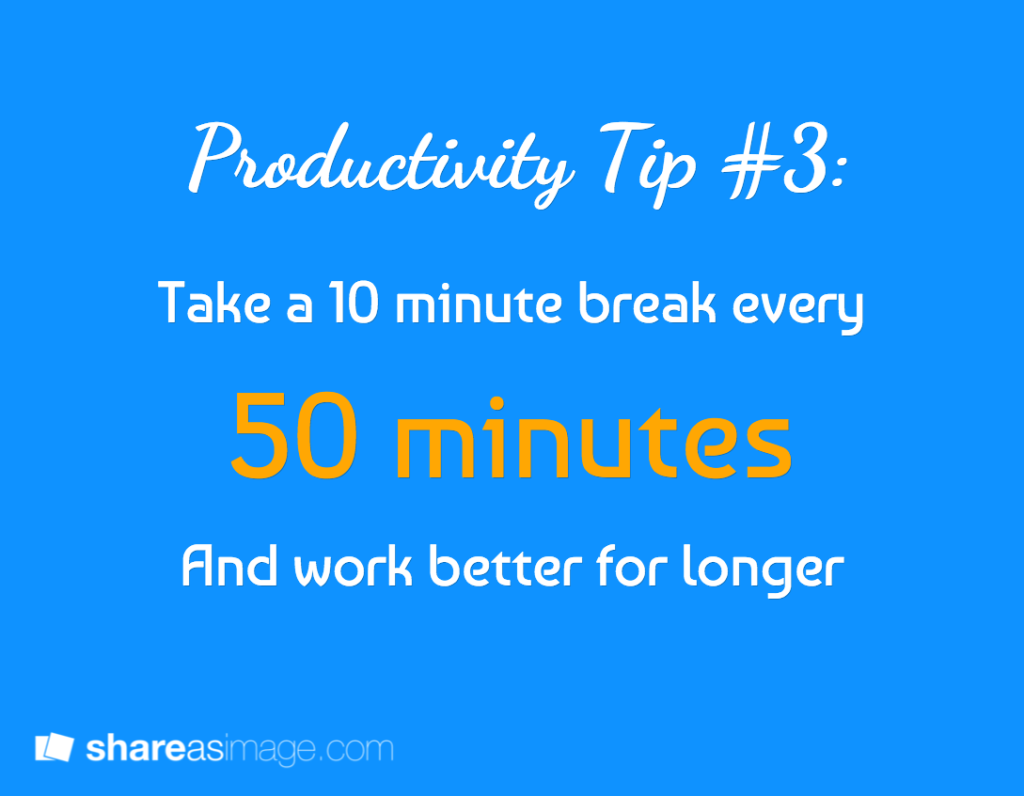 Also if you take a break to daydream or detach from the situation the more creative parts of your brain become active and create better ideas.
There are lots of methods of taking breaks – Buffer wrote about a lot of them here – that you could use. But to stick with the science you should take a 10-minute break at least every 50 minutes.
Tip #4: Get A Hot Shower (Or Sit In The Sun)
Psychopaths can make you more productive.
Now, that's a sentence you weren't expecting, isn't it? But it's true.
In their book The Good Psychopath's Guide To Success, Andy McNab and Dr Kevin Dutton outline ways that you can use Psychopathy to improve all aspects of your life.
But there's one bit that really stands out about productivity:
"A small rise in body temperature has been shown to stimulate both working memory and alertness – the two key ingredients of sustained cognitive performance"
By simply getting warmer for a few minutes you can focus your mind and replenish a lot of your lost attention points.
Now, I'm British, so 90% of the time I have to do this by getting in the shower or cuddling the radiator. But sitting in the sun for a few minutes can also do the job too.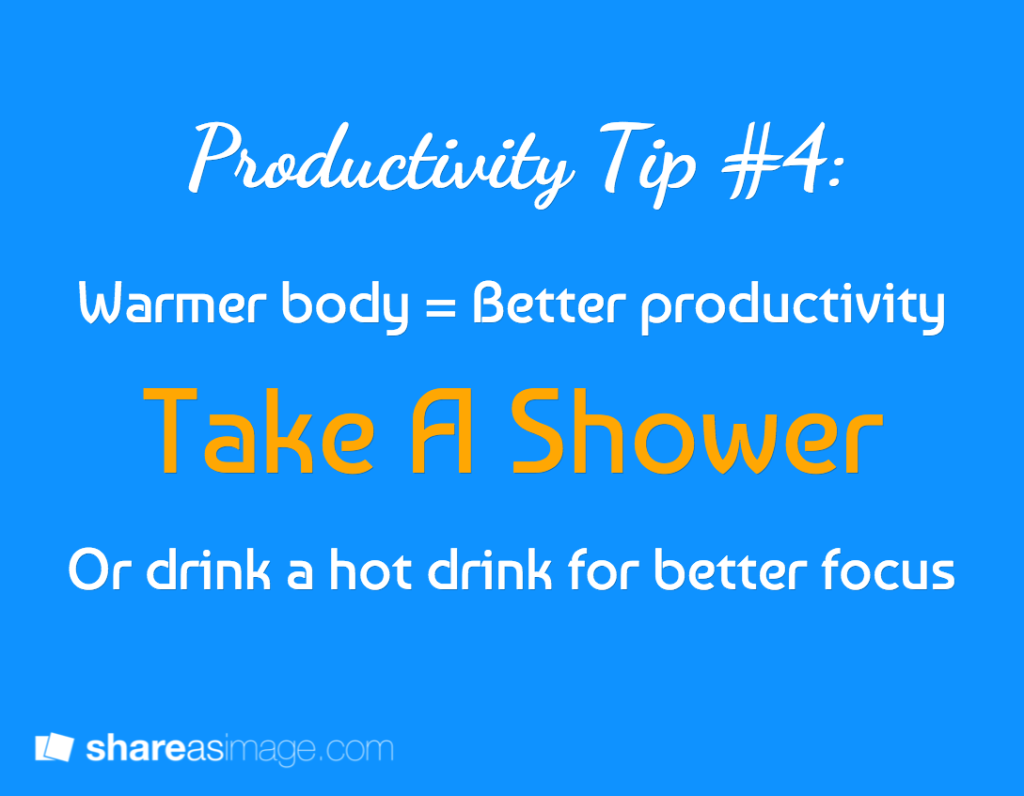 Not only can you get a break that maintains your productivity, you can start to replenish it too.
Tip #5: Follow The 2-Minute Rule
I first heard about this from James Clear, who has (unknowingly) taught me most of what I know about forming habits.
The two-minute rule is simple:
If it only takes you two minutes, do it.
And this rule is great because once you get started – like Newton's Law Of Motion – it's hard to stop. Small things like:
Writing a sentence
Updating your twitter
Outlining a blog post
All only take a couple of minute when you sit down to do them; you just build them up to feel like hours worth of work in your head.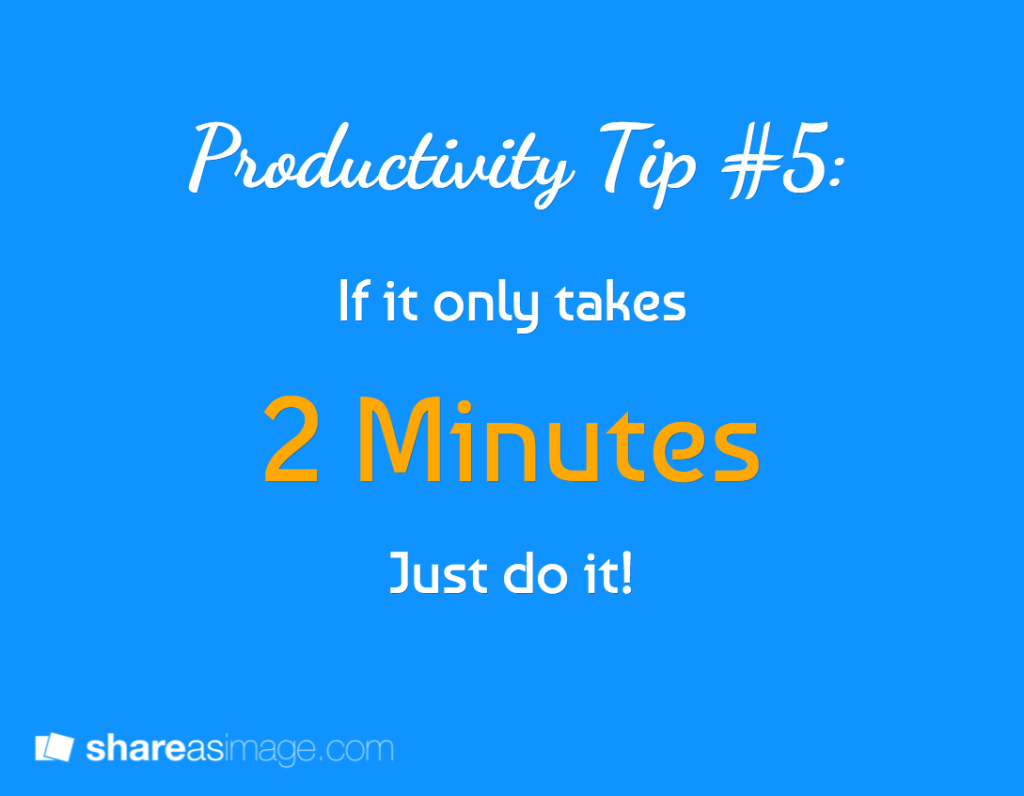 So, if it's only going to take you two minutes (and doesn't impede on anything else you're doing) then just do it. You'll get a lot more done that way.
Choose One Method Right Now…
I bet you already feel more productive, right?
Let's do a quick recap of how you can be more productive: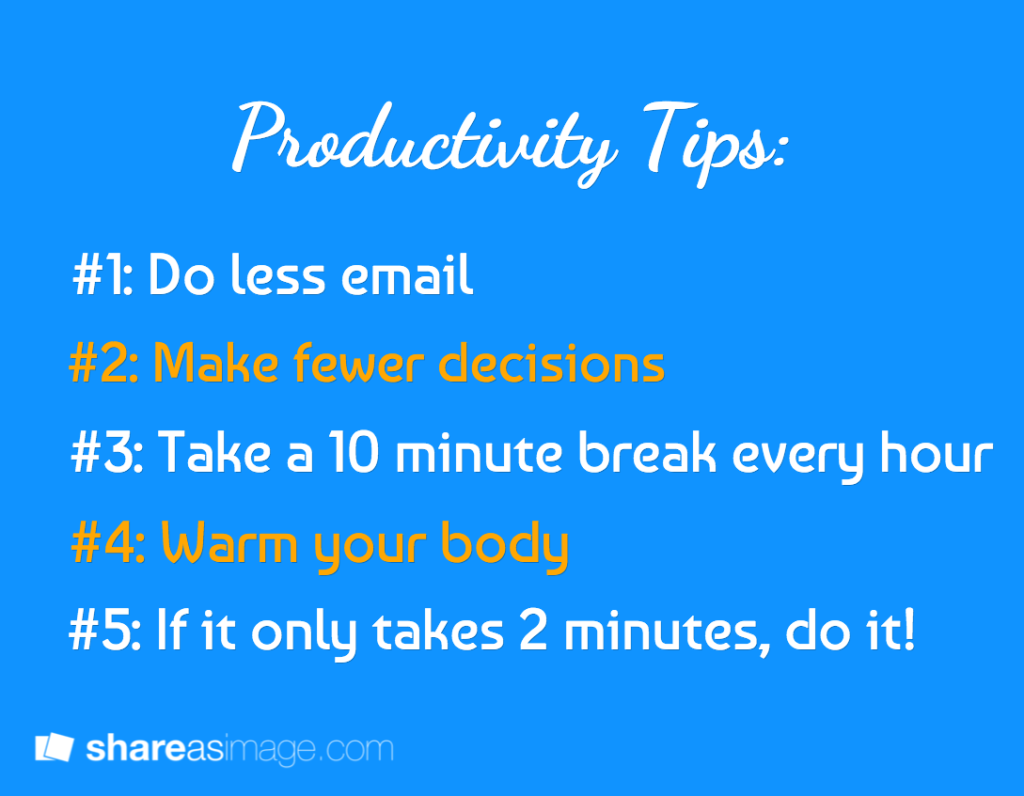 But now I want you to commit to it. I want you to take one of these methods and apply it to your life right now.
It only has to be something small like the two-minute rule, or it can be as big as overhauling how you approach emails, it's completely up to you. Whichever you choose, you need to be accountable for it.
Share this post on your favourite social media channel, and tell everybody what it is you're going to be doing differently. (If you don't want to be accountable to your friends, you can comment here instead – we've got your back!)