There just aren't enough hours in the day, are there?
Chances are – if you're anything like me – you're wearing a lot of the hats in your business. You're the CEO, the project manager, the account handler, the marketing team, the blogger and the sales rep.
And, somewhere in the midst of it all, you've got find the time to have a life.
So when it comes down to creating or implementing a social media strategy, you're already running dry on minutes to use. But as 92% of marketers and business owners would agree, social media is really important for your business.
Which means you need to find the time from somewhere.
Thankfully, it doesn't have to be as much time as you'd think. In fact – completely for free – you can cut the amount of time you need to spend on social media in half.
How?
Well, by using some of these 10 free social media tools:
Note: None of these are affiliate links – and none of the products will cost you money – they're all just here to help you. After all, we're all in this together, right?
Buffer is one of the greatest social media tools on the Internet, hands down. You might already know of them either through their blog or from people having the little 'Buffer' tab on their updates.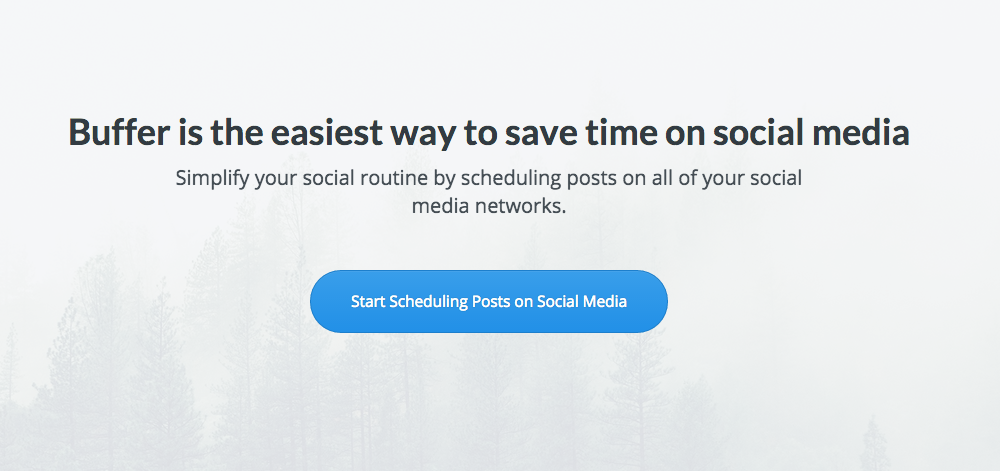 If you don't know what Buffer is, it's a social media scheduling tool. It lets you create all of your social media updates, across all platforms, through one Dashboard.
Honestly, it saves me about two hours of work a week.
It means I can wake up on a Monday morning and schedule all of our tweets for the next seven days. Instead of having the disruption of checking twitter four or five times a day and updating.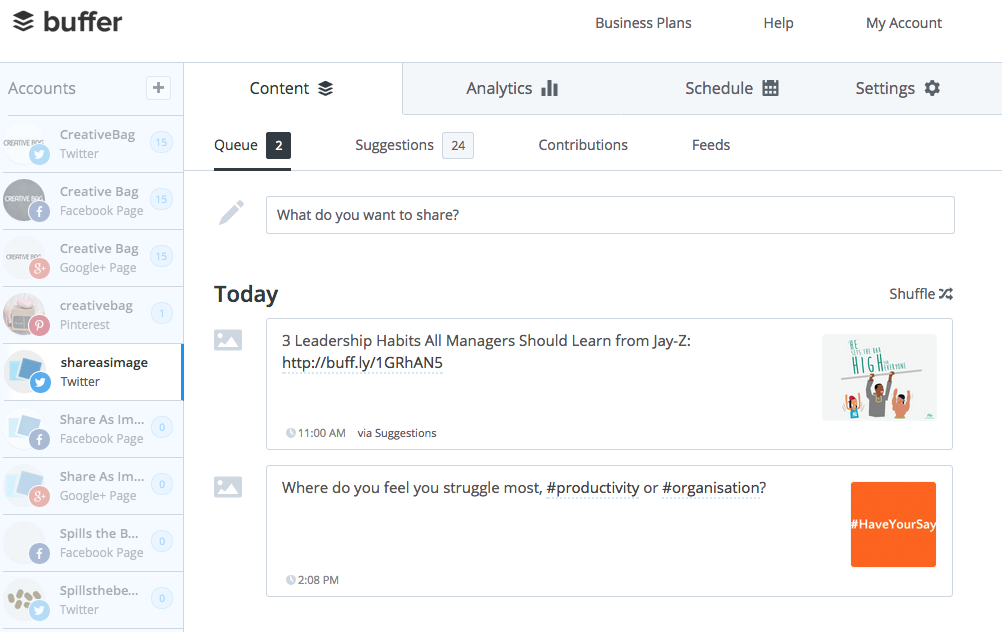 It's also useful for reaching all of your followers. Because not all of them are on the same time zone as you, you can schedule tweets for when you're fast asleep – but your audience is still wide awake 
The life span of a Tweet is only short. In fact, it's only 18 minutes before it officially becomes old news.
So as a social media manager (which technically you are) it's better to have more real-time access to your Twitter account than any other. And Tweet Deck puts all of your tweets – for multiple accounts – in one dashboard app.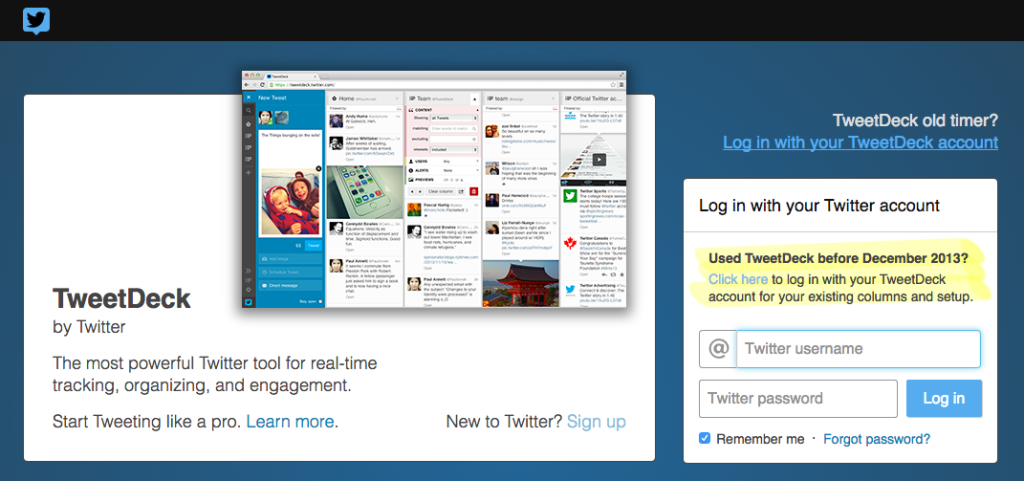 Not only will it make you productive by not having to constantly log in and log out; it will also make you more effective because you respond to important tweets quicker.
There's also a nifty little function where you can search keywords and have a constantly updated 'trending' feed for any topic you're looking for:
Social Mention is a  is a cool little tool that lets you find where you have been mentioned across the Internet. It's a social media monitoring tool that allows you to track and measure what people are saying about your brand anywhere on the globe, in real-time.
Social Mention is part of BrandMentions, an in-depth brand monitoring tool designed to track and engage in online conversations in real-time.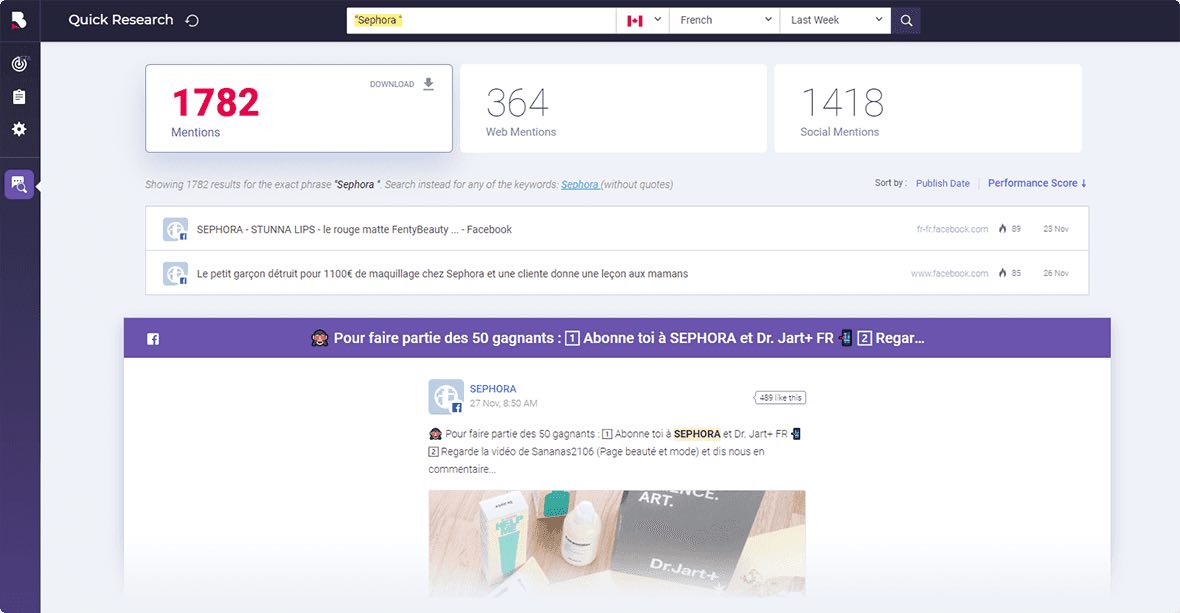 Now this might sound like a little bit of a vanity metric, but it's actually a really clever outreach tool if you use it right.
For example, not everybody will mention you on Twitter under your @companyname handle. They could mention you under an abbreviation; just your company name or just recommend you in passing.
This can help you:
Field complaints
Find a new conversation
Say thank you to a recommendation
It also shows you how many times your mentions were positive, negative or neutral.
These are all powerful benefits for improving your customer service – by connecting with users outside of your usual are – as well as giving your social media outreach much more depth.
But you're probably wondering how this makes you more productive, too. And that's a good question.
Because Social Mentions shows you where you're being spoke about – across all social media platforms – it allows you to narrow down where your audience is, and where you should focus your efforts.
That way you're not wasting 30 minutes on Google+, when everybody is talking about you on Facebook.
I like to put social media content into two different categories:
Hot and relevant
Always relevant
Hot and relevant being content that is on-the-pulse of what's being spoken about right now. Big news stories, product releases and new books for example.
Always relevant being content that will fit your audience whether it's weeks, months or even years after it's been written and released.
Both have their plus sides; and should be used as and when they fit your audience.
Addict-o-matic helps you find the hot and relevant content every single day from all across the web. Think of it as Google's teenage cousin.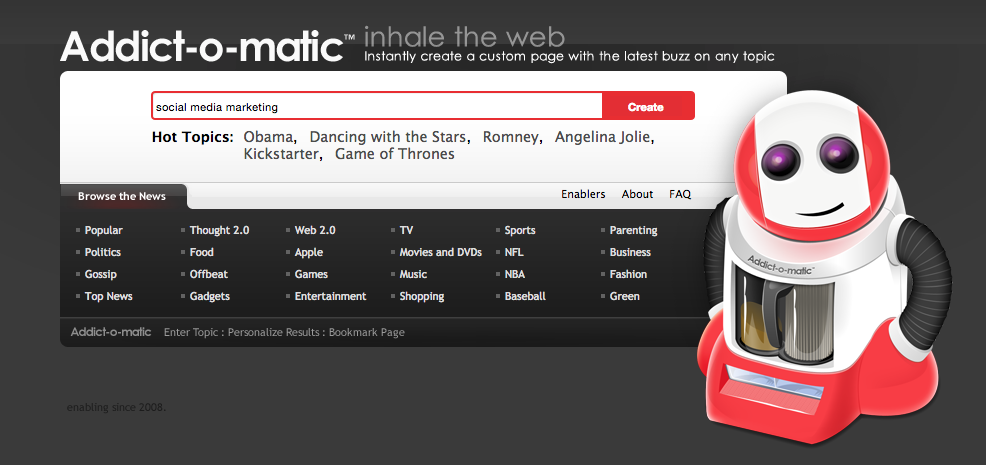 Simply search the keywords that fit you and you'll be flooded with topics to pick and choose from all four corners of the Internet. And, you can bookmark it so that you can find the hottest news in this topic every single day.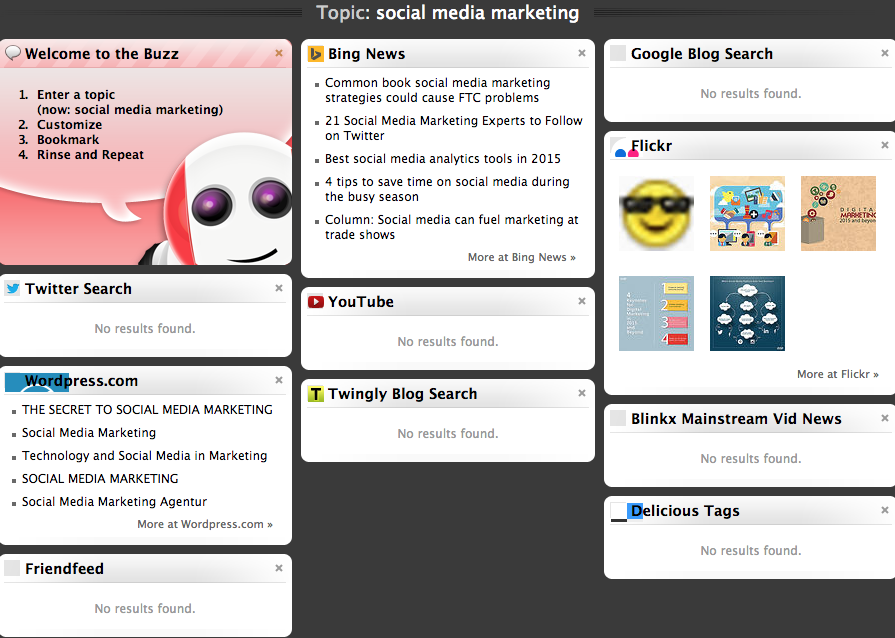 Shameless plug alert!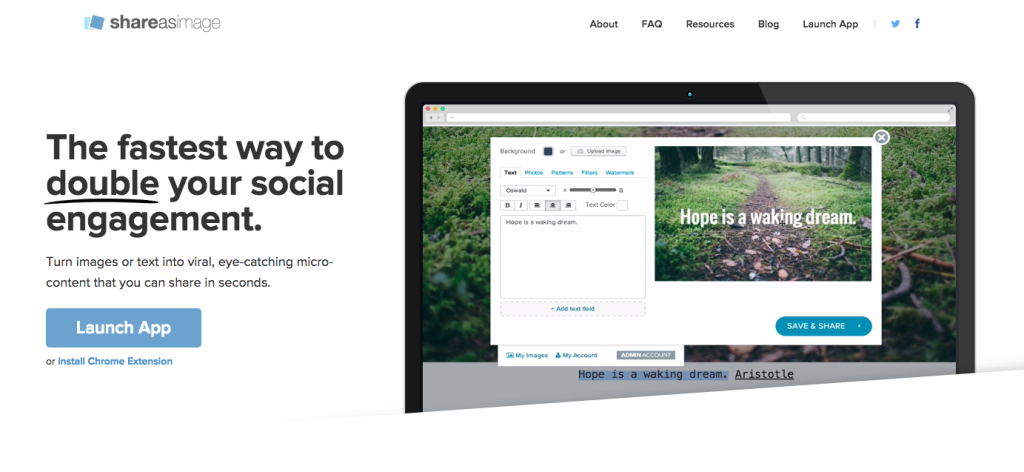 All joking aside, at the heart of our product is Productivity. We might not have all the fancy features of Photoshop and Canva, and honestly, we don't want them.
Instead you can get:
In under 5 minutes per image, with formatting as standard for all different social media platforms.
After a few practice images, you could make a weeks worth of social media images in under an hour. And with visual content becoming one of the most important mediums on social media, that's productivity and effectiveness tied into one.
And you can get all of these benefits just on the free version.
Sharing content is important for your whole social media strategy. Whether you: take the Buffer approach and share 90% of your own content, take the Jon Morrow approach and share 90% other peoples content, or sit somewhere in-between – you're going to have to share content at some point.
But finding the content to share can be really time consuming.
Thankfully with Dlvr.It you can automate the whole thing.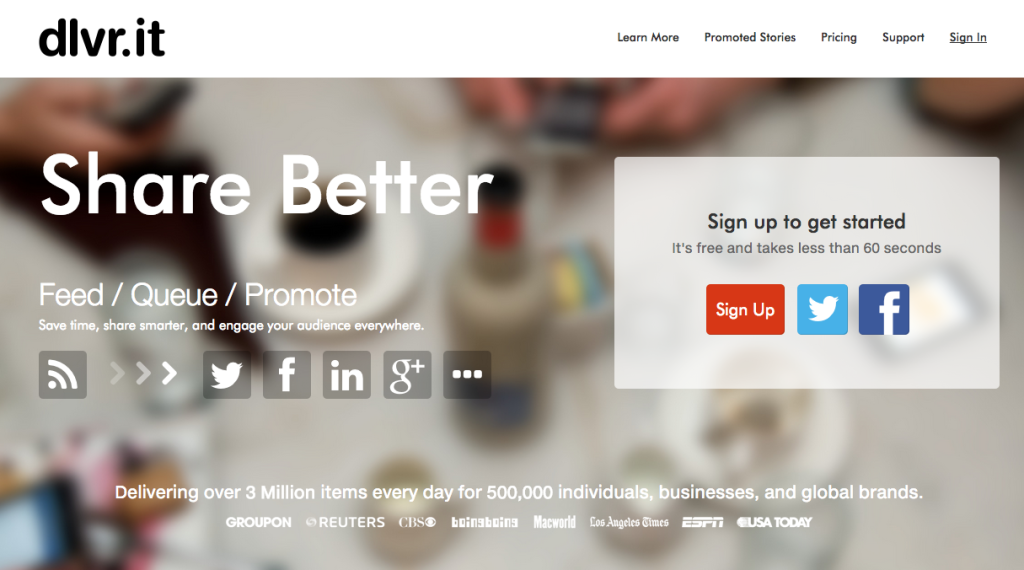 You can link it up to queue your own content after you've published it, saving you the time of creating the update yourself. Or you can have it scour the Internet around the clock looking for content that fits your audience.
Neat, huh?
SocialBro is like being given Psychic powers…that only work on social media.
In a nutshell this app analyses all your followers (or the important top 100 on the free version) and tells you all of their activity. But most importantly it tells you exactly when they're active online.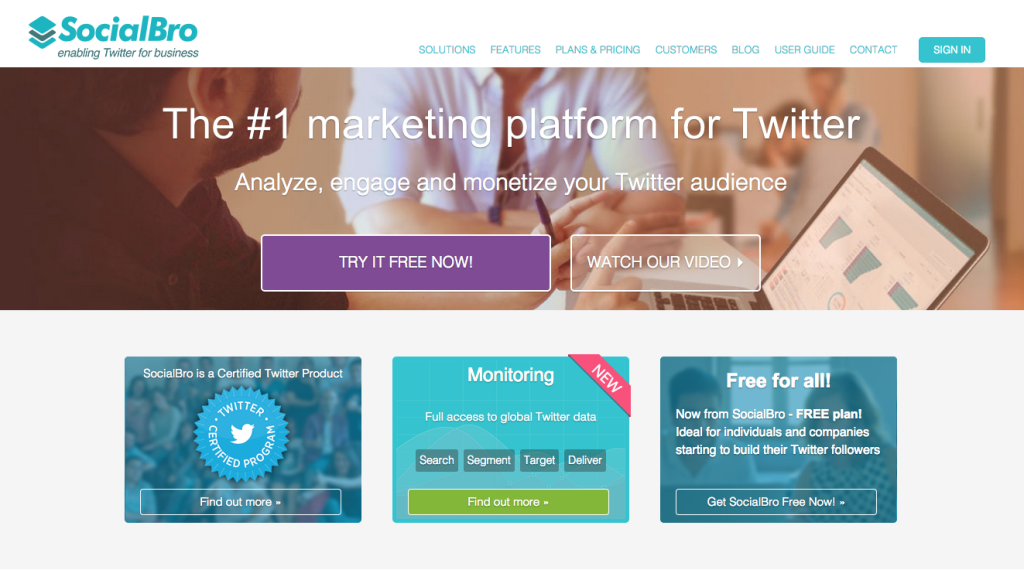 That means you can schedule all of your important updates, like your shiny new blog post or discount promotion, when all of your audience are there to see it.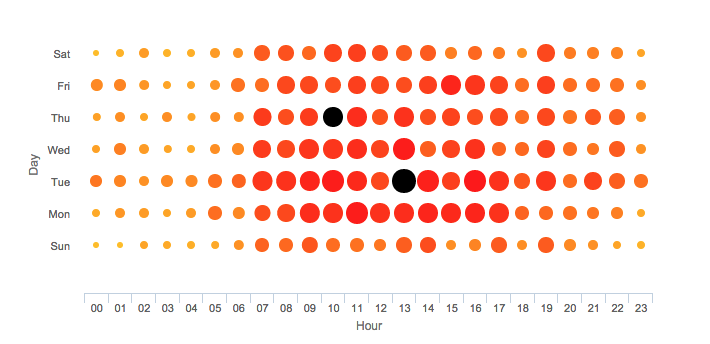 Combine the information you get here with a super-specific Buffer posting schedule and you'll be the social media equivalent of a Jedi.

IFTTT stand for If This, Then That.
This is a little gem of a site that provides recipes for lots of things life throws at you. Like, "If you keep forgetting to send Twitter updates, then set an alarm on your phone".
Simple but effective, right?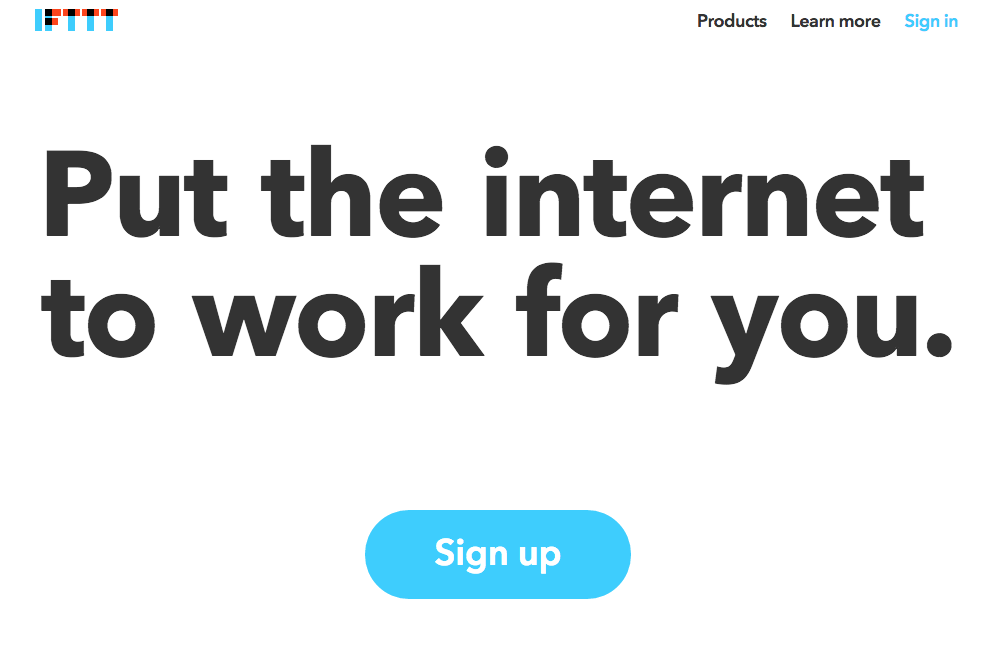 Well it goes a little bit deeper too. A search of their social media recipes shows you lots of little shortcuts, such as providing links to connect your social media accounts as well as little cheat codes of how to use #hashtags on Twitter to get featured on LinkedIn.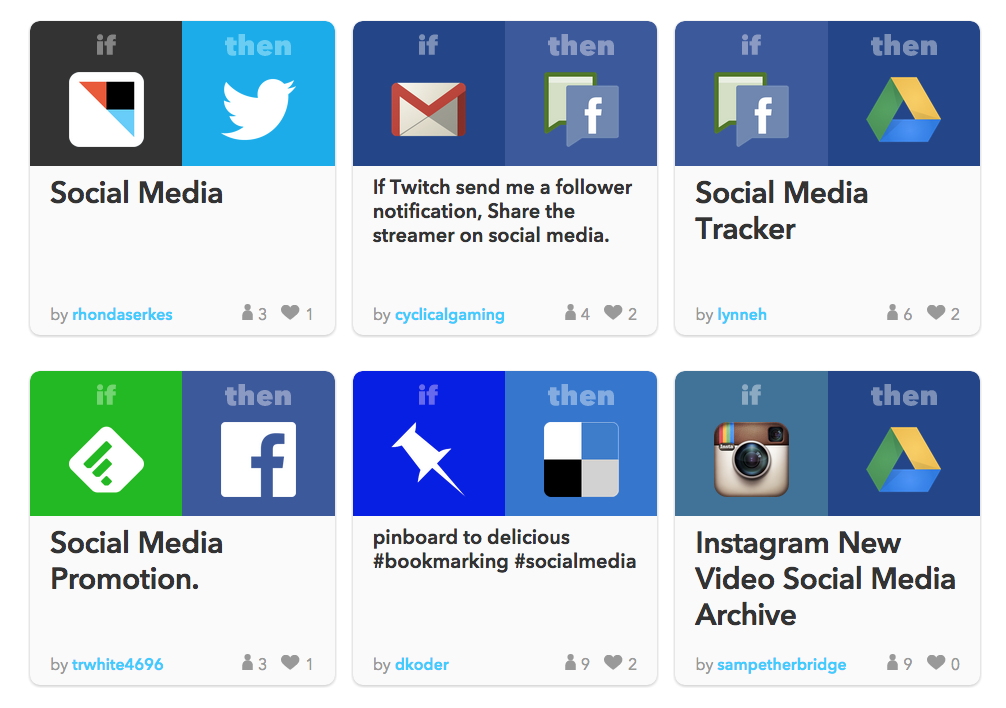 Using a few of these recipes – if only to form habits and set good social media practices – can save you a lot of time each day, and boost your exposure across lots of different platforms.
Don't forget to look at some of the Lifehack recipes too…
Swayy is by far my number one pick for finding content on the Internet. Because it doesn't just give you general content that might suit your audience.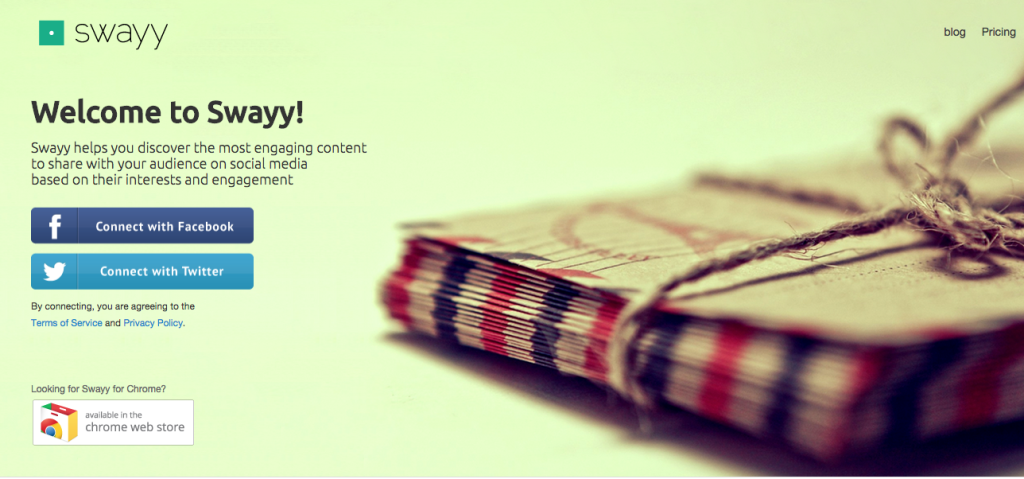 It analyses all of your past content, the content your followers are sharing and what the overall demographic of your Twitter followers is. Then it suggests all the relevant new and old articles that your audience will want to read, and lets you share it directly to all of your followers (with the right people mentioned in the tweet, too!).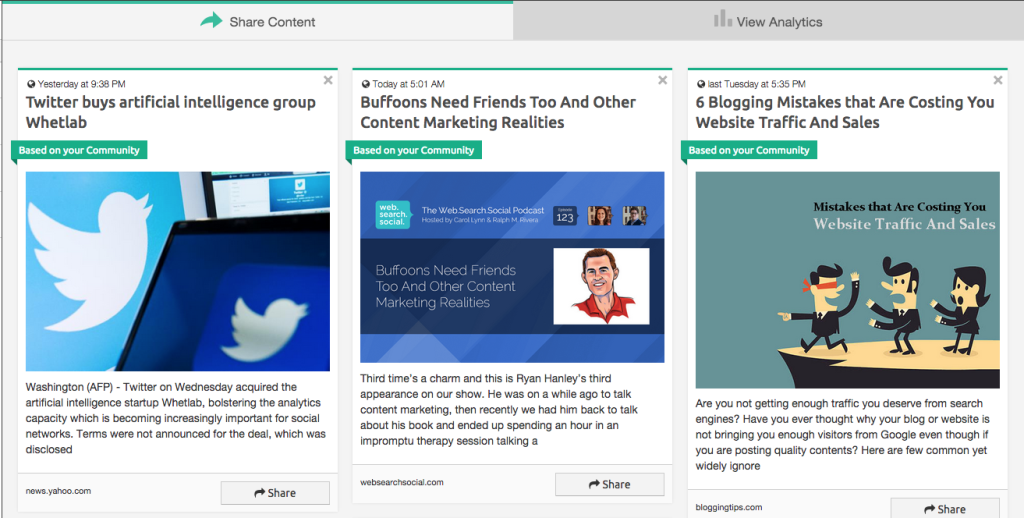 Basically it's taken all the guesswork out of choosing content for your audience and it means you don't actually have to read the content before you share it (c'mon, you know that's really your marketing dream come true).
Plus, if you're a blogger, or have a company blog, this is a great tool to get an idea of great content you could rework for the Skyscraper Technique.
Topsy is a combination of all of the research tools under one roof. And it doesn't lose any quality for it's sheer quantity, either.

You can search any keywords you want and it will show you:
Recent tweets
How many times it's been tweeted over the past 30 days
Relevant shared content
Influencers and power users
All information that can send your social media strategy from ground zero, into orbit, in little time at all. How?
Well you can learn which influencers you should connect with. Which questions you should be asking. If the topic – or hashtag – is worth your time. When the best day to start specific conversations is.
Now you might be thinking, "That sounds like a lot of work for a tool that is supposed to save me time…nice one, James".
And you'd be right. But this is a long game tool. If you invest just one hour into using Topsy for research, you'll be more effective in how and where you spend your time, and save countless hours at the other end.
Plus, it's worth an hour to get hundreds more of the right followers, right?
Spend Less Time Sharing, More Time Living…
There you have it, folks! Our top 10 tools that will help you save hours of your life and give your more time do whatever you want. Or, at least focus on wearing one of your other hats for a little while.
If you do have a second though, I'd love you to answer two questions for me in the comments…
How much time per week do you spend on social media?
Where do you think you struggle with productivity online? (Anything from Blogging to Tweeting to having a disorganised calendar)
Who knows? We could just have the tool that could solve all your problems…