It might be surprising for you to hear that Share As Image doesn't have a big workforce.
There's a lot that needs doing, and it's spread between a max of four of us at any one time.
Which means that staying productive is a big priority for us. Because, there's little room for slacking off or procrastinating.
To be honest, we're pretty good at staying on task.
But it's not all down to our laser-focused minds. There's a whole host of free productivity apps and tools we use to stay on track.
And, I'd like to share them with you, so you can be more productive too.
So, here they are, the six free productivity apps we use every day to stay on task:
#1: Slack
Here's a little secret for you:
Share As Image HQ isn't actually a secret underground bunker.
It's a group-chat in Slack.
If you're working as part of a team this app will save you hours.
From email, phone calls and getting Dave from accounts to finally get back to you on that document you sent him.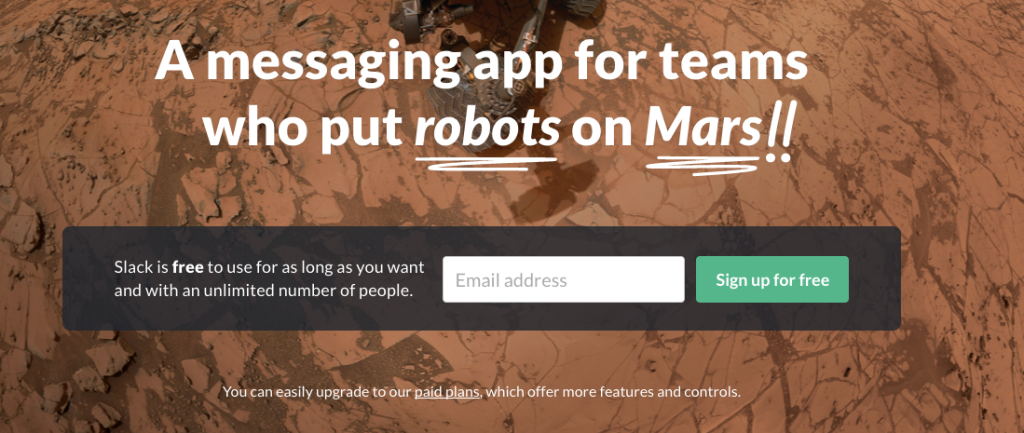 Being a solid five-hour time zone ahead of the rest of the team means that getting stuff done on time can be hard. Especially if I need a quick response from Adam or Oliver about it.
Slack has fixed that problem.
Instead of waiting for emails to come back to me, I just get a little slack notification and I'm able to dive right in.
#2: Rescue Time
Rescue Time has kept me in check for the last three months.
As a result I've been able to reduce the amount I work without affecting how much work I get done (or how much money I make).
The free version tracks:
How many hours you work
Where you spend your time
How much of that time is productive
Then delivers it to your inbox every week as a neat little summary, like this: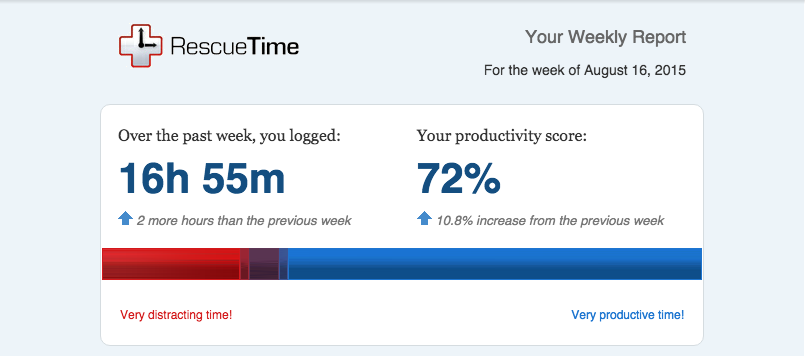 You can choose what counts as a productive use of your time too.
For example, if you're a Social Media Manager, you can put down your time on Twitter as productive.
What I love about this App is that it almost makes a game out of Productivity.
Got a Productivity score of 65% last week? Not only do you get face-palmed with guilt, you want to go ahead and beat that score next week too.
#3: Headspace
Meditation has been proven to help you:
Maintain your focus
Stay on task
Have more self control
And, the results come in the first 11 hours of practice too.
Research shows that by the end of the 11th hour, the anterior cingulate cortex (the part of your brain that controls focus) grows stronger.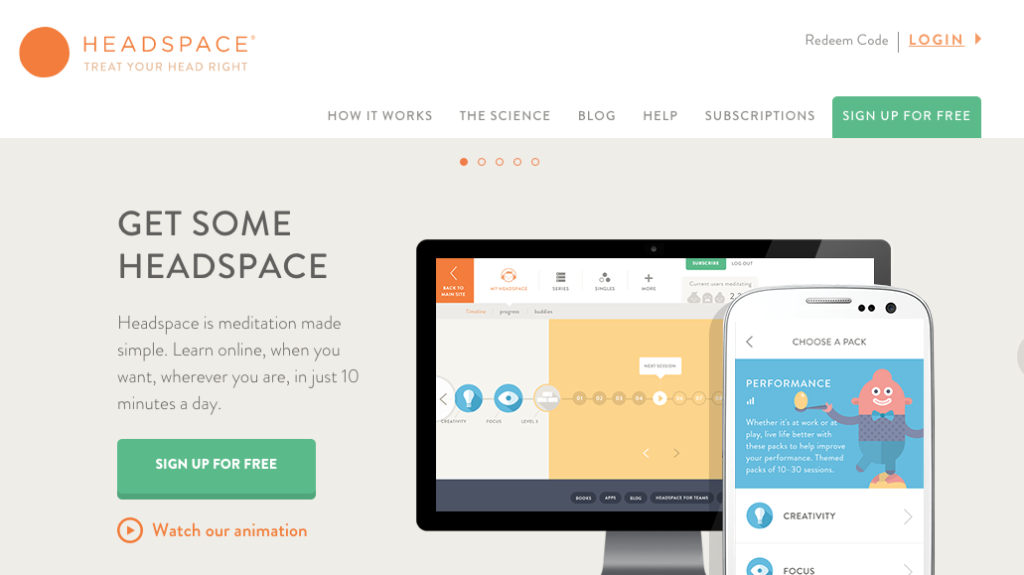 Headspace is an app that teaches you how to meditate, for free, in 10 minutes a day, with their course Take 10.
I did a little test with this app, and in the 10 days I became 10.5% more productive.
I went from this: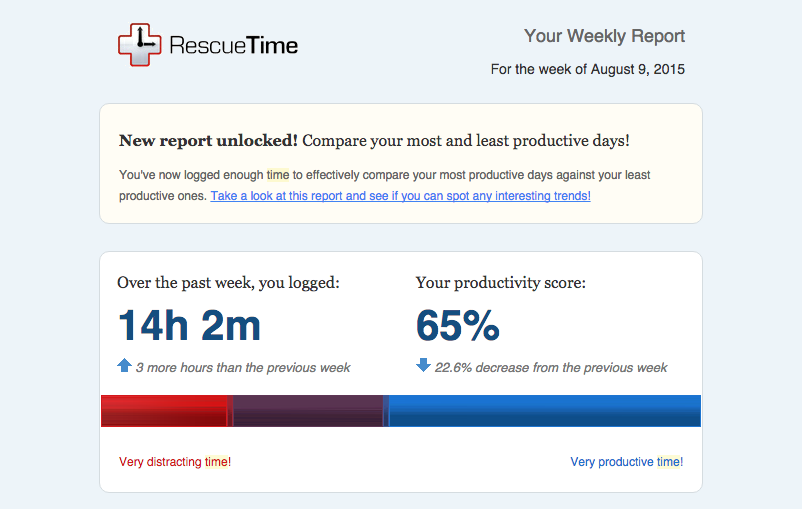 To this: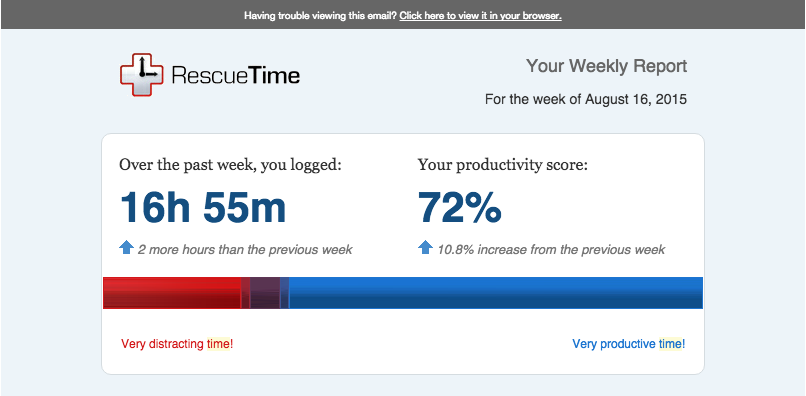 Which for me – as someone who works at home with a lot of distractions – is an amazing result.
If you're on the fence about meditation, give it a go – you've got nothing to lose, and a lot of time to gain.
And if you're an occasional meditator, it's a simple way to build a solid meditation habit.
It's not often a free productivity app has this much impact on your life, either.
#4: Trello
There's been a lot of research into the psychology of to-do lists over the years.
And, they either work for you, or they don't.
For me, if I didn't have a to-do list, I'd stuck in the old Freelancers Conundrum of:
Do I have free time, or am I just forgetting everything?
Usually, it's that I'm forgetting things.
Trello has helped me stay on task for just about every project I have. In and outside of Share As Image.
Organising: topics, articles, follow up emails, daily tasks, social media schedules.

This isn't only a great app if you work online, either.
My friend, Jack, (not his real name, but I do have friends, I promise) runs an entire bar through a Trello to-do list.
If you're as organised as Tony Hsieh's desk, this app is for you: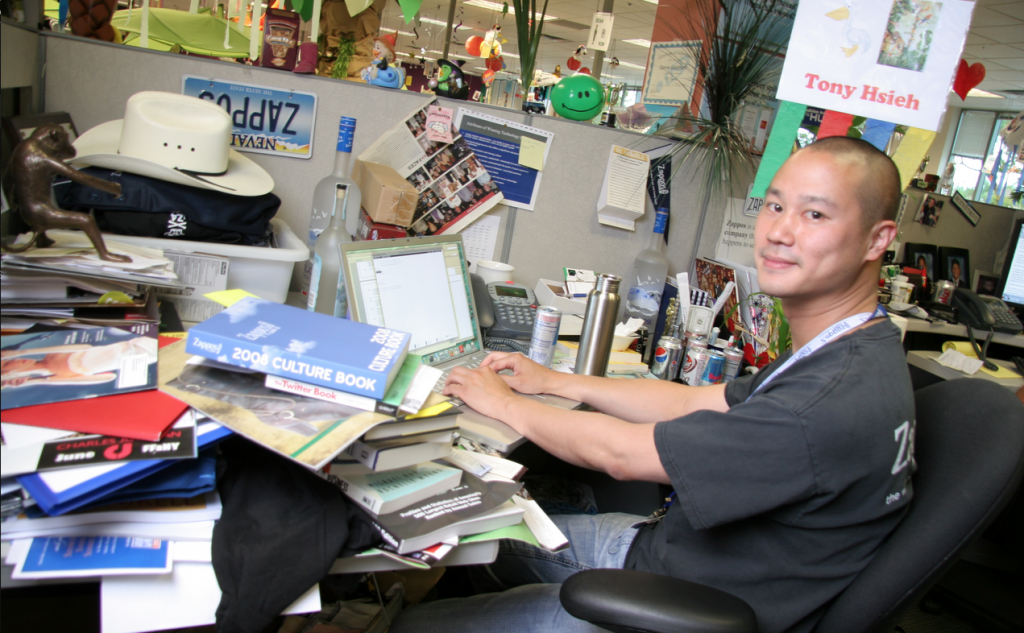 #5: Evernote Scannable
I'm not a big Evernote fan; I just never quite got it.
That was until Evernote Scannable for mobile came along, anyway.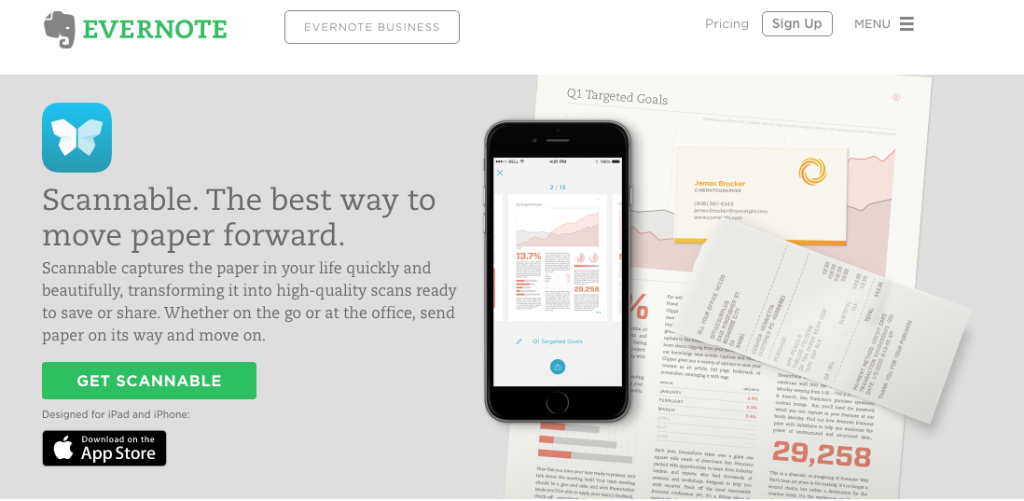 You can take pictures of articles, receipts and business cards etc. and turn them into digital documents.
Now you might not look at this and think 'time saving'. And you'd be right, in a way.
What it does do is ensures important work doesn't fall through the net.
For example:
You can turn that business card image, save it as a contact, and set yourself a follow up reminder.
If you're a scatterbrain like me you'll have an images folder on your phone you meant to do something with.
That ends here.
#6: Hemingway
When I came across this app, my jaw hit the floor.
If you have to write content for anything Hemingway serves as your new favourite copy editor.
Copy and paste your document in there, and it tells you if you could have written it any better.
It finds the flabby words, spelling mistakes and bad sentences so you can create better copy.
If something isn't coloured in, like this, you can glaze over it:
But if it is, you know it needs editing, and why:

Not only has this saved me hours on editing, it's saved me hundreds of dollars on editors too.
That, my friend, is a win/win.
App-ly Yourself To Productivity…
Okay, so you've seen the six free productivity apps we rely on most to make sure the cogs turn here at Share As Image.
Now what's important is that you find apps that suit your workflow and adapt them. Don't build a workflow around apps.
Try introducing one app at a time, see how it works for you, and then build on top of it.
Apps help you be more productive, but they aren't going to do the work for you.
That's down to you.
So, where are you going to start?