It's no secret that email marketing has emerged as a powerful tool for engaging customers and driving business growth in today's highly competitive business landscape. Over the years, you've likely seen various opinions on email marketing, and the truth is email marketing is still one of the best ways to generate leads.
Growing an email list of ideal buyers can be cost-effective when you have a good strategy in place. Email marketing also gives you the ability to deliver a personalized approach, take your audience on a journey and have a direct line of communication with your audience and potential buyers. In other words, it's useful for anyone at various stages of the buyer's journey.
We'll share some useful this in this blog post. We'll also explore the key elements of developing an effective email marketing strategy that captivates readers, fosters brand loyalty, and boosts conversions.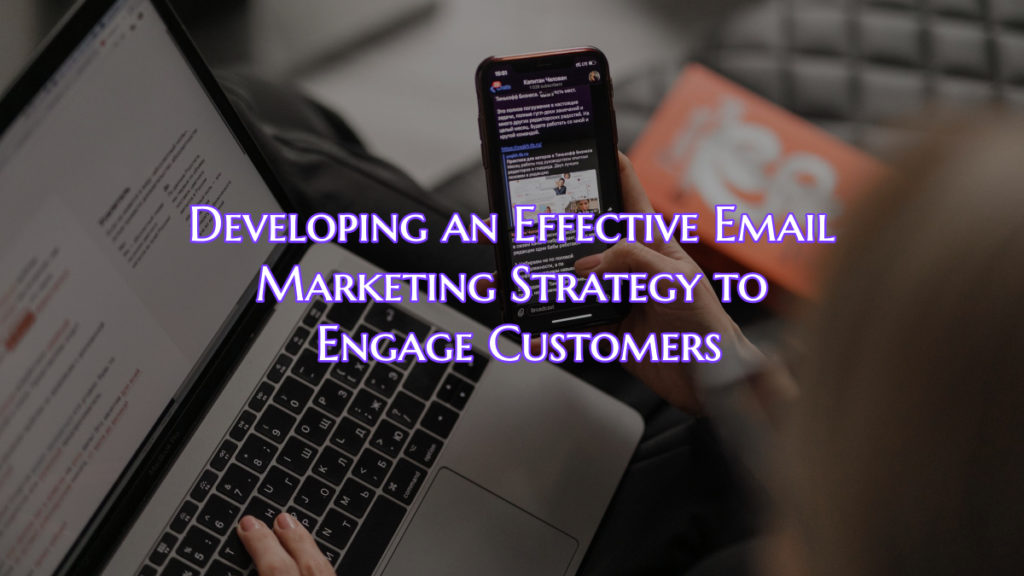 Understanding Your Audience
To create impactful email campaigns, it is crucial to have a deep understanding of your target audience. This means that you'll need to be clear on who your ideal buyer is, and then you also need to analyze the performance of each email to ensure that you can refine your strategy and deliver content that your audience will love.
Utilize strategies such as surveys, website analytics, and social media insights to collect valuable information. Analyze this data to create customer personas, which represent key segments of your audience. Personas help you understand their motivations, pain points, and communication preferences, enabling you to craft highly relevant content.
Crafting Engaging Content
Grab the reader's attention with concise, intriguing subject lines. Use action words, personalization, and urgency to entice recipients to open your emails.
Write concise, persuasive, and personalized content that provides value to your readers. Focus on benefits, use conversational language, and tailor the tone to match your brand's voice.
Incorporate eye-catching graphics and infographics by using a tool like Stencil. You can easily create a template for your email marketing graphics and repurpose them time and time again. Just like it's important to A/B test your headlines, you'll also want to test various graphic styles before you settle on a template. 
Building a Valuable Email List
Use various methods like website opt-in forms, gated content, social media promotions, and partnerships to grow your subscriber base. Encourage existing subscribers to share and refer your emails to their contacts.
You should also consider segmenting your email list based on demographics, interests, past purchases, and engagement levels. This allows you to send targeted and personalized content that resonates with specific segments, increasing open rates and conversions.
Regularly clean your email list by removing inactive subscribers or those who consistently mark your emails as spam. Comply with anti-spam regulations, provide clear unsubscribe options, and ensure your emails are mobile-friendly. Not seeing your list could prevent you from seeing. the results you are hoping for.
Designing Effective Email Templates
Now on to our favorite part; since we love making graphic design easy, we also love creating templates for our email marketing efforts. Here are three things to consider when designing your emails.
Visually Appealing Design: Create visually appealing email templates that align with your brand's identity. Use a clean layout, eye-catching colors, and consistent branding elements to establish a strong visual presence.
Optimizing for Different Devices: Design responsive email templates that adapt to various devices, including desktops, smartphones, and tablets. Test your templates across different email clients and ensure they render correctly.
CTAs and Personalization: Incorporate clear and compelling calls-to-action (CTAs) within your emails to guide readers towards desired actions. Personalize your CTAs based on customer preferences and past interactions to boost engagement and conversions.
Measuring Success and Iterating
You'll want to set your key metrics. This will allow you to track important email marketing metrics such as open rates, click-through rates, conversion rates, and unsubscribe rates. Use email analytics tools to gain insights into your campaign performance.
Experiment with different subject lines, email copy, visuals, CTAs, and send times through A/B testing. Continuously analyze the results and optimize your campaigns based on the data to improve performance.
Email marketing is an iterative process. Regularly review and analyze your campaigns, learn from successes and failures, and make data-driven decisions to refine your strategy over time.
Developing an effective email marketing strategy requires a deep understanding of your audience, compelling content creation, list management expertise, and appealing design. With the tips from this blog post, you can engage your customers, foster stronger relationships, and achieve remarkable results. Remember, the key to success lies in experimenting, tracking results, and continuously improving your approach to find what works best for your unique business.
Implement these tips today, and witness the transformative power of email marketing in boosting your brand's success.