How often have you found yourself in this situation?
You've opened up all of your social media accounts, worked out your entire schedule and then…BAM. All of your idea's suddenly disappear into the ether.
If you're anything like me, it happens to you at least once a month. And it's really, really (really) frustrating.
But don't worry:
All of that ends today.
In this article you're going to find a list of no-fluff, always-relevant social media updates to save yourself from even the darkest depths of writers block:
#1: Share Your Old Content
Do you suffer from Onepostitis? It's a terrible condition where you feel that you can only share a piece of your content once. After that, all sharing is off limits.
Don't worry though, because it's easily cured.
In fact you should be sharing your old content – especially your evergreen content – as often as possible. For example, Tom Tonguz found in his experiment that each time you share a piece of content again, it get's 75% of the Retweets it got before.
A great example of this is the Buffer twitter feed. Their updates aren't just relevant new content, they're important old content too, even if it's years old.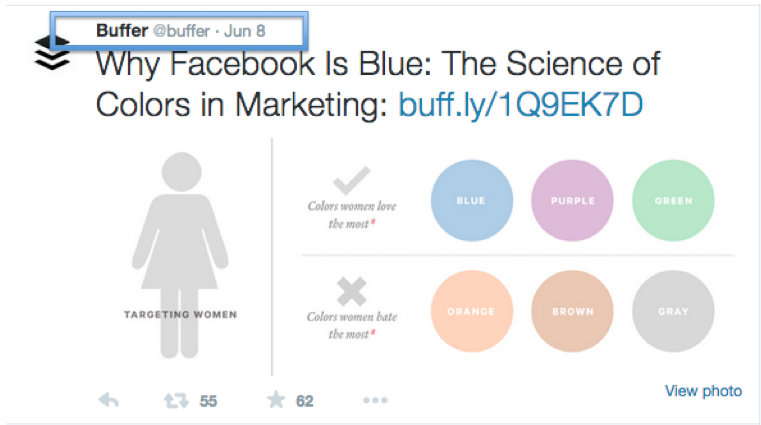 Go through your back-catalogue and find some of your content that's performed well and share it with your audience. They won't be bored by it, it could actually be just the article they needed to read.
#2: Share A Milestone
There's always something to talk about in your back of house.
It could be:
A new person joining the team
Reaching a certain amount of followers
Having a company birthday
You got to test-drive a new product
Or anything else that's weird, wonderful and unique to your team of people.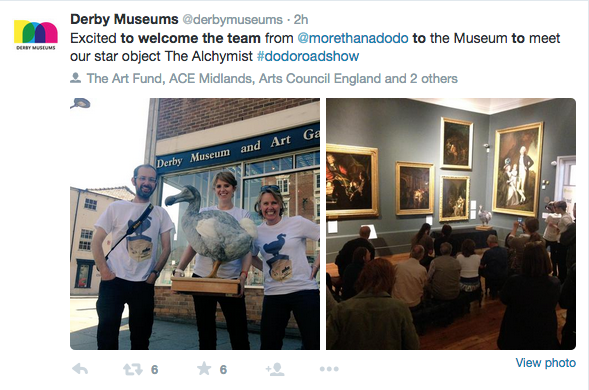 Tweets like this help to bring a closer, more authentic connection between you and your followers; and give them a closer insight into what matters to you and your business.
#3: Powerful Quote Images
These are easy to create – especially with Share As Image Pro – and they can have a really powerful impact on your audience. In fact, they can get up to 847% more shares and require little-to-no thinking on your part whatsoever.
Don't feel like you can only use quotes from famous philosophers or dead presidents either. You can take quotes from your own blog posts, other authorities or even song lyrics – as long as they're relevant to your audience.
If you want to learn how to create powerful quote images, you can get our free guide here.
#4: Evergreen Updates
There are two types of advice on the Internet:
Advice that works right now
Advice that always works
And both of them have their own merits. If you can time an update to fit with something relevant to right now – like the Oreo Super Bowl tweet – you can get an endless amount of shares and interaction.
But that is really hard to do.
Instead it's better to share tips and advice that will always be relevant, because it's something your audience will always need. And you no doubt have endless tidbits of it rolling around in your head at all times.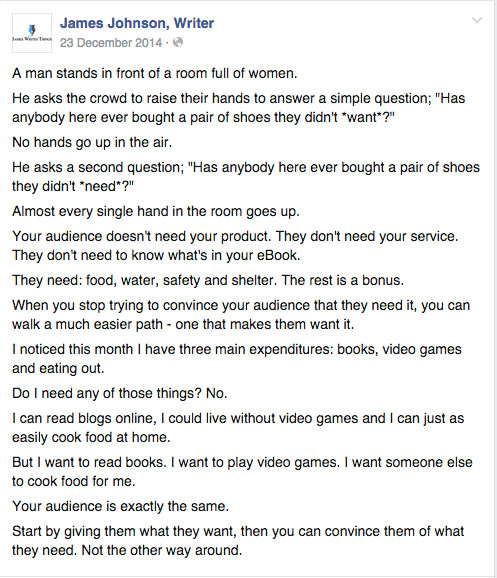 Turn them into a valuable mini-blog post that serves as a social media update. Or, if you feel like cheating a little, copy and paste an excerpt from one of your latest blog posts and add a link in there too.
#5: Praise An Engaged User
Every social media stream has that guy (or girl). You know, the person who interacts with everything that you do.
They retweet your tweets. They answer your questions. They favourite your updates, and they're the first to send their followers your way.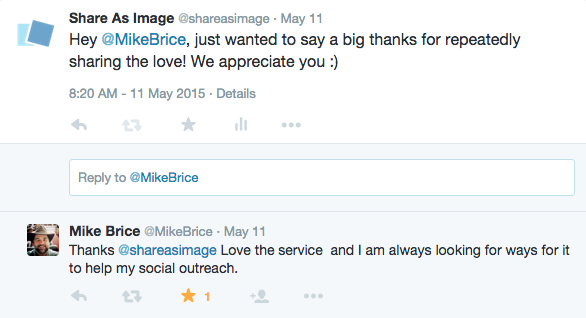 Why not return the love and give them a little bit of praise and attention for all your other followers to see too.
#6: Join (Or Create) A Hashtag
Hashtags have become part of the backbone of social media. I'm even guilty of using them in real life conversation from time to time, too (#needtogetoutmore).
If you're looking to just fill in up update space, there are some daily Hashtag events that you can take advantage of:
#mondayblues
#motivationalmonday
#transformationtuesday
#takemebacktuesday
#wednesdaywisdom
#workoutwednesday
#throwbackthursday
#thirstythursday
#feelgoodfriday
#fridayreads
All of which have hundreds, if not thousands of people taking part in them every single day.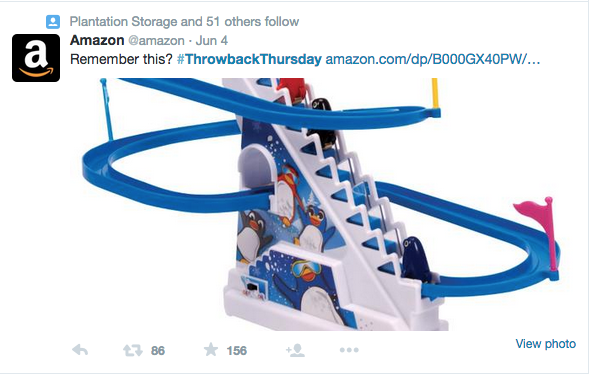 You also have the option to create your own Hashtag – either funny, or industry specific – that can generate some good engagement too. The only limit here is your imagination:
#7: Real Life Pictures
QuickSprout found that tweets about your day-to-day life don't perform too well. That is, if you're sharing about what you had for breakfast or that you're waiting in line at Starbucks.
But there is something powerful and authentic about sharing the experiences and down-to-earth moments in your life. Or, even giving your audience an insight into what happens when you're away from the screen.
Like Jeff Goins's updates about his son: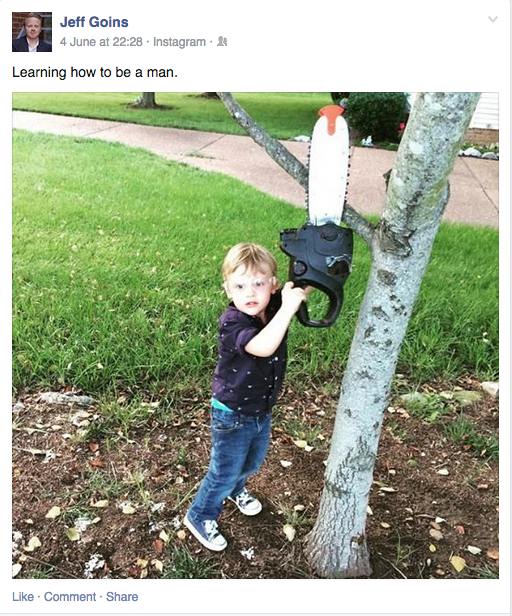 While they may not be completely relevant to what your audience usually checks in for, updates like this can have a great personal branding impact and add a depth of reality to your updates.
Just be sure to share them few and far between.
#8: Share Other People's Content
There's a lot to be said for sharing content that isn't your own. Not only is there definitely more of it than content you've created, it also makes you look like more of an authority in your niche too. How?
Well you look like you're truly immersed and interested in your topic; you can piggyback onto other peoples following; you become involved in a relevant conversation and you're seen as a valuable source of knowledge on social media.
And if they're not benefits you want, you're doing social media wrong.
Now if you're actually immersed in your topic and read new posts every day, finding this content shouldn't be a problem.
But if you're not – and if you're honest you can't always be tuned in – so there are some super easy cheats to find this content, too.
You can set a Google Alert for content relevant to your niche: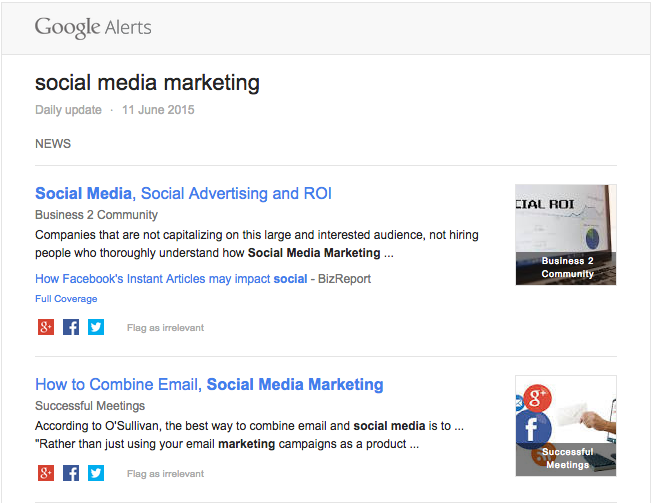 You could use the Buffer 'Suggestions' tab for pre-made content tweets: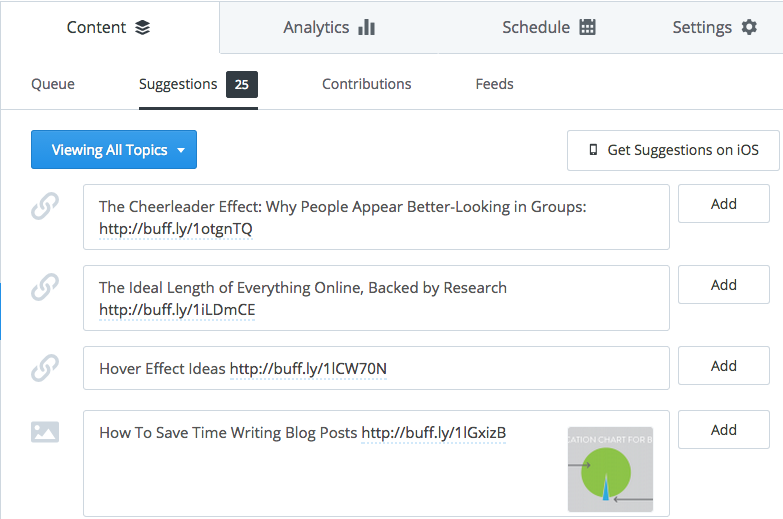 You can use BuzzSumo to find top content of the last week (or month) that's already worth sharing:

Just don't forget to mention (or tag) the person who wrote the content so you can register on their radar and become a known entity on their radar too.
#9: Share Your New Content
This might sound a little obvious. And, well…that's because it is. But when you're struggling to think of content ideas, it's usually the obvious ones that you miss.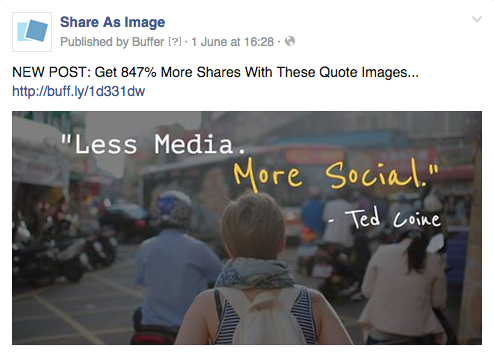 If you've already shared your latest content, try it under a new headline, with a new tagline or with different imagery.
#10: Short Interviews
Have you ever seen the Humans Of New York Facebook Page?
All of their content is pictures of real people and quotes of what they've said. Some of it happy, some of it sad but all of it is real.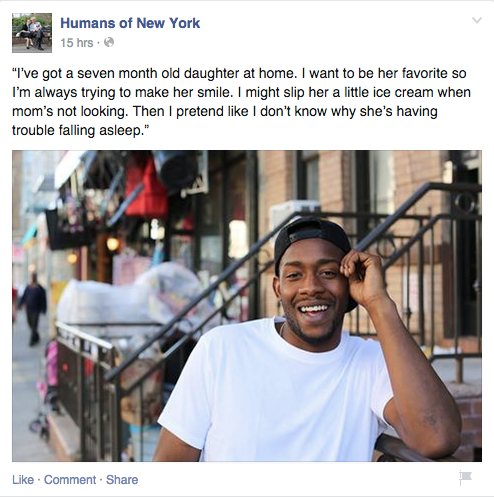 You can adapt a similar strategy to your own updates. Try interviewing – and quoting – staff members, customers, users or blog commenters and add a unique picture of them in a real life situation.
Again these are authentic updates that can stand out mid-scroll and create a deeper, more meaningful connection with your readers.
Tweeters Block*, Be Gone…
The ideas here are designed to fit all audiences – whether you're a business, a brand, a blogger or just an avid social media user – and can be used at any time for any purpose.
The only question now is, where are you going to start? Let me know in the comments…
*This could also be Google Block, Face-block, Buffer Block or Pinterest block.