Writing for a blog takes hard work and time, especially if it's for business. Sometimes it's hard to come up with blog post ideas that will stir up the attention of an audience. How do you draw in the right people to your blog and how do you know if they'll like it? We'll go through some blog research tactics and give a list of blog post ideas that will boost traffic to your blog. Let's do this!
Researching Blog Post Ideas
Before setting off to create a blog post you think your audience would like, research the topic to be doubly sure.
Here are a few ways to research:
On-the-Cheap Blog Post Idea Search Tools
This tool provides all the latest and most-shared blog posts. Type in a blog topic and it'll list the most-shared blog posts with links and share numbers.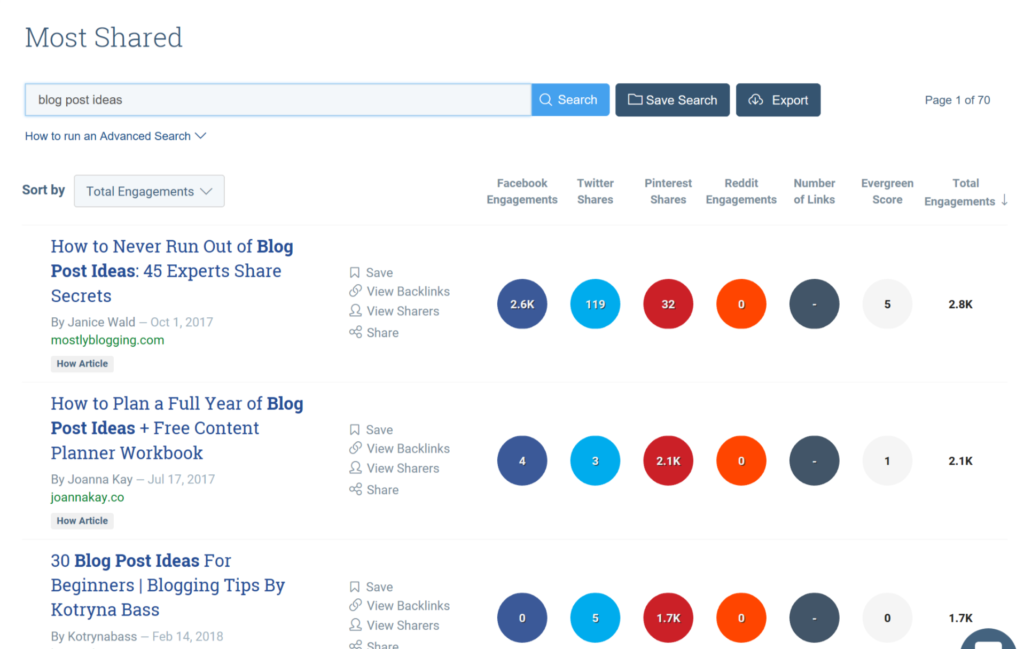 It allows up to 3 searches per day for free. If you want more information about a post then you can sign up to a plan to discover more about that post.
Honestly, where's the best place to find out what's being searched on Google than Google itself. Using the Google autocomplete feature will open up new doors to what people are looking for. You can fill a gap or put your own spin on what people are searching for in the millions.
Believe it or not, Pinterest is an incredible way to find blog post ideas. It is a visual search engine! Type in a topic in the search box and you'll find a multitude of related topics.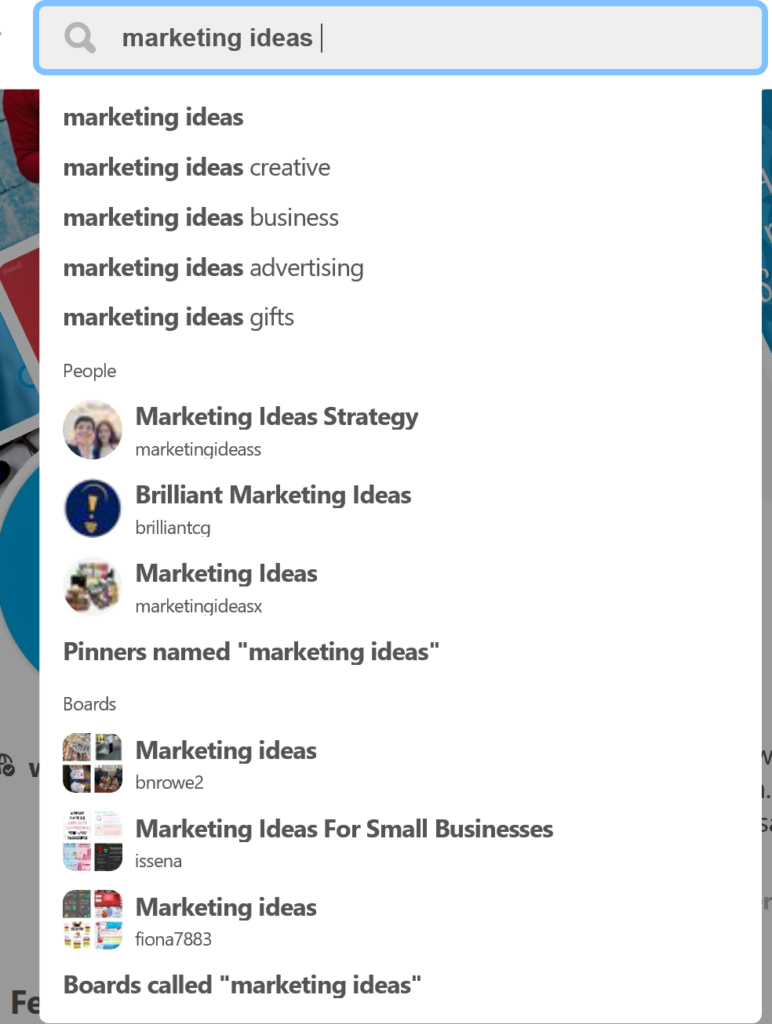 Twitter's search box offers a look into popular hashtags and you can see what topics are trending. I entered #marketing and three more related hashtags popped up. You can browse the top posts with those hashtags and see which blog topics are getting retweeted and liked.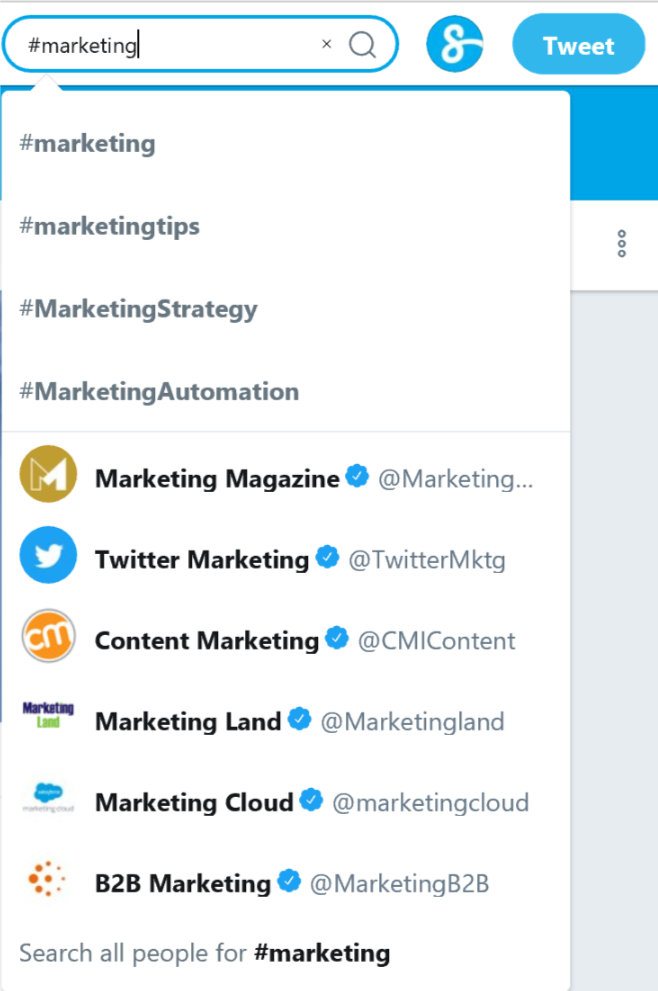 Keyword Search
Once you have a list of blog post ideas then you can search out the best keywords. Keywords will be the best way to get traffic to your blog. You can use Google Keyword Planner to find keywords and you should if you plan to create ads. Here's a great tutorial on how to use the Keyword Planner.
You can also use Ubersuggest by Neil Patel. It's super fast and easy. If you're working on organic traffic and not looking to do Google Ads then this is an easy way to do it.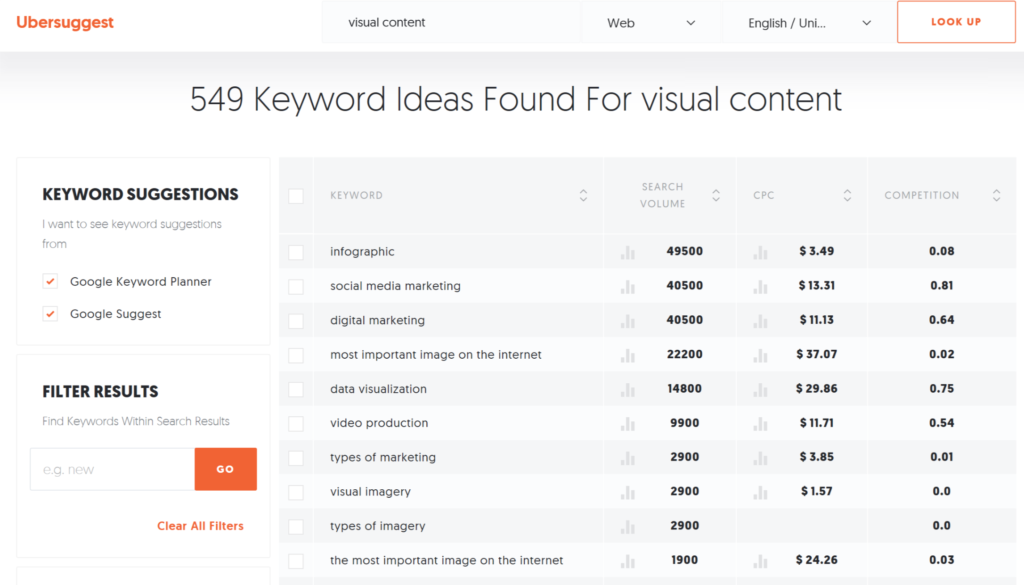 Don't skip out on keyword research! It'll do your blog good and help you boost the traffic to your blog. Knowing what people search for the most will help you. You'll need some blog post ideas to get those creative juices going too. Let's get those big ideas started with these blog posts.
Blog Post Ideas to Boost Traffic to Your Business Blog
Case Study
Case studies are an easy way to show research in your industry. It's very niche specific and it shows authority when you provide a solution to well-known cases in the industry. If there's an on-going issue in your niche that you resolved with a client then showcase it on the blog.
Expert RoundUp
Roundup posts are well-received because you're essentially seeking out experts in the field to provide inside information or advice. If people want to learn something about an industry they'll seek expert advice.
By providing an expert roundup you're giving so much value by saving people time on popular questions that they won't have to search in multiple areas. Here's an example of an expert roundup of visual marketing experts. You can have several experts with one really good tip or a small selection of experts with a few tips.
Be sure to have images ready for them to share on their social networks when the blog post is done!
How To Post
When people are searching online, people are essentially looking to learn how to do something. A "How To" post is their stepping stone to a successful search. Think about all the different ways you can teach an audience on how to use your service or product. This post is particularly helpful for product launches. A "How To" post also elevates your headline score, according to CoSchedule.
Listicles
A listicle is basically a list of tips that become a valuable resource to your audience. You may see these on Buzzfeed with silly GIFs or memes but you can create a listicle that's sophisticated and appropriate with your brand.
Resource Post
A resource post is a great post to list your favorite resources that you use on a regular basis for business that clients may benefit from using. This is a post you can link affiliate links to for a side income. Pat Flynn does an amazing job on his resource page and he says it's one of the most visited pages he has.
Series Post
When you have a step-by-step process of teaching a series post is your best bet to get your audience's attention. People notice when there is a series then there's going to be in-depth teaching that'll be worthwhile. Use numbers to associate how long your series will be, eg: 1 of 4. You can also name your series something focused for your audience.
Psychology Benefits Society did a wonderful blog series on talking to kids about race and ethnicity, you can see where they lay out the series on a post with all the links to each associated post.
Tool Post
A tool post is a list of tools that you use for business and can be helpful to clients. This is similar to a resource post but is specifically on tools for productivity, blogging, etc. This list is resourceful but topic oriented.
Top 10 Post
Top 10 lists are fun! People love to see who's listed first on a list. Include people in your industry or niche that people will be excited to learn more about. We had a fun top 10 list on podcasts for business. It's a resource list people can use rather than scour the internet to look for.
Blog Research and Post Ideas that'll Boost Traffic to your Blog
Let's wrap these blog ideas up! First, you'll need to do a bit of research and find some keywords for each blog post. Then think about the types of blog posts you'd like to use. Change them up a bit for a fresh look and take on your business blog!
Which of these blog post ideas do you use or will use?
Let us know in the comments.