You're posting away on social media hoping to get some type of positive feedback, and you wonder, "How do I know if these posts really work? Who's even paying attention?!" Good questions. If you're in business, social media can help build it. However many businesses are not tracking their social media metrics, which is the key to finding out what posts work. Today we'll review 5 social media metrics and how you can use them to your advantage.
Likes, Clicks, Engagement, Leads, and Conversions
Likes
For many people, 'likes' don't mean much, and some people think that some random window shopper or bot has become click-happy. Really, you must pay attention to those likes. Look for patterns of the same person clicking the like button, not just on one day but several days or weeks. This will help you decide if this person can potentially become a customer or collaborator. Either a customer or collaborator, it can help for business.
The best way to check on likes is to go straight into the Twitter and Facebook analytics. For a quick snapshot, rather than exporting data, you can view your tweet likes on the right side bar in analytics.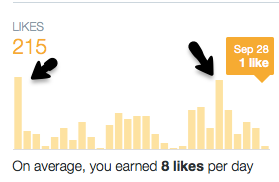 In the above image, the spikes will help you decipher which tweets you need to pay attention to. When you hover over the spike, the date will pop up and you can review your tweets for that day. Take a look at the post and this will help in creating future posts just like it. There are also several tools to track and monitor likes, you can check them here (my favorite is Buffer, which is integrated with Stencil to easily share images).
Clicks
Clicks are the best way to let you know you're on the right track with posts. Potential customers are liking your content and they want to know more about what you have to offer. Clicks are getting people over to your website. That's great news! Why not pay attention to what people are clicking?
Again you can go into Twitter or Facebook analytics, or you can go into one of the social media monitoring tools I mentioned previously. Here's what you can find in Buffer:
You can easily find out which posts are performing well with clicks.
Engagement
What's engagement? It's when people are responding to your tweets and posts with comments, shares, or retweets. They can give feedback into what they like about your post so you can continue providing valuable content.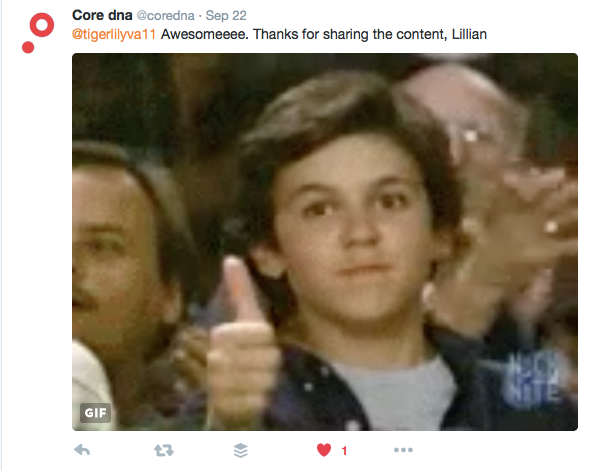 When there's a comment on a post, this can become an insightful conversation into learning what the potential customer is looking for and what they're struggling with. Gathering that type of information is crucial to developing content that will help more people and provide leads.

As you can see from the image above, a potential customer is inquiring about a product. The company was able to provide information along with a link for the customer to easily find a product. The information provided in this comment can help the business understand the needs of their customer, help other customers if they have the same question, and helping the customer with the question. This is engagement that will help build a business.
Leads
When people are clicking on posts, where are you sending them? Will they arrive to your website with a form to subscribe to your newsletter? This is when you have to think about the actions that need to happen in order to obtain that lead. On Facebook, you can choose the Sign Up button for the Facebook page option to lead people directly to your subscribe form.

When people are clicking on your blog post in social media, how are you collecting their information? Do you have a pop-up or hello bar? SumoMe is one of the most popular list builder apps to integrate with websites. With this simple pop-up form tool, list signups can increase 20% every day. It's possible and as annoying as pop-ups can be, they actually work. This is a great way to collect leads.
Conversions
Leads are great however conversions are the ultimate goal for any business. You're gaining traffic to your website and that's great! Are they converting to customers? Yes, that's a big question. After you collect their information through a sign-up, are you sending them through your funnel? The sales funnel is important to get the right people to buy your product.
Once the potential customer sees what they want, they will buy. If the customer doesn't like what they see, then they'll unsubscribe. However leads don't typically work that easy. It takes time for a potential customer to get a feeling of what they're looking for. 50% of leads are qualified but not yet ready to buy. Can you believe that?!
You can track your conversions by looking at your sales.
Social Media Metrics that are Easy to Keep Track Of
There is nothing magical to help check on your social media metrics. There are various tools and analytics to help you get started  in developing a plan to continue a successful business journey. Use the metrics to your advantage and get the top tweets and most popular posts by providing what your customers want.
What tools or metrics help your business? We'd love to know!
Let us know in the comments.