As each year passes, social media networks are becoming more visual. All of the top networks – Facebook, Twitter, Google+, LinkedIn, and YouTube – have large cover photos for profiles and pages. Facebook increased the size of image thumbnails in their main news feed. Twitter allowed webmasters to take advantage of Twitter cards to enhance the way that images are shared on Twitter from a website. And, of course, there are all of the social networks devoted to images like Instagram and Pinterest.
Because of the large number of social networks that businesses are almost expected to be on today, marketers must find more efficient ways of sharing their visual content. In this post, we're going to look at the top tools you can use to publish visual content to multiple networks.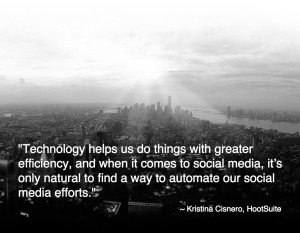 Buffer
Works With: Twitter, Facebook (personal profiles, pages, and groups), LinkedIn (personal profiles and company pages), and Google+ (pages)
Special Features: Predefined Schedules, RSS, Suggestions, and Analytics, Team Members
Pricing: Free to $250 per month Agency Level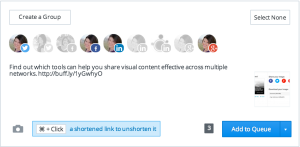 Buffer is one of the most well-known social media publishing tools to date. This tool allows you to create a predefined publishing schedule for each of your social media profiles, pages, and groups. You can then add posts to your Buffer at anytime, and Buffer will send them out based on the schedule you set.
In addition to predefined schedules, Buffer offers RSS integration so you can get the latest updates from your blog or custom RSS feed added to your Buffer for approval and then publishing. They also offer up to 25 content suggests at a time that relate to updates you've shared so you never run out of ideas on what to post.
Buffer offers great engagement analytics for the posts you publish through their platform, so you can adjust the content you post based on your audience's feedback. And if all of those things weren't enough, you can also get excited about Buffer because it can be integrated into just about any other platform you use through IFTTT and Zapier.
(On a side note, you can also use Buffer when sharing images you create in Share As Image)
HootSuite
Works With: Twitter, Facebook (personal profiles, pages, and groups), LinkedIn (personal profiles, company pages, and groups), Google+ (pages), Foursquare, and WordPress
Special Features: Multi-column Viewing, RSS, Analytics, Team Members
Pricing: Free to Enterprise Level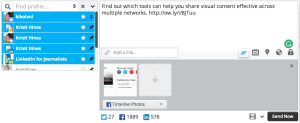 HootSuite offers more than just social media publishing tools and analytics. Their tabbed view can support up to ten columns each that allow you to monitor your brand mentions, keyword searches, private messages, lists, and news feeds. This multi-column view allows you to not only schedule updates to your social accounts, but also manage them as well.
Oktopost
Works With: Twitter, Facebook (personal profiles, pages, and groups), LinkedIn (personal profiles, company pages, and groups), Google+ (pages)
Special Features: Social Inbox, Campaigns, Conversion Tracking, Analytics, Team Members
Pricing: $49 to Enterprise Level
Oktopost offers additional tools to help manage and analyze your visual content sharing on social media networks. With the social inbox, you can keep track of any comments for posts you schedule through their platform. This way, you can engage in conversation with people who like the visual content you share. Detailed analytics for all of your shares, including groups, can help you determine which networks and groups are providing the most or least engagement.
Campaigns allow you to group your social shares across multiple networks and on different dates so you can organize different promotions. You will also be able to use Oktopost to measure conversions links to your visual content shares to determine direct ROI.
Sendible
Works With: Twitter, Facebook (personal profiles, pages, and groups), LinkedIn (personal profiles, company pages, and groups), Google+ (pages), Instagram, Pinterest, Foursquare, Blogger, Tumblr, WordPress, Flickr, SlideShare, YouTube, Delicious, Diigo,…
Special Features: RSS, Analytics, Keyword Monitoring, Social Inbox, Team Members
Pricing: $59 to Enterprise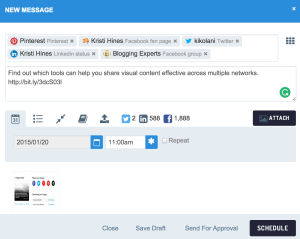 Sendible has the largest selection when it comes to the number of networks to which you can publish content. There are very few major social media, blogging, and visual networks that are not included in their available options.
In addition to the large network selection, Sendible also offers social inbox for collecting engagement with your profiles, RSS for content curation, keyword and brand monitoring, and analytics reports. These features in conjunction with the networks they work with make Sendible one of the more powerful publishing tools.
Best Practices
Choosing the right tools for social media publishing is only half the battle. Knowing how to use them is key. Here are some best practices when it comes to sharing visual content on your social media channels.
1. Consider publishing key pieces of visual content more than once. Not everyone is online at the same time. The more you publish (without being obnoxious), the more likely you are to reach more of your intended audience.
2. Optimize for each social network's ideal sizing. For some networks, it doesn't matter. For other networks, you don't necessarily have to have the exact dimensions that they ask for, but rather have to have the right proportions. The Aspect Ratio Calculator can help you convert a social network's recommended image size for the news feed into one that matches the images you want to share.
3. Posting to social media groups can be tricky. While some groups let members freely share relevant content, others limit group posts strictly to discussion. Be sure to visit the groups you join, look at their recent posts to see if others are sharing content and receiving engagement, and then add those groups to the social media publishing tool of your choice.
4. Reply to any comments that are posted to your updates, especially in social media groups. Your replies will separate you from the everyday social media spammer and help you build your reputation as a valuable member of the group – even while you are promoting yourself and your content.
5. Share other people's content. The 80/20 rule applies to social sharing on most networks. you don't want people to think it's all about you. When you share other people's content along with yours, it sets you up as being a valuable contributor (especially to groups) and makes people more inclined to click through to your content too.
In Conclusion
There are lots of great tools to help you publish visual content to your social networks and beyond. Be sure to carefully evaluate the features you need so you can choose the right tool for your business.