You may have noticed things are looking a bit different around Stencil. It's all for good reason, we've just released our biggest update in a while that's really going to make creating images easier! Here goes…

New Section Names.
We changed things up on Stencil's side navigation to make things a bit more clear. The old "Backgrounds" section is now called "Photos" and the old "Icons & Graphics" section is now just "Icons".
If you're on a paid account, all of your Logos/Watermarks and Saved Images have been moved down under the Account section. That goes for all of your Uploads as well (more on that below).
New Unified Uploads Area.
Before, we used to handle the images you uploaded differently based on which section you uploaded them to. In the new "Unified" Uploads area all of your uploads now live together happily where you can quickly get to them.
Any image can now be a "Background" or a "Resizable" image.
One of the most beloved parts of Stencil has always been the way we handle background images. We do all the thinking for you and resize all photos to fit your canvas either by resizing at the width or the height of an image — depending on which is larger. This allows you to quickly click through images and see how they'll look without having to think about resizing…While this does work great most of the time it's not a perfect approach. Sometimes you may want more control of your image size or sometimes you may want to have multiple images on the canvas at once (i.e. a collage).
This was all possible before, but you needed to upload your images to a specific section, which could get pretty annoying. Now any image in Stencil can be a "Background" image or a "Resizable" image. When selecting an image on the canvas use this new option in the toolbar to swap between image types for more flexibility and control:

Drag to Canvas.
You could always drag & drop images to the canvas, but now with the new ways to use photos, we've introduced a quick way for you to select a "Background" or "Resizable" image by dragging it onto a particular "zone" on the canvas. This is just one way of an adding an image, you can of course always click a thumbnail and then "Convert to resizable image" if you want to have more refined control of it.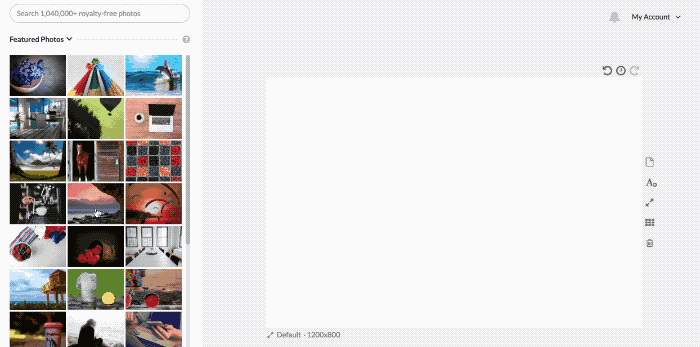 Drag to Reorder
Now you can drag & drop to reorder your Saved Images, Templates or Uploads! Just click and drag the little 4-way-arrow icon located on the right of your image thumbnails when hovering.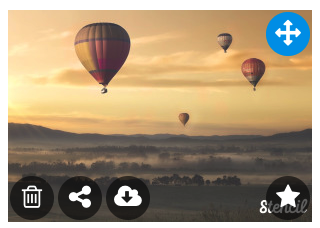 Drag to Anywhere
Here's a fun one! Now you can drag an image to anywhere on the entire screen in Stencil and it'll upload: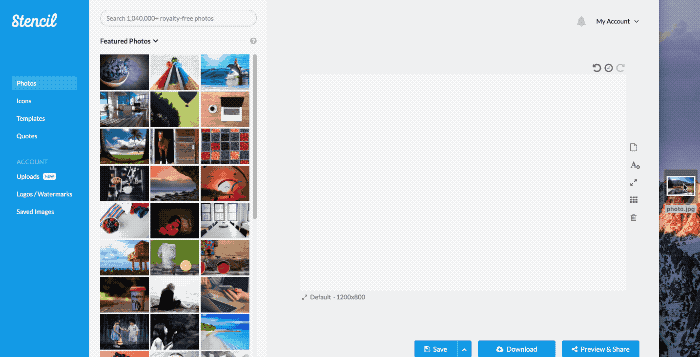 There's been a few other less notable updates, those are:
We now have a knowledge base widget located right within Stencil. It's full of great tips on using Stencil and you also contact us right from within the widget. Just click on the small buoy icon in the bottom left corner of Stencil if you need help!
If you have any uploaded fonts (or custom selected Google Fonts), they should now load much faster in the canvas.
We've added about 40,000 new stock photos to Stencil since the last update, putting us at around 1,040,000 photos total!
We'll now remember the last font you used in a text field and keep it selected.
Various bug fixes and improvements across Stencil.
We hope you like some of the new introductions and please feel free to get in touch if you have any questions!